There is a great deal of yield to be found amongst the small cap oil & gas operators, and higher oil prices tend to be a positive for these petroleum explorers, drillers and distributors. Many of these companies have stalled recently, following oil prices.

Some of these companies could present a strong investment to fight any future inflation. Nonetheless, many have moved up quite a bit over the past two years, so investors should be wary of buying high. In any event, the recent pullback in oil has generally brought down these equities, though not their yield.

The following chart lists six American small-cap oil and gas equities that currently yield more than 7%; BBEP, CLMT, ENP, FGP, MMLP and MVO.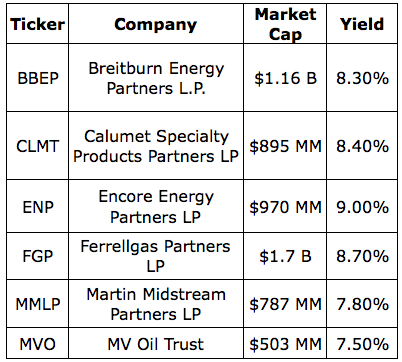 Do note that these are not standard corporations, but Master Limited Partnerships and a Trust. Partnerships do not pay the standard dividends that would normally generate a 1099 tax form. Instead, partnerships pay distributions and produce K-1 forms. Such partnerships can sometimes create tax liability even in returement accounts, but not frequently.

Disclosure: I have no positions in any stocks mentioned, and no plans to initiate any positions within the next 72 hours.
Disclaimer: This article is intended to be informative and should not be construed as personalized advice as it does not take into account your specific situation or objectives.