Here is an interesting stock that I recently came across. It is selling for reasonable valuations and seems to have good earnings and revenue growth prospects. It is Life Technologies (NASDAQ:LIFE).
Life Technologies Corporation - Life Technologies Corporation operates as a life sciences company with a focus on improving the human condition worldwide. Its systems, consumables and services enable scientific researchers and commercial markets to accelerate scientific exploration, leading to discoveries and developments that better the quality of life. Life Technologies' customers work across the biological spectrum, advancing genomic medicine, regenerative science, molecular diagnostics, agricultural and environmental research and 21st century forensics. The company delivers a range of products and services, including systems, instruments, reagents, software and custom services. Its product portfolio comprises technologies for PCR, sample preparation, cell culture, RNA interference analysis, functional genomics research, proteomics and cell biology applications, capillary electrophoresis based sequencing and next generation sequencing, as well as clinical diagnostic applications, forensics, animal, food, pharmaceutical and water testing analysis. The company has a presence in approximately 160 countries and possesses an intellectual property estate of approximately 4,000 patents and exclusive licenses.
8 reasons to like LIFE at $51 a share:
1. It is selling at the bottom of its five year valuation range based on P/E, P/S and P/CF.
2. It is hovering just above strong technical support of $50, which it has bounced off of twice in the last six months (see chart)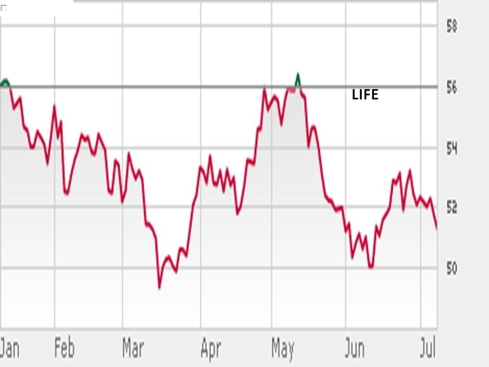 (Click to enlarge)
3. LIFE has averaged annual growth of north of 20% for both earnings and revenues over the previous five years.
4. Despite this, LIFE is selling just over 13 times projected this year's earnings and less than 12 times 2012's consensus EPS.
5. LIFE is a low beta stock (.78) that S&P projects will have 14% average annual EPS growth over the next three years.
6. Thanks to recent acquisitions over the previous two to three years, LIFE now offers a complete and diversified product line, which should enable it to be a "one stop" shop and drive additional sales and higher margins in the years ahead.
7. LIFE is expected to grow revenues north of 6% for both 2011 and 2012 and it has beat or met earnings estimates each of the last four quarters.
8. Life Technologies is significantly under analysts' estimates at $51 a share. S&P has a price target on LIFE of $61 and the consensus target is $61.71 as of July 7th.
Disclosure: I have no positions in any stocks mentioned, but may initiate a long position in LIFE over the next 72 hours.