We're just past the mid-point of 2011, so let's take a look at the most active and best/worst performing Exchange Traded Funds. If you're not aware, ETFs are basically mutual funds that trade like stocks — they can be very sector specific and new ones are being released every month. ETFs can be bought/sold in IRAs and many have liquid options available for trading on them.
Based on the 3-month average volume, here are the most active ETFs (excluding Ultras and Inverse):
Highest Volume ETFs - (Click charts to expand)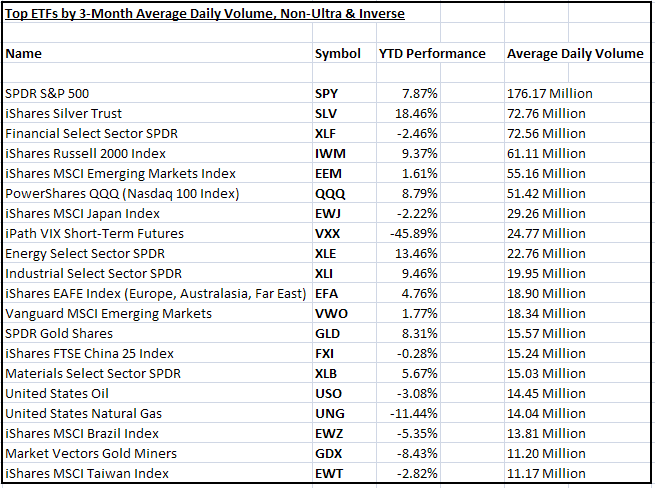 Note that the main DJIA ETF, SPDR Dow Jones Industrial Average, (NYSEARCA:DIA) didn't even make the Top 20 here.
One of the great advantages of trading & investing in ETFs is that they allow the individual to easily allocate and switch assets to specific sectors. Major indexes, industry sectors, international, and commodities are all available in the ever-growing list of active ETFs available for trading.
Let's take a look at the best and worst performing ETFs of 2011 thus far — we've taken out the "Ultra," "Inverse," and "Bear" type ETFs from the screen in order to get a pure list of the individual sectors.
Note the vast diversity of sectors seen above, from the commodity Silver (NYSEARCA:SLV) to Health Care (NYSEARCA:XLV) & Retail (NYSEARCA:XRT) sectors to Germany & South Korea international.
Bottom ETFs by 2011 Performance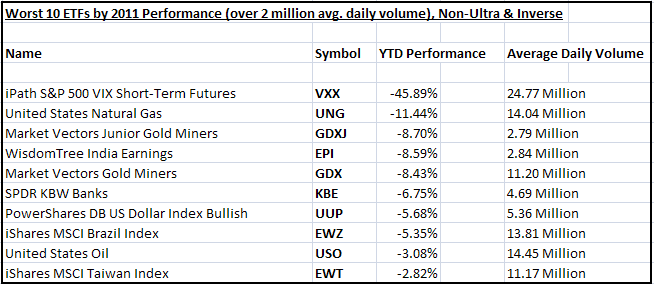 You can see the vast divergence in performance among ETFs, which is another advantage to trading/investing in them. For example, the Crude Oil ETF (NYSEARCA:USO) is among the worst performers for 2011, while the Oil/Gas Exploration & Production ETF (NYSEARCA:XOP) is one of the biggest gainers. Additionally, even within regions of the world there is diversity in performance — South Korea ETF (NYSEARCA:EWY) is up nearly 11% YTD, while an India ETF (NYSEARCA:EPI) is down nearly 9% and a Taiwan ETF (NYSEARCA:EWT) is down 3%. That performance discrepancy can be exploited even further through the leverage of options on ETFs, which we utilize at BigTrends.
Always be sure to check the holdings and expense fees (as well as bid/ask spreads and option liquidity) of an ETF you are considering investing in or trading. Yahoo Finance is a good source for Top 10 Holdings information, for example. We track and trade all of these very liquid ETFs and more in our ETF Tradr program.


Disclosure: I am long IWM. Subscribers are in bullish IWM options spread position.