After the close on Monday, Annaly Capital (NYSE:NLY) announced a new share offering, which will likely put pressure on the share price as investors digest the size of the new offering and the premium to book value at which NLY share prices have recently traded.
We recently published a cautious article on NLY shares given the payment of the dividend and the current premium to book. We think that the issuance of shares provides investors the opportunity to accumulate a position in NLY at better prices. Thinly traded after hours price action sent the stock down to $17.90. At this price, shares are down approximately 4% from the recent ex-dividend high ($18.57).
Below is an updated comparative valuation graph. At $17.90, NLY is yielding 14.3% and is trading at price to book value of 1.14x.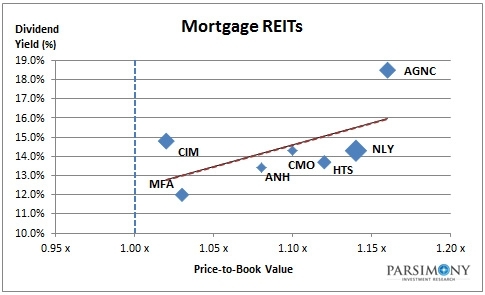 Since 1998, Annaly's average price to book value has been 1.24x (see table below). So at the current level of 1.14x, the stock is actually trading below its historical average.
While we didn't expect the price to pull back so soon, we think that investors should take advantage of this dip in NLY shares. The U.S. economy is going to continue to face headwinds for the foreseeable and we believe this is a perfect environment for mREITs, particularly those that have stellar management teams (like NLY). A weakening economy and choppy economic recovery are good for mREITs, which benefit from low interest rates and a steep yield curve.
NLY and MFA Financial (NYSE:MFA) remain our two main REIT holdings due to their strong management teams and proven ability to manage their portfolios in any interest rate environment. However, we also have a small position in American Capital Agency Corp. (NASDAQ:AGNC).
We continue to believe that the best strategy for investing in this space is to own a portfolio of mortgage REITs to diversify your risk. That said, the following REITs are currently on our watchlist and we are following them very closely: Chimera Investment Corp. (NYSE:CIM), Anworth Mortgage Asset Corp. (NYSE:ANH), Hatteras Financial (NYSE:HTS) and Capstead Mortgage (NYSE:CMO).
Disclosure: I am long NLY, MFA, AGNC.