On average, the 13 closed-end fund (CEF) types registered a share price increase of 0.4% for the week ending July 8. The high-low spread registered this week was +1.5% versus +4.1% on an average price change of +0.4% versus +1.6%, respectively. On an aggregate unweighted basis, the weekly average price change for the 500 plus CEFs in the GrowthIncome database was up 0.6%.
The PowerShares CEF Income Composite (NYSEARCA:PCEF), an ETF that invests in taxable income CEFs, advanced 0.2% for the week. The S&P 500 ended the week up 0.3% despite Thursday's gap-up and Friday's gap-down based on differing source and direction of employment data. The S&P 500 is now up 6.9% YTD.

Trading Volume: Despite the S&P strong weekly advance and decline, the average daily volume for the S&P 500 (Pending:GSPC) for the week continued to decrease 3.2% to 3.738 billion shares versus the previous week as retail investors remain confused and suspicious of the interworking of the stock markets.
The Eqcome CEF Fear Index continued its easing trend. The average CEF unweighted price increased 0.6% and the related NAV increased 0.2%. After plunging 24.8% last week, the VIX ticked up a modest 0.5% to 15.95 during a volatile week for the S&P 500.
[Click to enlarge]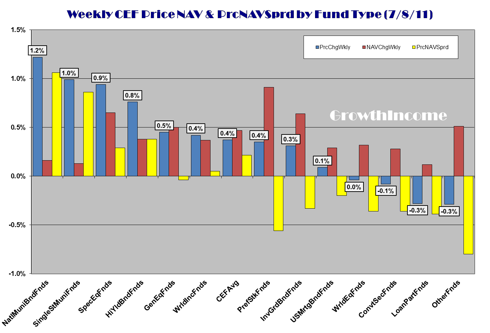 CEF Weekly Fund Type Performance: The absence of clustering among equity and debt-oriented CEFs reflects the volatility of the week and investor confusion regarding any investment trend. Both national and state funds were the week's leaders, advancing 1.2% and 1.0%, respectively.
Sentiment regarding offshore investments was bifurcated, with WrldIncFnds prices posting above average results and WrldEqFnds below. The continuing turmoil in euro zone sovereign and bank debt was highlighted by the credit deterioration of Italy's debt and investors' anxiety over the upcoming regulatory banks' stress test results. Higher interest rates in China weighed on investors' concerns of slowing global growth.
Much of the fund types' price appreciation was based on sentiment as opposed to advances in related NAV. Top price performers generated greater price percentage change than their underlying NAV and laggards reported the opposite. OtherFnds, mostly "buy/write" option strategies and LoanPartFnds fared the worst with prices off 0.3%. In the case of the former, its NAV advanced 0.5% generating a negative PrcNAVSprd of 0.8%.
Click here for next week's economic calendar, and here for earnings' announcements and estimates.
Insider Trading: July got off to a very slow start with the only insider buying occurring in the equity CEFs and none for debt oriented CEFs.
The largest insider buying occurred in Pioneer Floating Rate Trust (NYSE:PHD). Stephen West, a Trustee of PHD, acquired an additional 5,000 shares at 13.93 per share bringing his total holding up to 7,000 shares.

Terry A. Hart, CFO of Kayne Anderson Energy Development (NYSE:KED), added to his April purchase of 1,300 shares with an additional 1,250 shares at a price of $19.92 per share bringing his total holdings to 3,932 shares.
Click here for weekly CEF distribution announcements.
Disclosure: I am long PCEF.