By G C Mays
The Bank of Canada released its business outlook survey and the country's business leaders remain optimistic about the Canadian economy despite the demure outlook for economic growth in the US. Regarding sales growth, the firms surveyed reported growth in sales in the trailing 12 months although the index has declined for two consecutive quarters from 30 to 24. In the second Qtr of 2011, 52 percent of firms reported faster sales growth.
The index of firms expecting sales growth over the next 12 months increased in the 2nd quarter from 13 to 20 with 49 percent of respondents expecting sales volumes to accelerate over the next 12 months. The optimism about future sales growth is driven chiefly by firms in Western Canada due to the strong demand for commodities. While the Canadian firms outside Western Canada do not expect fireworks, don't write them off, they still expect stable growth over the next 12 months.
(Click charts to enlarge)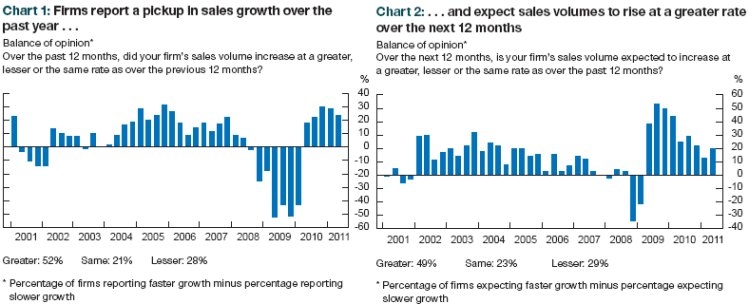 Source: Bank of Canada
It may well be a stroke of luck that the Loonie remains strong against the dollar and US demand slackens. The percentage of firms surveyed that reported they would have difficulty meeting any sudden and unexpected rise in demand increased in the 2nd quarter. Most of the firms in Western Canada have enough output capacity in place. However, Central and Eastern Canadian firms would probably raise prices in response to such an increase in demand.
Pricing and inflation along the value chain seem to mirror those in America and around the world as the number of firms that expect input prices to increase stay at high levels, while the number of firms that expect output prices to rise have declined steadily for three straight quarters. This places pressure on profit margins as we move downstream in the value chain.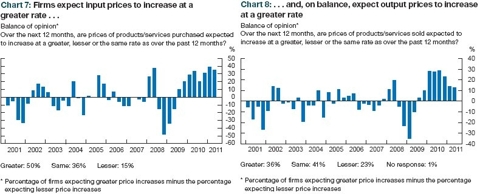 With an unemployment rate of 7.4 percent and declining and an employment-to-population ratio of 61.9 percent compared with the 9.2 percent unemployment rate and a 58.2 percent employment-to-population ratio in the US, employment is another area in which the Canadian economy is showing strength, as firms have pointed out they are having somewhat more difficulty in finding workers than in recent surveys.
With the US economy weakening and several euro zone countries trying to fend off default, I am taking a closer look at our kinder, gentler, well run sister to the north.