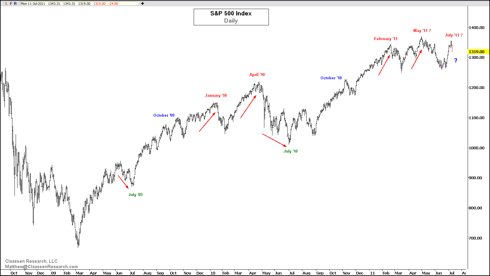 S&P 500 and Pricing Earnings Expectations
While some investors consider the recent rally as an indication that the market is signaling an improved economy, recent history suggests otherwise. In fact, since this cyclical bull market started in early 2009, a strong market trend in either direction entering an earning season has reversed prior to the end of the classic six-week period of earnings reporting.
This can be easily seen in the above chart. With the exception of the two October earning seasons in 2009 and 2010, each earning season since July, 2009 was preceded by a strong trend (up or down) that was reversed before earnings season ended. The declines into July of '09 and '10 were both reversed to strong positive trends that lasted into the following January earnings seasons. The market corrections that have started during earning seasons have ranged from 9.20% to 7.07%, with the exception of the 17.12% decline that started in April, 2010. Interestingly, so far in 2011 the reversal of trends occurred later in the earning season.
We cannot help but notice that the most recent rally is a stronger rally than what preceded any of the previous earnings season. Only the rally after the July '09 earning season started compares. Visually, it seems investors are pricing in very high expectations and have set aside other potential news event concerns such as Europe. Once companies start to report earnings this week the market may change focus and hold its gains, at least briefly. But, the strong rally of the past two weeks would suggest that recent history is not on the side of bulls, as a strong rally into earnings hints of unrealistic expectations.