Richmond, VA-based Scott & Stringfellow, established in 1893, has $2.8 billion in U.S. equity assets under management. It offers four strategies via mutual funds and separately managed accounts for its retail and institutional accounts, with a minimum required investment of $100,000. Its portfolio is well-diversified, including 658 positions. Approximately 80% of its holdings are in large caps, and most of the remaining 20% are in mid caps. Its portfolio turnover is 50%-60% implying an average holding period of two years. Its portfolio is over-weight services (17%) and consumer non-cyclical (18%) sectors, and it is under-weight energy (16%), basic materials (2%) and industrial (4%) sectors, compared with the weighting of these sectors in the overall economy.
The following summarizes its largest buys and sells and top holdings based on the
most recent SEC 13-F filing for the June 2011 quarter
:
Technology sector: Buy Broadcom Corp. (BRCM)
. Scott & Stringfellow added $55 million to its $370 million prior quarter position in the technology sector. This included adding a new $27 million position in Broadcom Corp.
, a fabless designer of semiconductor components for wired and wireless communications, and adding $26 million to its $11 million prior quarter position in Microsoft Corp. (MSFT)
.

BRCM trades at a forward price-to-earnings ratio (P/E) of 11, based on non-GAAP earnings. Recent weakness is attributable to the weak guidance for the June quarter in its first quarter earnings report released Ap

ril 26. S

pecifically, although the company reported March quarter at $1.82 billion and 68 cents in quarterly revenue and non-GAAP earnings, beating analyst estimates of $1.81 billion and 59 cents, it guided down for the June 2011 quarter to $1.75-1.85 billion versus the $1.9 billion analyst consensus estimates. The stock has since corrected and is currently trading 30% below the January peak. BRCM's growth and upside story remains intact. It continues to maintain its technology leadership, spending an astonishing 27% of its revenue on R&D in 2010, higher than other technology leaders such as Intel Corp. (INTC) and Qualcomm (QCOM) that spent 15% and 23% respectively. It is a market share leader in many of the communications market segments that it serves. We believe the current weakness is temporary and provides the long-term value investor an opportunity to accumulate shares in a leading semiconductor growth story at an attractive price.

MSFT trades at a forward P/E of 10, near the bottom of its historic range. It is a technology leader and one of the largest companies in the world. The shares are priced cheaply, but the company continues to face significant challenges going forward. Its dominant position in the computing market will continue to be under threat as a bevy of new-age devices makes computing mobile and takes it to the cloud. The stock price reflects this nervousness on the part of investors as shares have been mostly weak since peaking near $60 in late 1999; they currently trade at less than $27.

Healthcare sector: Buy Becton Dickinson & Co (BDX). Scott & Stringfellow cut $25 million from its $310 million prior quarter position in the sector. This included cutting $23 million from its prior $29 million position in medical supplies and instruments provider BDX.

BDX trades at a forward 14 P/E, near the bottom of its historic trading range, while earnings are projected to increase at strong double-digit rates going forward. It also sports a high dividend yield of 1.9%, making it one of the strongest large-cap healthcare companies with a strong earnings growth and dividend profile. It also is one of the most consistent large-cap performers, as both revenue and earnings have gone up every year since 1998 from $3.1 billion and 95 cents to a projected $8.2 billion and $6.20 in 2012. Of the 20 analysts covering the company, seven rate it a buy/strong buy, thirteen a hold, and none rates it at underperform/sell. BDX stock currently trades at its highs near $90, where it traded at the end of 2007, when earnings were two-thirds of current levels. It has formed a nice three-year base and is consolidating for the next advance based on its strong fundamentals.

Energy sector:

Scott & Stringfellow added $10 million to its $410 million prior quarter position in the sector. Geneva, Switzerland-based Weatherford Intl Ltd (WFT)

, a leading provider of equipment and services used in the drilling, evaluation, completion, production and intervention of oil and natural gas wells, at $92 million is its largest position in the sector and the second largest position in its portfolio. WFT trades at a very expensive trailing twelve-month (TTM) P/E of 40. The stock has been weak recently as the company

missed analyst estimates

in each of the last two quarters, with the company reporting 10 cents in earnings in the March 2011, quarter, well short of analyst estimates of 18 cents; furthermore, it guided down for the June quarter to 15-17 cents versus analyst consensus estimates of 20 cents. The company has a lot of promise as it has strong international growth prospects, and it is expected to strengthen its competitive position in the North American market going forward. However, we would wait on the sidelines until the company can deliver on its promise with strong quarterly results, as there are significant risks that the company may not deliver on its promise in the short-term due to macro-economic and geopolitical risks as well as commodity price fluctuations.

Basic materials sector

: Scott & Stringfellow added $30 million to its $40 million prior quarter position in the sector. This included adding a new $20 million position in Yamana Gold Inc. (AUY)

,

a Canadian company engaged in the exploration and development of gold properties in South America and Mexico.

Finance sector

: Scott & Stringfellow added $30 million to its $360 million prior quarter position in the sector. This included adding a new $15 million position in State Street Corp. (STT)

, a provider of investment servicing and asset management primarily to institutional investors worldwide.

Consumer non-cyclical sector

: Scott & Stringfellow added $5 million to its $490 million prior quarter position in the sector. This included adding $2 million to its $219 million prior quarter position in Philip Morris International (PM)

, its largest position in the portfolio.

(Click table to enlarge)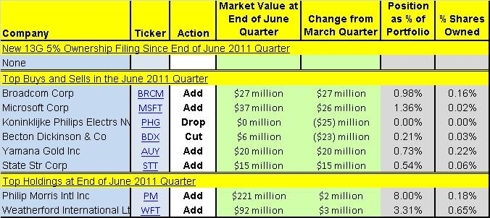 Credit: Historical fundamentals including operating metrics and stock ownership information were derived using SEC filings data, I-Metrix® by Edgar Online®, Zacks Investment Research, Thomson Reuters and Briefing.com. The information and data is believed to be accurate, but no guarantees or representations are made.
Disclosure: I have no positions in any stocks mentioned, and no plans to initiate any positions within the next 72 hours.

Disclaimer: Material presented here is for informational purposes only. Nothing in this article should be taken as a solicitation to purchase or sell securities. Before buying or selling any stock you should do your own research and reach your own conclusion. Further, these are our 'opinions' and we may be wrong. We may have positions in securities mentioned in this article. You should take this into consideration before acting on any advice given in this article. If this makes you uncomfortable, then do not listen to our thoughts and opinions. The contents of this article do not take into consideration your individual investment objectives so consult with your own financial adviser before making an investment decision. Investing includes certain risks including loss of principal.