Should you invest in an IPO fund? Given that many traders have been keenly interested in some of the more high-profile IPOs, such as LinkedIn (NYSE:
LNKD
), Groupon (NASDAQ:
GRPN
), and Pandora (NYSE:
P
), among others, I thought I'd take a closer look at a couple of these funds – one an ETF and one a mutual fund.
The IPO Index ETF (NYSEARCA:FPX): From Day 6 to Day 1,000
FPX tracks a modified value-weighted index of the 100 largest and most liquid IPOs. Eligible companies are added to the index on the sixth trading day after an IPO launches and remain in the index for 1,000 days. This fund has an expense ratio of 0.60% and as of July 11 included the following holdings: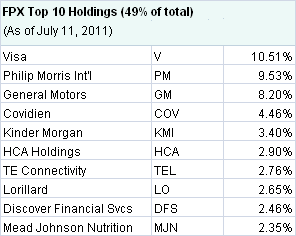 That's a fairly high weighting for Visa (NYSE:
V
) . The fund is supposed to cap any one stock to 10% of total holdings, but Visa's up about 20% since late June. That was just after the fund was last rebalanced; the next rebalancing isn't scheduled until September.
The Renaissance Global IPO Plus fund (IPOSX): An actively managed alternative
Another IPO is a traditional mutual fund, the IPOSX. This actively-managed fund charges an expense ratio of 2.47%. According to Morningstar, the fund's top holdings looked like this as of March 31: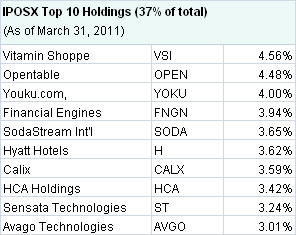 But this fund is actively managed, so holdings are of course subject to change. According to Renaissance, these were the top holdings as of July 11 – although no weighting information is provided: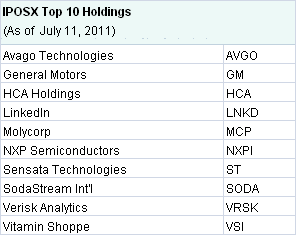 Comparing these two funds
Which fund, if either, is worth considering? Here's a look at performance over several time frames using a hypothetical investment of $10,000 along with a comparison to an investment in the S&P 500 ETF (NYSEARCA:
SPY
) and Nasdaq 100 ETF (NASDAQ:
QQQ
) as benchmarks. A look back to July 2009 shows the FPX ETF clearly outperformed the IPOSX and the SPY ETF.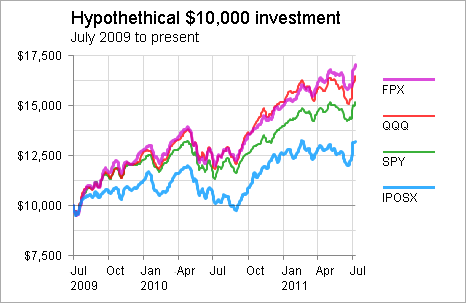 And here's a look at the comparative performance going back to July 2006, well before the financial crisis hit the markets: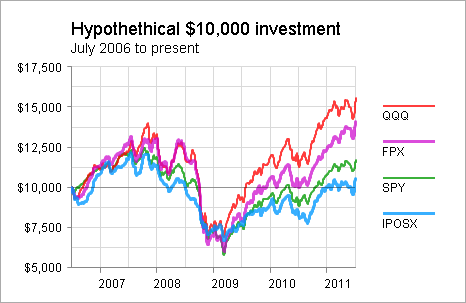 The FPX ETF wasn't launched until 2006, but the IPOSX mutual fund has been trading since 1997, so here's a comparison going back about 10 years.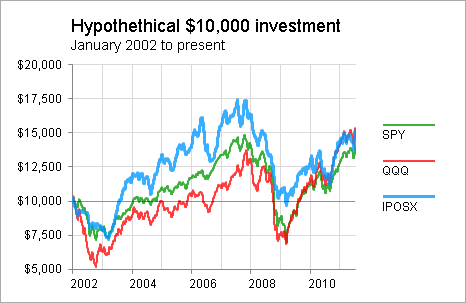 Looking at this performance data, I'm not sure the IPOSX mutual fund isn't worth the added expense over the long term. In the shorter term, although the FPX ETF seems to have performed better than the S&P 500 ETF, an investment in the QQQ ETF would have been the better play, at least over the time periods I measured.
Disclosure: I have no positions in any stocks mentioned, and no plans to initiate any positions within the next 72 hours.