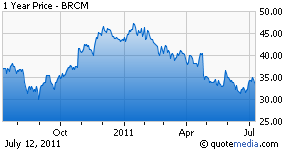 Most Seeking Alpha looks at Broadcom (BRCM) are technical in nature.
But the fundamentals may make for a better story.
Since Broadcom makes chips that go into other products it has no brand cachet. There's not even the equivalent of an Intel Inside, an ingredient brand. Thus if people recognize the name they may associate it with scandal, such as the fall of former CEO Harry Nicholas, leading to a scandal over backdating of stock options.
The charges were eventually dropped due to prosecutorial misconduct, and the settlement of a class action suit by shareholders for $160 million drew a line under it.
The question investors must ask is about Broadcom's future strategy, and how it will get back to growth.
Broadcom's trick, under Nicholas, was to bring OEMs both reference designs and firm customer commitments, which helped make Taiwan and (now) China the hub of the electronics business. Under new CEO Scott McGregor, who joined in 2005 from Philips, Broadcom hasn't forgotten the trick, but has added a much broader networking product line to the mix.
The product line has been built through cash acquisitions - seven in less than two years - including high speed switch maker Dune Networks, Near Field Communications company Innovision, home networking company Gigle Networks, and (just last month) Israeli security company SC Square Ltd.
Combine that with a licensing deal from ARM and you have a host of good pieces from which to build new reference designs and products that can get through distribution fast. Broadcom has access to some fast-growing markets, like Fibre Channel over Ethernet and WiMax.
Look across the tech landscape and you see a lot of failure, with Cisco (NASDAQ:CSCO), AMD (NASDAQ:AMD) and even Intel (NASDAQ:INTC) under increasing competitive pressure. That pressure often comes from Broadcom. It has a system, a way of doing business that integrates well with both China and branded merchandise companies. Give it an inch in almost any market and Broadcom will find a way to make itself the ruler.
Broadcom has dramatically expanded its product line, enabling it to create a host of new products with the lowest-possible manufacturing costs. If anything is growing, Broadcom will get its share of that growth. Its past is past, and its future is fundamentally sound.
Disclosure: I am long INTC.
Additional disclosure: Intel is only mentioned tangentially here, but since I do have some shares of it in my IRA I decided to err on the side of caution.