Next week is expected to be volatile with the start of earnings season, the Fed minutes, weekly jobless claims, retail sales, producer price index, consumer price index, industrial production, and consumer sentiment all coming out. The S&P 500 (NYSEARCA:SPY) is also back at its April highs. So let's look at some stocks that have seemed to defy gravity lately, surging even when the market tanked. All the names have surged over 20% this past week.
China New Borun (NYSE:BORN) – The Chinese company has been accused of fraud. I would not join into the fight and simply stand on the sidelines. Once the dust clears, I may invest in it if it still exists. For now, the stock is a trader's game, buying and selling based on technical analysis. And from the technicals, the stock is overbought, or a sell.
(Click charts to enlarge)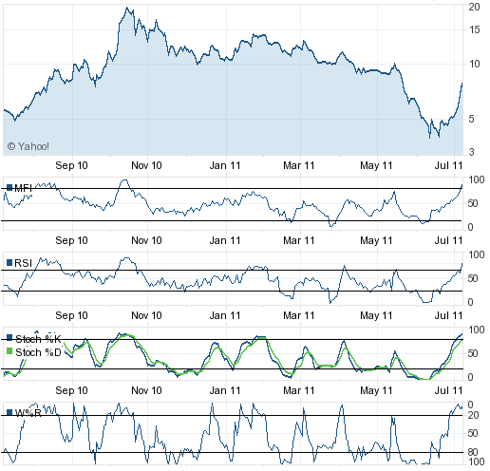 Coffee Holding (NASDAQ:JVA) – The $114 million distributer of roasted and blended coffees has joined the coffee hype along with K-cup maker Green Mountain Coffee Roasters (NASDAQ:GMCR). In March, GMCR made a deal with Starbucks (NASDAQ:SBUX) to sell SBUX's coffee for its Kuerig coffee machines. And back in December, GMCR outbid Peet's Coffee & Tea (NASDAQ:PEET) for Diedrich Coffee in an all-cash offer of $290 million, or $35 a share. Could GMCR bid for JVA? After all, 47% of JVA's sales are to GMCR. Buying the company would cut some of GMCR's overhead costs. At $146 million, JVA is still selling for 1.98 times less than the Diedrich deal. The table below compares GMCR with JVA.
| | | | | | | |
| --- | --- | --- | --- | --- | --- | --- |
| | Trailing PE | Forward PE | PEG | Price/Book | Price/Sales | ROE |
| GMCR | 121.16 | 45.16 | 1.74 | 12.96 | 7.07 | 13.33 |
| JVA | 44.58 | 32.23 | 1.76 | 7.98 | 1.17 | 23.47 |
On every metric except PEG, JVA appears cheaper than GMCR. Its ROE is almost twice that of GMCR. And on a price/sales basis, JVA is nearly 7 times cheaper than GMCR. Thus, I still think JVA is undervalued.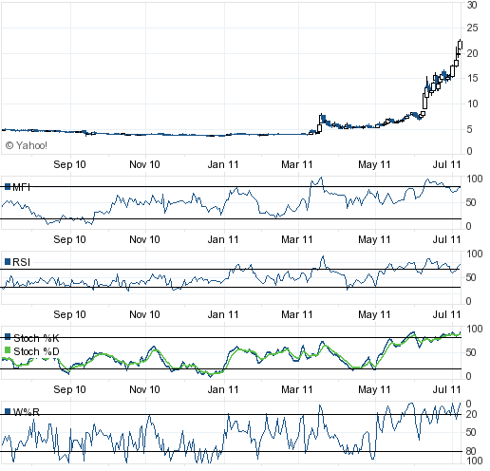 Rediff.com India (NASDAQ:REDF) – If the popular web portal and one of India's largest cashes in on the country's more than $30 billion plan to expand its broadband infrastructure, the company could see fruit. The lack of infrastructure has kept broadband users at 10 million. But an increase in infrastructure could lead to almost 420 million broadband users. Even if the company can only capture 10% of the pie, its revenues will surge. Plus, it is still to be seen how the company's Groupon-like service does. But if it is anything like the proposed $750 million public offering of Groupon, REDF is at least 2 to 3 times undervalued. But the most compelling evidence to buy the stock is that its chart predicts that the price will surge to about $25 a share in the next 30-40 days.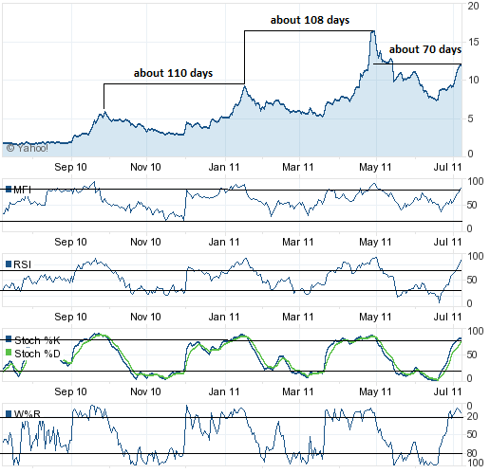 Sify Technologies (NASDAQ:SIFY) – The company is in the same boat as REDF, the smaller of the two. According to Yahoo Finance, the company has revenue of $154.24 million vs. $21.79 million for REDF. Insider holding stands at 27% vs. 13% for REDF. The price graph shows less of a pattern than REDF does. But the stock also seems less overbought than REDF, meaning it could be a cheaper alternative over REDF.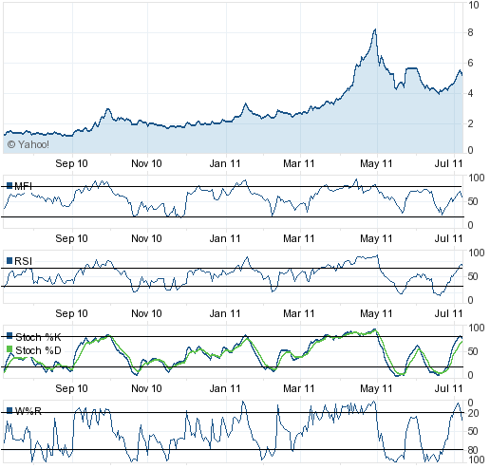 Disclosure: I am long JVA.