Account­ing rules pro­vide the biggest loop­holes to asset-inten­sive busi­nesses. And the off-balance sheet oper­at­ing lease loop­hole is one of the biggest. By exploit­ing this loop­hole, Star­wood (HOT) is able to omit nearly $1 bil­lion in debt from its bal­ance sheet in 2010, $200 mil­lion (20% of the total) of which was added in 2010.
As shown in Fig­ure 1 below, Starwood's reported net income diverges rather sharply from the eco­nomic earn­ings of the busi­ness in the most recent fis­cal year. In addi­tion to over­stat­ing account­ing earn­ings, the large amount of hid­den debt cre­ates two red flags for investors:
Free cash flows are about $200 mil­lion worse than they appear.
Reported debt and lever­age are under­stated by nearly $1 billion.
Fig­ure 1: Account­ing Earn­ings Rise While Eco­nomic Earn­ings Are Flat in 2010
[Click all to enlarge]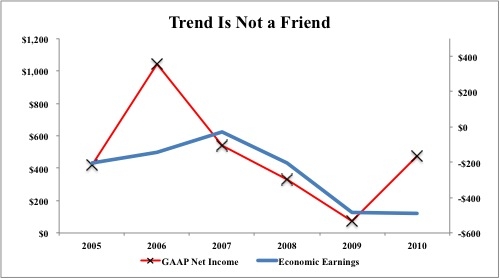 Sources: New Con­structs, LLC and com­pany filings
I always pair my analy­sis of the true cash flows of a busi­ness with val­u­a­tion of the stocks. It is pos­si­ble for a com­pany to be ter­ri­bly unprof­itable but a good stock if the future cash flow expec­ta­tion reflected in its val­u­ation is low enough.
To jus­tify its cur­rent price of ~$56.57, Star­wood would have to grow its after-tax cash flow (NOPAT) by over 20% com­pounded annu­ally for 11 years. Those are some high expectations … not just the high level of growth but also the long dura­tion of expected growth.
The high­est level of top-line growth achieved by Star­wood in the last 10 years is 17% in 2002. Only once in the last 10 years has the com­pany gen­er­ated con­sec­u­tive years of double-digit rev­enue growth (16% and 11% from 2005 to 2006). A stock price val­u­a­tion that implies 11 con­sec­u­tive years of 20% growth in NOPAT is too high for most com­pa­nies, espe­cially a hotel in a global econ­omy that is expected to be rather weak for the fore­see­able future.
With no future profit growth, the value of Starwood's stock is closer to $2 per share. Though I do not nec­es­sar­ily expect Star­wood will achieve no future profit growth, I think the no growth value pro­vides impor­tant per­spec­tive on how much growth is priced into the stock and how much risk investors take by hold­ing it.
Fig­ure 2 sug­gests that investors in HOT's stock could be in for some trou­ble if his­tory repeats itself. The last time Starwood's reported earn­ings over­stated its eco­nomic earn­ings by more than 15%, the stock fell over 70%, from the mid $60s to under $20 per share.
Fig­ure 2: Earn­ings Over­state­ment Has Maxed Out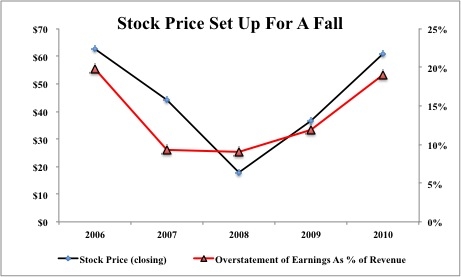 Sources: New Con­structs, LLC and com­pany filings
I also expect that Starwood's earn­ings over­state­ment will revert to more nor­mal lev­els because com­pa­nies can only bend the rules so much before break­ing them. In addi­tion, Starwood's over­state­ment of earn­ings as a per­cent of rev­enue will have to fall when FASB closes the off-balance sheet debt loop­hole in 2014.
Star­wood is one July's most dan­ger­ous stocks and gets my "very dan­ger­ous" risk/reward rat­ing. There is lots of down­side risk, given the mis­lead­ing earn­ings, while there is lit­tle upside reward, given the already-rich expec­ta­tions embed­ded in the stock price. More details on my rat­ing and a free report on HOT are here.
In a busi­ness where investors make money by buy­ing stocks with low expec­ta­tions rel­a­tive to their future poten­tial, HOT fits the pro­file of a great stock to short or sell.
I also rec­om­mend sell­ing the fol­low­ing ETFs because of their "dan­ger­ous" rat­ing and expo­sure to HOT. Note the per­centile ranks show where each ETF stands among the 375+ US Equity ETFs we cover, where 100% cor­re­sponds to the highest-rated ETF we cover.
Pow­er­Shares S

&

P 500 High Beta Port­fo­lio (

SPHB

) – 8th percentile
iShares Morn­ingstar Mid Growth Index Fund (

JKH

) – 33rd percentile
Van­guard Mid-Cap Growth

ETF

(

VOT

) – 34th percentile
Disclosure: I have no positions in any stocks mentioned, and no plans to initiate any positions within the next 72 hours.