We believe that valuation matters. We rely on academic studies by Fama/French, Bauman/Conover, Nicholson and Dreman. They all show that stocks purchased in the lowest quintile based on price-to-book, price-to-earnings, price-to-cash flow and price-to-dividends produce market-beating statistics. We love the fact that Nicholson's study shows that the advantage grows as holding periods get longer. The charts below provide some of the evidence for why these studies all come to the same conclusion.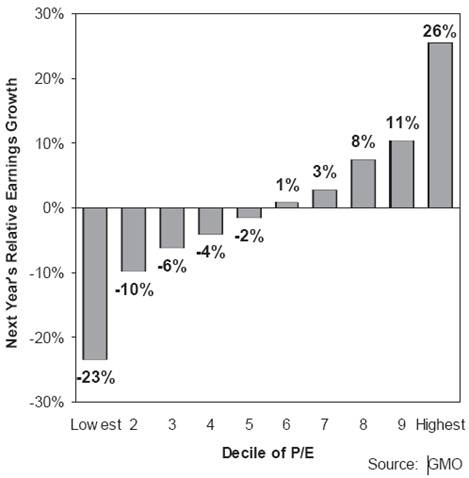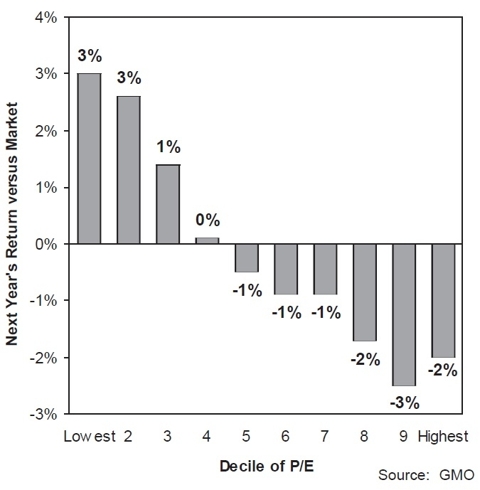 Source: GMO White Paper - "The Trouble with Value" by Ben Inker, July 2005
The graphs prove that Wall Street analysts are very good at predicting earnings momentum. The stocks which are most admired produced the highest earnings growth rate in the next 12 months. However, as the second chart shows, stock price performance runs almost the exact opposite. The lowest PE stocks produce the best returns even though their earnings numbers are dismal in the coming year. Low expectations trump corporate near-term performance. Since this study confirms what we've seen play out in the US stock market over the last three decades, we thought this would be a good time to look at some of our holdings which fall into the lowest PE quintile. In our case, these selections are screened using our eight proprietary criteria.
Gannett (NYSE:GCI) is the largest publisher of daily newspapers in the US and owns 23 local television stations reaching 18.2% of the US population. Many of those stations are NBC affiliates. We believe that Comcast (CMCSK), a 51% owner of NBC/Universal and operator of the company, will improve almost every aspect of the company. General Electric (NYSE:GE) is a fine company, but knew very little about what people watch on TV. Comcast knows more about what people in the US watch on TV than any other company. This should make NBC affiliate stations much more profitable going forward.
Gannett is a major online information company owning CareerBuilder.com and other major websites. It's an early adopter of phone and tablet apps. Good writing and professional journalism are becoming scarce as time goes by. Scarcity creates value. If this company can find an audience for its writing through the new technologies, this stock could be huge. The stock trades at a PE of 6 and just above book value without an adjustment for intellectual property.
In 1991, Hewlett Packard (NYSE:HPQ) was a tired-looking tech company trading at 10 PE with a billion dollars in cash and no debt. It had a great history, but near-term earnings predictions were flat. Investors didn't know it at the time, but HPQ had the laser printer in the lab and was about to enjoy a boom in that business. Between the 1991 low and the 1999 high, the stock went up over ten-fold.
Today, the stock has a new CEO and competition in personal computers from Dell (NASDAQ:DELL), Apple (NASDAQ:AAPL) and others. The company must put up with the movement toward hand-held devices drawing confidence away from its traditional markets. HPQ had $12 billion in cash and $22 billion in total debts as of April 30. Free cash flow appears to be in the $10 billion per year area, meaning that it could pay off all existing debt in one year. The stock trades at less than 7x first call earnings estimate for fiscal 2011, ending in October. Those earnings have been revised down aggressively by unhappy analysts. Like most of the lowest PE quintile stocks, it has big challenges and low expectations.
Merck (NYSE:MRK) is arguably the most successful health science research firm in history. Poor choices associated with the risk of heart attacks and strokes doomed Vioxx back in 2005, even though it might have been the most effective pain killer in history. The legal and public relations fallout from Vioxx has cast a pall over the stock of Merck for six years and prevented new products from making up for drugs losing patent protection. While many analysts seek a break up of companies like MRK, the company has chosen to redouble research efforts and return to its roots.
One of the products of this refocus is Anacetrapib. This Atherosclerosis drug was tested at the Cleveland Clinic on 1,623 patients. It showed incredible results in lowering bad cholesterol and raising good. It is being tested on more than 30,000 patients and the results could be known as soon as December of 2012. If it provides an adequate level of safety it could be the drug that replaces Lipitor, which is the largest selling drug in the world. Merck trades at 10 PE and pays nearly a 4% dividend. Studies show that the big pharmaceutical stocks make up the smallest percentage of the S&P 500 Index they have since 1982, even though their profits dwarf that lower percentage. These facts tell us there is a great deal of upside if things go Merck's way.
What most of the academic studies don't tell people is that the companies that make it into the lowest PE quintiles have had some big problems or challenges which got them there in the first place. We use our eight proprietary criteria to find the ones which we think are the most likely to move their way back up through the quintiles and, possibly, be long-duration holdings for our discipline.