It has been a tough couple of days in the market. However, there are still some secular trends you can play. One of which is the increasing worldwide demand for grains and livestock. A great play on that is AGCO.
AGCO Corporation (NYSE:AGCO)
-
.
AGCO Corporation manufactures and distributes agricultural equipment and related replacement parts worldwide. The company provides tractors, including compact tractors for small farms and specialty agricultural industries comprising dairies, landscaping and residential areas; utility tractors, such as two-wheel and all-wheel drive versions for small and medium-size farms, and specialty agricultural industries consisting of dairy, livestock, orchards and vineyards; and horsepower tractors for large farms and on cattle ranches for hay production. It also offers application equipment, which includes self-propelled, three and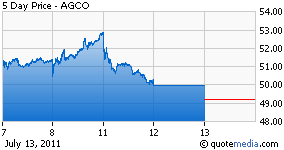 four-wheeled vehicles, and related equipment for use in the application of liquid and dry fertilizers, and crop protection chemicals; chemical sprayer equipment for planting crops; and related equipment that comprises vehicles for waste application, as well as provides combines. In addition, the company offers hay tools and forage equipment consisting of round and rectangular balers, self-propelled wind rowers, disc mowers, spreaders and mower conditioners for harvesting and packaging vegetative feeds; and engines, such as diesel engines, gears, and generating sets.
Here are 10 reasons I am very positive on AGCO at $49 a share:
It has crushed earnings estimates each of the last four quarters and estimates for the next two quarters as well as 2011 and 2012 have been significantly revised up over the last three months.

Its valuation is historically reasonable as it sells in the bottom half of its five year valuation based on P/B, P/E, P/S and P/CF.

AGCO is selling at 12.5 times this year's projected earnings and just 11 times next year's consensus EPS.

AGCO is a play on the secular trend on the world's increasing need for food (grains and livestock) as more of the developing world is able to afford a better quality and higher quantities of protein and foodstuffs

Revenue for 2011 should be more than 20% higher than 2010 and 2012's growth in sales should be in the 10% range, which may prove conservative.

Although AGCO and Deere (NYSE:DE) are valued about the same based on P/E and PEG, AGCO is selling at price-to-sales ratio of about half that of Deere. A better sales mix going forward should lead to better margins and eventually an expansion of the P/S multiple.

AGCO should be propelled by international growth. It gets 75% of revenue from overseas including 25% from South America, which is enjoying a commodity boom. It also is well represented in the Middle East and Africa where crop production is increasing.

A primary driver of purchases, farm income, was up 27% in 2010, according to statistics provided by the USDA.

It has underperformed the S&P 500 (NYSEARCA:SPY) by approximately 10% since early May so shares can be purchased around 12% cheaper than two months ago.

AGCO at $49 a share is significantly under analysts' price targets. S&P has a price target of $80 on AGCO, Jefferies is at $58 a share and The Street is at $67.

Disclosure: I have no positions in any stocks mentioned, but may initiate a long position in AGCO over the next 72 hours.