Today I established a pair trade with a short GlaxoSmithKline plc (NYSE:GSK) position and a long Teva Pharmaceutical Industries Limited (NYSE:TEVA) position. The position assumes a long TEVA position will outperform a short GSK position. The beta is low on both stocks, and this trade is more of to increase my hedges in place.
The net position is the following long and short positions:



GlaxoSmithKline plc, based upon my analysis and conclusions, is a company in decline. Earnings are increasing at a slower pace. Dividends represent a significant percentage of earnings. The company's debt level is 60%. The following chart, in turquoise color, displays the percentage of profits paid out as dividends. The dividends are a significant percentage of net profits.
Glaxo depends upon new product development to support its dividend and its earnings growth rate, and to replace drugs which are losing their patent protection and will be offered as generic drugs. There are fewer and fewer FDA approved products which can produce significant profits for a $100 billion market cap company.
[Click all to enlarge]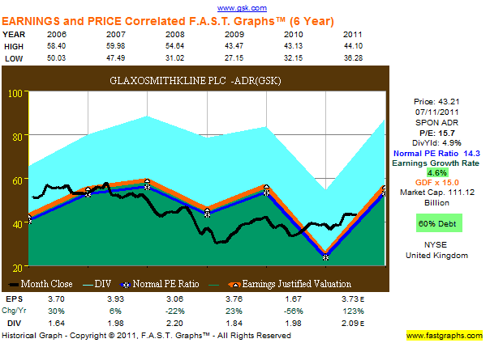 The company's SEC 20-F clearly states GSK's desire to continue to be a market leader. Unfortunately there are only so many FDA approvals for new drugs and vaccines and that offer patent protection. The benefactors are companies offering generic product offerings. The entire world is focused upon reducing healthcare costs, including medicinal and pharmaceutical drugs.
A primary concern, when I am short a stock, is that a takeover is announced and is financially bothersome to my net worth. Because GSK is a $100 billion market cap, the likelihood of a buyout is low. Teva, on the other hand, has a market cap of sub-$50 billion and is growing rapidly both in earnings and dividends. I like my chances here.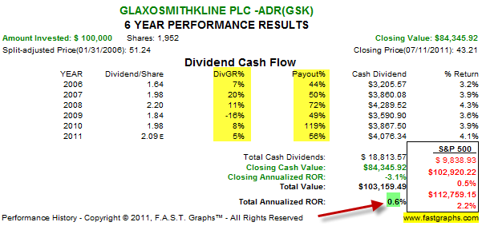 In recent years, key GSK drugs including Paxil, Welbutrin, Valtrex, Augmentin, and Zofran have experienced patent expiration. GSK has been aggressive in pursuing FDA-approved drugs. In May 2011, for example, GSK signed an agreement for Human Genome Sciences (HGSI) Lupus drug, BENLYSTA®. GSK has taken an active role to be on HGSI's board of directors.
First Call has GSK's estimated earnings growth rate at 5.4%. In comparison, First Call has TEVA's estimated earnings growth rate at 10.5%. This material difference will only provide further cash for Teva's acquisitions, and less money for GSK to service its 60% debt load and high dividend level.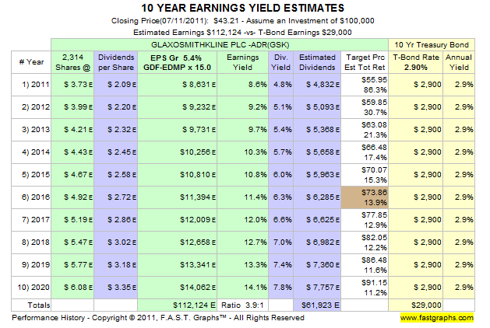 Teva is in the sweet spot of drugs losing their patent protection. The company is trading at a sub-10x price to earnings ratio. First Call and Standard and Poors have an estimated Teva earnings growth rate projected at 10.5x per annum. The projected growth rate is higher than the current Teva price-to-earnings multiple.
Teva is aggressively signing agreements and making acquisitions designed to improve its product portfolio and enhance the likelihood of increased earnings per share. Currently Teva has 85% of sales in Europe and North America. The company is focused upon expanding its sales around the globe. Due to Teva's low cost advantage, the likelihood of success remains high.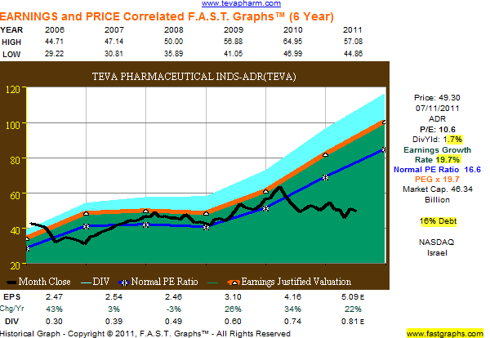 TEVA has a dividend payout percentage of less than 20% for the past five years. In comparison, GSK has a dividend payout percentage of 44% or more for the past five years. Teva's 16% debt level is significantly below the 60% debt level of the short position in GSK. A higher growth rate and lower debt-to-market cap provide plenty of opportunities for Teva to make positive inroads to new growth markets. Teva recently announced plans for a $6.8- billion acquisition of Taiyo. Teva will become a Japanese generic product leader.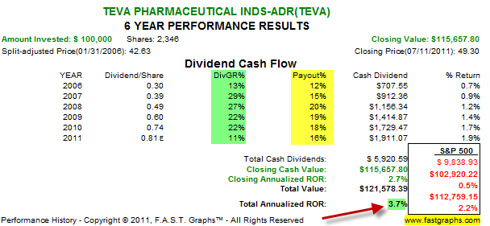 Over the past five years, TEVA slightly beat the S&P 500 in total annual rate-of-return. This percentage, in my opinion, will swing favorably in favor of Teva for future years. The rationale is based upon an influx of new generic medications available for Teva to supply on a worldwide basis. The company's low dividend-to-earnings payout will only enhance Teva's ability to acquire core businesses and continue to increase the annual dividend.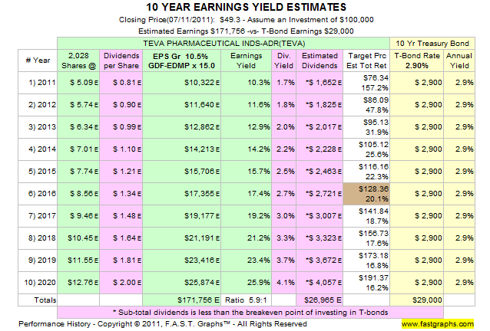 Disclosure: I am long TEVA.
Additional disclosure: I am short GSK as part of a paired trade with TEVA.