Leading hedge fund and mutual fund managers that have a long-term track record of generating high market-beating returns are underweight the China services group by a factor of 2.5. These high alpha or guru funds number less than one percent of all funds and they control almost ten percent of the U.S. equity discretionary fund assets. Their top new buy ideas in the China services group are online gaming provider Netease.com Inc. (NASDAQ:NTES), Internet TV company Youku.com (NYSE:YOKU), hotel manager Home Inns & Hotels (NASDAQ:HMIN), and technology outsourcing company Vanceinfo Technologies Inc. (NYSE:VIT). The gurus are least enthusiastic about included Internet search provider Baidu Inc. (NASDAQ:BIDU), Internet portal Sina Corp. (NASDAQ:SINA), and language training and test preparation course provider New Oriental Education and Technology ADS (NYSE:EDU). The following is our take based on their top buys, sells and holdings:
Sell Baidu Inc. ADS
(BIDU)
: BIDU is a leading Chinese provider of internet search, targeted online advertising and other internet content services. Guru funds aggressively sold a net $208 million of BIDU during the quarter, cutting significantly from their prior $1.32 billion position in the stock. This includes $345 million sold by Viking Global Investors LP, $17 million sold by
SAC Capital Advisors LP, $13 million sold by Tremblant Capital Group and $2 million sold by Fisher Asset Management LLC. However, this was countered with a $170 million buy by six guru funds, including $101 million by Capital Growth Management LP, $22 million by Driehaus Capital Management, $19 million by Soros Fund Management LLC, $12 million by Balyasny Asset Management LLC, $11 million by Tiger Global Management LLC and $4 million by Zweig-DiMenna Associates.
BIDU trades at a rich
forward price-to-earnings (P/E) ratio of 35, in the top one-third of its historic P/E range. Also, it trades at a premium P/E to Growth (PEG) ratio of 1.24. The mean analyst target is $169, over 20% above current levels; and of the 27 analysts covering the stock, 22 rate it a buy/strong buy, two a hold and three rate, it at underperform/sell. We believe that while there may still be long-term upside potential in BIDU based on its explosive growth and the strength of the Chinese economy, most of this is already factored into the stock, and at current levels there is more downside risk in the short-term. We like BIDU, but we would sell it here and wait for a pullback near $100 where the risk/reward equation would be more favorable.
Youku.com Inc. (YOKU):
. YOKU, a Chinese internet television company, is more popularly known as the YouTube of China. Guru funds bought a net $103 million of YOKU during the quarter, adding significantly to their prior $23 million position in the stock. This includes $60 million bought
by
Tremblant Capital Group
, $54 million bought by
Tiger Global Management LLC
, $2 million bought by
Soros Fund Management LLC
and $1million bought by
SAC Capital Advisors LP
. This was countered with a $10 million sell by
Maverick Capital
and a $5 million sell by
Balyasny Asset Management LLC
.
YOKU generates losses right now and trades at a rich 57 time trailing twelve months (NYSE:TTM) revenue of $70 million. However, at the 174% revenue growth that it exhibited in the March 2011 quarter, it would not take long for that ratio to be more reasonable. In fact, assuming even a moderated 75% to 100% revenue growth, it would only take three to four years for the ratio to be in a more acceptable five to eight range. However, it is still not clear if the company can be profitable enough to justify such high valuations. Furthermore, momentum is clearly on the downside, and it appears that the stock has found temporary support near its IPO price. The emphasis here is on temporary, as we believe that it will be difficult for the stock to put in a bottom until it puts forth numbers that can justify its high valuations, either in terms of an acceleration of the explosive growth and/or a move towards profitability. We would stay on the sidelines for now.
Sell Sina Corporation
(SINA)
: SINA operates a Chinese internet portal offering media content and services for China and global Chinese communities. Guru funds sold a net $46 million of SINA during the quarter, cutting significantly from their prior $177 million position in the stock. This includes $29 million sold by
SAC Capital Advisors LP
and $21 million sold by
Platinum Investment Management Ltd.
SINA trades at a rich
forward P/E of 57, at the top of its historic P/E range. Meanwhile, historic long-term revenue and earnings growth rates have been anemic in the single digits, and do not support such a high valuation. While hopes are high for SINA's Twitter-like Sina Weibo service launched in August 2009 and indeed may be the primary reason for the explosive run-up in the stock in the last two years, Weibo faces tough domestic competition in China from BIDU, Tencent (OTCPK:TCEHY) and Alibaba (OTC:ALBCF), and the success of its business model is far from certain. We believe much of the price appreciation in SINA stock in the last two to three years is at risk of correcting, and at current levels, the downside risk outweighs any potential upside, and we would be sellers here.
Buy E-house Holdings Ltd. ADS (NYSE:EJ)
. EJ is a Chinese provider of real estate agency, secondary real estate brokerage, consulting and information services. Guru funds bought a net $26 million of EJ during the quarter, adding significantly to their prior $46 million position in the stock. This includes $11 million bought
by
Platinum Investment Management Ltd.
, $9 million bought by
Royce & Associates LLC
, and $5 million bought by
Soros Fund Management LLC
; no guru sold this stock during the quarter.
EJ has been under significant pressure recently, dipping as low as below $8, as news from the Chinese property sector has continued to be negative, with homes sales and prices in both Beijing and Shanghai reported steep declines this year. Of the eight analysts covering the company, four rate it a buy/strong buy, three a hold, and only one rates it at underperform. The mean analyst price target is $13, a significant upside from current $8-$9 levels. The stock has $570 million or over $7 in net cash available and is trading at $8-$9. We consider it attractive and would buy it at these levels.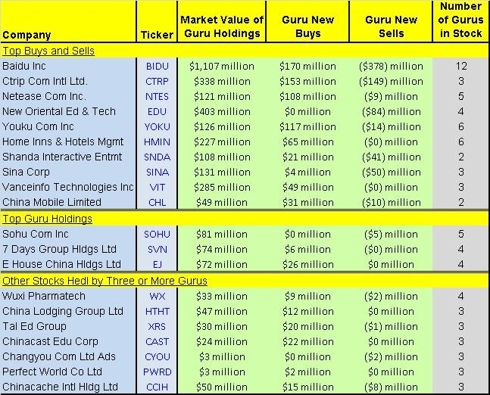 General Methodology and Background Information
: The top new buy and sell ideas of high alpha generating or guru funds were generated through analysis of
their latest available institutional 13-F and 13-D/G
(5% ownership) filings (as recent as ten days old). This analysis revealed the specific stocks the 70+ gurus bought or sold or held in large or small quantities as an indication of their bullishness or bearishness about those stocks.
The argument is that institutional investors have the resources and the access to information, knowledge and expertise to conduct extensive due diligence in informing their investment decisions. When high alpha generating or guru Institutional Investors by virtue of their fund performance, low volatility and elite reputation in the investment community, invest and maybe even converge on a specific investment idea, the idea deserves consideration for further investigation. The savvy investor may then leverage this information either as a starting point to conduct his own due diligence or even go as far as constructing a model diversified portfolio based on the guru funds best picks.
Please note that each of the gurus has been carefully selected based on their long-term performance and standing in the investment community. Furthermore, the credentials of most of the 70-odd guru funds that justify their inclusion in this elite group were detailed in our previous articles, many of which can be accessed by clicking on the hyperlinks referencing them in this article.
Credit
: Historical fundamentals including operating metrics and stock ownership information were derived using SEC filings data, I-Metrix® by Edgar Online®, Zacks Investment Research, Thomson Reuters and Briefing.com. The information and data is believed to be accurate, but no guarantees or representations are made.
Disclosure: I have no positions in any stocks mentioned, and no plans to initiate any positions within the next 72 hours.
Disclaimer
: Material presented here is for informational purposes only. Nothing in this article should be taken as a solicitation to purchase or sell securities. Before buying or selling any stock you should do your own research and reach your own conclusion. Further, these are our 'opinions' and we may be wrong. We may have positions in securities mentioned in this article. You should take this into consideration before acting on any advice given in this article. If this makes you uncomfortable, then do not listen to our thoughts and opinions. The contents of this article do not take into consideration your individual investment objectives so consult with your own financial adviser before making an investment decision. Investing includes certain risks including loss of principal.