As I mentioned in a previous commentary on unemployment, automation will be a critical trend in technology as firms and governments will use labor-saving software and machinery to cut costs and increase productivity. As computing power increases and technology costs go down, the robotics industry will be the main beneficiary.

iRobot (NASDAQ:IRBT)- iRobot is the most pure play on investing in robotics of any company listed on a major American exchange. It produces robots for military products that specialize in risky situations such as radioactive clean up, scouting, and mine removal. The company also is strongly involved in the consumer sector with products such as the Roomba automated vacuum cleaner. The automation iRobot has strong financials with a 15.8% ROIC, no debt, and a 24% expected growth rate over the next five years. Technically, IRBT is slightly overbought, and I would wait to buy the stock at $30 per share or if momentum indicators turn bullish.
(Click charts to enlarge)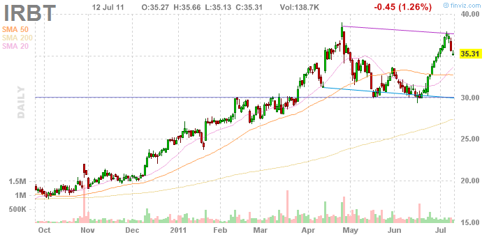 Aerovironment (NASDAQ:AVAV)- Aerovironment is the company that produces unmanned drone planes that are currently used in combat in conflicts in Afghanistan, Libya, and Iraq. Defense spending cuts and the military's desire to keep human soldiers out of dangerous situations will continue the trend of using more robots for scouting and offensive strikes. The company is financially strong with no debt and earnings growth is expected to be 38% over the next five years. The stock PEG is reasonable at 0.78, so investors are not overpaying for growth. However, the stock is technically overbought, so I would wait until the stock trades below $31 per share before buying.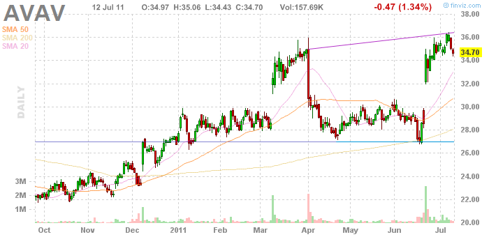 NCR Corporation (NYSE:NCR)- NCR is the leading producer of technology that automates the retail industry along with providing ecommerce services. Products NCR makes include the self checkout machines in grocery stores, self service checkout machines at airports, ATM machines, and self service software in food service, retail, travel and finance. NCR had record breaking sales in 2010, and automated self service technology will continue to grow as its efficiency in cost and inventory management is greater than hiring a retail clerk or cashier. The average cost of a self checkout machine is $20,000 (slightly more than the average retail wage before payroll taxes), so retailers recover savings over hiring in a little over a year of purchase. Financially, the company is strong with a 0.01 debt/equity ratio and an average expected growth rate of 21% over five years. Wait to buy the stock at $17.50 or lower to get the best value as the stock currently has bearish technicals.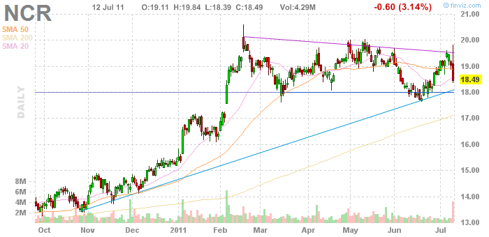 Overall, I believe that these companies are three of the best ways to invest in the robotics sector and capitalize off automation. Robotics reminds me of computers in the 1980s, present in society, but just starting to be used in more universal applications. Strong financials, growth opportunities in commercial, domestic, and the military markets, and the lowering of component costs make these companies an excellent investment opportunity. All three stocks are technically overbought, but with a pullback, make excellent buying opportunities for the long haul.

Disclosure: I have no positions in any stocks mentioned, and no plans to initiate any positions within the next 72 hours.