JPMorgan Chase (NYSE:JPM) is not only a great bargain at these valuations, it showed two interesting technical buy signals yesterday.
With Chase hitting a new low, this gold standard of big banks is a steal. In my opinion, Chase is a core holding for your portoflio, due to its "fortress" balance sheet, diversified geographic and product exposure, its scale and top quality management. At a measly 8.75 times trailing earnings, 0.9 times book value, and even 0.97 PEG, Chase is cheap not only to peers like Wells Fargo (NYSE:WFC) and Citi (NYSE:C), but to the S&P 500 in general and its own historical valuations. In recent months, it's re-instituted a sizeable dividend and has been buying shares back in a very discplined but aggressive manner. Compare its $40 price with targets of $52 for Standard and Poors and $58 for Credit Suisse, and you'll see room for sizeable profit.
Now let's look at the two technical indicators. Those who have read my profile know my m.o. is to watch great value stocks, then make a move when I see a technical indictator. This is a nice way to maxmize your returns, as it is becoming apparent that others realize what you realize: This stock is poised to go up. Before I go any further, I want you to realize that technical analysis is a very inexact science. In other words, the readings can be false or bias can creep in. That's why it's important to understand and believe in your investment, in my opinion, rather than embarking on a purely technical trade.
The first is a candlestick pattern known as an inverted hammer, seen below.
[Click all to enlarge]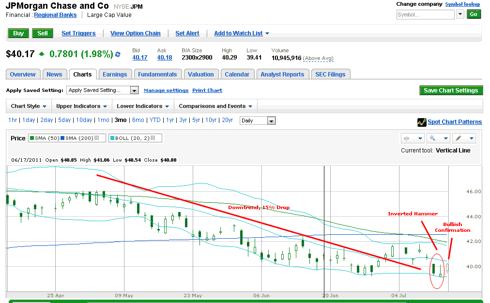 Click to enlarge
This is a one-day bullish reversal pattern, meaning the candlestick could reverse a pronounced downtrend. You confirm it with a gain on the next day, and today JPM is up almost 2% at writing.
Also yesterday, you saw a steep RSI divergence: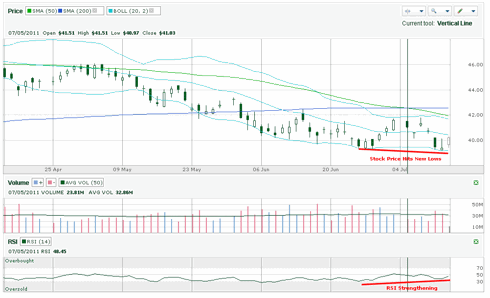 Click to enlarge
A bullish RSI divergence occurs when the stock price reaches a new low, hit yesterday, but the Relative Strength Indicator is moving in the opposite direction -- in this case, up. This often signals that the stock is ready to reverse direction.
While I generally don't like recommending stocks right before earnings, I want you to take note of the various developments that make a best in breed bank, Chase, a value with technical muscle behind it. While it wouldn't hurt to see what happens tomorrow on its quarterly report, this is a great entry price for Chase, the strongest bank in the world.
Disclosure: I am long JPM.