Ancestry.com (NASDAQ:ACOM) is nearing new highs today, revealing some positive technical action--one of the key factors behind its 'Top Pick' status in our portfolio of Best Ideas. We think the name to be significantly undervalued on a discounted cash flow (DCF) basis as well as undervalued on a relative value basis. And with the firm posting solid cash-flow generation and strong returns on invested capital, it is by definition one of our 'Top Picks.' Below, we explain why it is so difficult for firms to achieve our 'Top Pick' status and why we've been so bullish on Ancestry.com for some time.
Our Buying Index

Let's follow the red line on the flow chart below to see how a firm can score a 10, the best mark on our Buying Index (a "Top Pick"). (If the picture below is blurry, please click here to view a pdf version.) First, the company would need to be 'undervalued' on a DCF basis and 'attractive' on a relative value basis. The stock would also have to be exhibiting 'bullish' technicals. The firm would need a ValueCreation rating, a measure of economic profit creation, of 'good' or 'excellent,' exhibit 'high' or 'aggressive' growth prospects, and generate at least a 'medium' or 'neutral' assessment for cash flow generation, financial leverage, and relative price strength.
This is a tall order for any company, but we're looking to deliver the very best ideas to our clients and subscribers. Firms that don't make the cut for a 10 are ranked accordingly, with the least attractive stocks garnering a score of 1 ("We'd sell"). Most of our coverage universe falls between 3 and 7, but at any given time there could be a large number of companies garnering either high or low scores, especially at market lows or tops, respectively.
(Click chart to enlarge)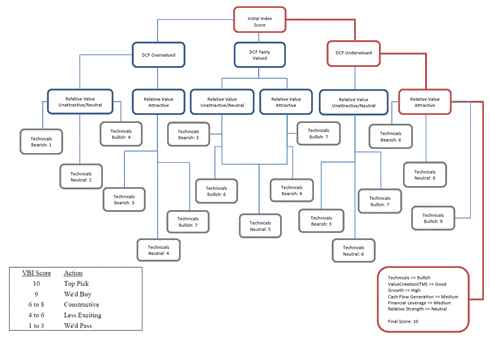 Here's how Ancestry.com scores on some of our key qualitative measures, which when combined have earned it our 'Top Pick' status:

DCF Valuation: UNDERVALUED (best ranking)

Based on our discounted cash-flow process, we think Ancestry.com's shares are worth $70 each. For more information on our valuation expectations, please click here to view our thoughts, which we published on Seeking Alpha not too long ago.

Relative Valuation: ATTRACTIVE (best ranking)

Ancestry.com's forward measures for its Price-to-Earnings ratio and PEG (price-earnings-to growth) ratio are below its peer median. We think consensus estimates are way too low for next year and expect the release of the 1940 US Federal Census to be one of the biggest catalysts for genealogical research the industry has yet seen. The census will be released to the public early next year.

ValueCreation: EXCELLENT (best ranking)

Ancestry.com's ValueCreation rating, or the measure of its economic profit spread above its cost of capital, has been positive for the past several years. We expect economic-profit creation to continue for some time to come.

Cash Flow Generation: STRONG (best ranking)

Ancestry.com's subscription-based model is one of the best revenue models out there, in our opinion, and translates into strong cash-flow generation. Though the firm is investing heavily in marketing and advertising, free cash flow growth should continue to be stellar in the years ahead.

Financial Leverage: LOW (best ranking)

Ancestry.com is practically debt free.

Growth: AGGRESSIVE (best ranking)

The firm's growth rates have been phenomenal in recent years, and we expect this to continue. Ancestry.com's potential market opportunity is huge and could represent nearly 10 times its existing subscriber base.

Technical Evaluation: BULLISH (best ranking)

Ancestry.com has broken through its bullish flag pattern, and other technical indicators point to a move higher. We think this marks the beginning of the next leg upward in its stock price.

Relative Strength: STRONG (best ranking)

The online family history provider has outperformed the market over recent periods, and we think this will continue.

Disclosure: I am long ACOM.
Disclaimer: Our Best Ideas List is for information purposes only and should not be considered a solicitation to buy or sell any security. Valuentum is not responsible for any errors or omissions or for results obtained from the use of our Best Ideas List and accepts no liability for how readers may choose to utilize the content.