Petroleo Brasiliero S.A. (NYSE:PBR) is a mixed joint stock corporation controlled by Brazil's federal government, one of the largest energy companies in the world and a perennial presence in the top five companies in the world by market cap. Each ADS represents two shares. The company reports results in five segments:
| | | |
| --- | --- | --- |
| Division Name | FY2010 Rev | FY2010 Income |
| Exploration and Production | 26% | 80% |
| Refining, Transportation, Marketing | 46% | 10% |
| Distribution | 17% | 3% |
| Gas and Power | 4% | 3% |
| International | 7% | 4% |
The critical Exploration and Production segment includes activities in Brazil and sales of oil and gas, domestically as well as internationally. The Brazilian government owns by law all crude and gas reserves in Brazil, but PBR has rights to exploit these resources pursuant to concessions. Proven crude and gas reserves rose 7.5% in FY2010, and production rose 2.3%.
The Refining, Transportation and Marketing segment includes refining, crude oil exports, imports, petrochemicals and fertilizers in Brazil. PBR has an overwhelming share of Brazil's refining capacity, with 12 refineries in Brazil, two in Argentina and a 50% interest in the Pasadena Refining System in Pasadena, Texas, as well as an 87% interest in the Nansei Sekiyu Kabushiki Kaisha refinery in Okinawa, Japan.
The Distribution segment includes oil and ethanol distribution conducted by PBR's subsidiary, Petrobras Distribuidora S.A., with a retail network of over 7,300 stations in Brazil. The Gas and Power segment handles purchases, sales and transportation of natural gas produce dor imported into Brazil, including thermal power generation. The International segment comprises PBR's activities outside of Brazil in the other four operating segments.
Information sourced from an S&P Compustat company report and Petrobras' public investor relations website.
Fundamentals
PBR is trading at 8.3x PE TTM in the low end of its historical PE channel ranging 8 to 11x multiples. Forward P/E looks even better around 7.9x.
PEG is an impressive 0.75 vs. industry average of 1.30. The company is in the top third percentile of the industry mean in terms of price per estimated growth prospects.
P/CF TTM sits at 6.41, which at first sight appears to be a huge discount to industry basic average of about 30 but on closer examination is close to mean average.
P/Sales TTM, however, is an attractive 1.56, which places the company in the top third percentile of the industry mean.
P/Book is similarly attractive, at 1.21, once again the top third percentile of industry mean.
Petroleo Brasiliero has $40B in cash and around $82B in debt. It has virtually no short interest (0.5% ratio as of mid-June) and a forward annual dividend yield of 1.1%. Payout ratio hovers around 40%, and the company has increased its dividends an average of 50% for the last five years, a shareholder-friendly policy which indicates there's room for further dividend growth.
Information sourced from an S&P Compustat company report, Fidelity Investments and Yahoo Finance.
Technicals
PBR is trading around $33.30, slightly below 50-day and significantly below 200-day SMAs. The 52-week range is $31.50-42.75.
[Click to enlarge]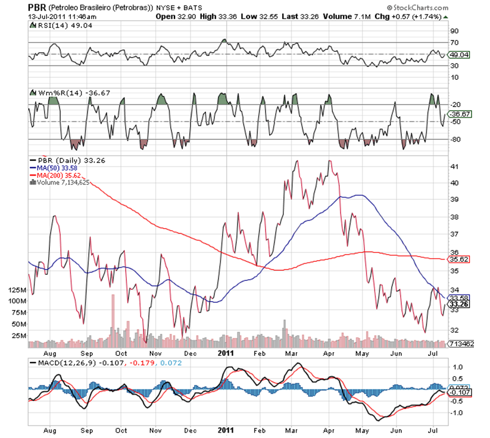 Click to enlarge
Data and chart courtesy of Stockcharts.com.
MACD shows steady improvement since mid-May with a basically neutral -0.1 value but a minimally positive divergence from the EMA line. The stock has leveled off after a severe sell-off which began at the beginning of May. RSI and Williams %R are neutral, indicating the equity is not experiencing short-term sell pressure or buy interest.
Sentiment
Analysts are relatively bullish on the stock, with Smith Barney and independent firms Thomas White International and EVA dimensions all rating PBR a Strong Buy. On the other hand, Standard & Poor's Research downgraded the company to Neutral on July 9, citing worries about the industry and strong competition from Exxon Mobil (NYSE:XOM). The 12-month mean price target of analysts following the stock is $38.90, implying a significant upside of about 17%.
Information sourced from Fidelity Investments.
PBR seems well-positioned for intermediate and long term price appreciation.
S&P Research has reiterated 4% and 6% production growth through FY2011 and FY2012 respectively, and PBR provided a 50% FY2014 guidance over FY2010 levels. The company stated it's also aiming to deliver 12.5% YOY gasoline production increases by end of July.
Brazil's economy continues to expand at a clip far outpacing global development, posting 1.3% growth in Q1 of 2011, a 4.2% increase YOY. As PBR's revenues and incomes are dominantly domestic, Brazil's growth is expected to correlate closely with additional opportunities for the company.
PBR has shown initiative in expanding its portfolio, recently announcing a 50% stake purchase in a domestic biodiesel company. This shows management is actively considering renewable energy involvement and bodes well for long-term growth prospects.
PBR is trading at significant discount to historical as well as competitor valuation.
A couple of attractive option plays available for those interested in establishing long positions in PBR:
Purchasing Jan 21st 2012 $31 calls for $3.65 per contract implies a break-even point of $34.65, significantly below mean analyst target price of $38.90 and historical PE channel average of 9.5x PE, which would indicate a $45 target.
Selling Jan 21st 2012 $33 puts for $2.65 per contract implies a break-even point of $30.35, significantly below the bottom of the 52-week range. If expired, the sold contracts would return an annualized rate of about 19% (for comparison purchase only.)
Disclosure: I am long PBR.