Chicago-based Oakmark Funds, now part of Harris Associates LP, manages $48 billion in assets, including $34 billion in equity assets. The firm is led by Bill Nygren, who was recently profiled as one of four "World's Greatest Investors" by SmartMoney magazine in its July 12 cover story. Harris Associates manages money for individuals via the much-heralded Oakmark Funds, and it also serves Institutions and high net worth individuals via separately managed accounts.
Oakmark offers seven mutual funds, four of which are ranked five stars, two are ranked four stars, and one is ranked three stars by Morningstar. Its largest mutual fund, the $20.6 billion Oakmark Equity & Income Fund, has generated 8.2% compound returns in the last ten years, ranking it in the 2nd percentile in its category. Furthermore, the Oakmark Global with $3 billion in assets has been ranked by Kiplinger as one of its 25 favorite Mutual Funds. The funds follow a disciplined value investment philosophy and process in making investments.
Oakmark's portfolio is well-diversified, including 230 positions. Approximately two-thirds of its holdings are in large caps, and most of the remaining one-third is in mid caps. Its portfolio turnover is 10% implying an average holding period of ten years. Its portfolio is over-weight in the services sector (22%), and it is under-weight basic materials (0%), utility (1%), and energy (14%) sectors, compared with the weighting of these sectors in the overall economy. The following summarizes the largest new buys and sells in the
most recent SEC 13-F filing for the June 2011 quarter
, and updated based on any 13-G filings since the end of the quarter:
Technology sector: Buy Cisco Systems Inc.
(NASDAQ:CSCO)
. Oakmark cut $860 million from its $4.8 billion prior quarter position in the technology sector. This included dropping its $1.14 billion position in Intel Corp. (NASDAQ:INTC)
, a manufacturer of microprocessors, chipsets, network processors, motherboards, non-volatile memory and storage; cutting $270 million from its $318 million prior quarter position in Cisco Systems Inc.,
a manufacturer of switches, routers, and other networking and communications hardware for business and home applications; adding $295 million to its $685 million prior quarter position in Texas Instruments (NYSE:TXN)
, a manufacturer of ICs and digital signal processors used in cell phones, navigation systems and PCs; and adding $103 million to its $645 million prior quarter position in Applied Materials Inc. (NASDAQ:AMAT)
, a manufacturer of deposition, inspection, and etching equipment used in IC and flat panel display fabrication.
CSCO has been weak dropping almost 60% in the last six months to the $15 range. In the most recent quarter ending April 2011, the company beat analyst earnings estimates, reporting 42 cents versus the 37 cents consensus estimate, and it guided down slightly revenue and margins going forward. Admittedly, CSCO has problems and will find it difficult to maintain its technology edge, market share and margins growing forward. However, at its current $15, the stock is a bargain. Its stock is trading at a forward 9 price-to-earnings (P/E) ratio, well below its historic trading range. The company has over $26 billion or almost $5 per share in net cash available, and is projected to generate a colossal $6.5 billion or over $1 per share over the next two years. Furthermore, it sports a healthy dividend yield of 1.5%. We believe CSCO at $15 is a great buy for the value investor with a long-term horizon who is seeking to buy a dividend-yielding and high-cash-generating technology leader. Furthermore, it seems that high yield or guru fund managers would agree with us as in the latest available quarter, they added a net $655 million to their prior quarter $1.98 billion position in the company.
Service sector: Sell Home Depot
(NYSE:HD)
: Oakmark cut $730 million from its $7.48 billion position in the service sector. This included cutting $507 million from its $545 million position in home improvement retailer Home Depot Inc.
HD trades at a forward 16 P/E, in top third of its historic P/E range; competitor Lowes Companies Inc. (NYSE:LOW)
trades at 14 forward P/E. The stock has rallied, up more than 100% above the $17 lows during the 2008/09 crisis, on the strength of an earnings recovery. However, revenue is down approximately 14% from pre-crisis levels in 2007. HD has improved earnings while revenue has plummeted post-crisis by closing down underperforming stores, reducing supply chain costs, and optimizing capital allocation. However, further price improvement will be difficult, unless the company can also grow revenue. And it appears that revenue will remain under pressure until the housing market rebounds and consumers have more discretionary income to spend on big remodeling projects and high-ticket items that HD sells in its stores. We would remain on the sidelines until that is evident.
Healthcare sector:
Oakmark cut $630 million from its $4.38 billion position in the healthcare sector. This included cutting $425 million from its $451 million position in Hospira, Inc. (NYSE:HSP)
, a developer of specialty injectable pharmaceuticals and drug and IV fluid delivery systems; cutting $329 million from its $371 million position in Boston Scientific Corp. (NYSE:BSX)
, a developer of medical devices used in cardiology, endoscopy, oncology, neuromodulation and other interventional procedures; and adding $57 million to its position in Clinical Research Outsourcing company Laboratory Corporation of America (NYSE:LH)
.
BSX has been trading lower ever since peaking at $46 in 2004. Currently, the stock trades at a forward P/E of 15 times estimates 48 cents annual earnings in the December 2012, fiscal year, while revenue has flattened out and earnings have dropped off steeply from the peak earnings of $1.96 in 2005. In the most recent quarter, the company reported non-GAAP earnings of 14 cents versus analyst estimates of 4 cents, and has beat analyst earnings estimates for each of the last four quarters. The company is in turn-around mode, and earnings are expected to increase going forward as a result of recent restructuring that improved margins and reduced interest expenses. Of the 29 analysts that cover BSX, six rate it at buy/strong buy, one rates it at underperform, and 22 rate it at hold. We agree with the 'hold' assessment by a majority of analysts, and believe that while the stock may indeed have bottomed here, it is most likely to remain range-bound between $6 to $8 until BSX can show growth on both the top and bottom-line. In the meantime, we would look for better growth opportunities elsewhere.
Finance sector
:
Oakmark cut $610 million from its $5.46 billion prior quarter position in the sector. This included cutting $474 million from its $537 million position in JPMorgan Chase & Co. (NYSE:JPM)
, a global financial company providing private, commercial and investment banking and treasury services in over 60 countries; and cutting $361 million from its $483 million position in Bank of New York Mellon (NYSE:BK)
, a holding company for the Bank of New York Mellon offering commercial and treasury services in 35 countries; and adding $56 million to its $769 million position in MasterCard Cla (NYSE:MA)
, a provider of global payment solutions in support of the credit and debit payment programs of 23,000 financial institutions.
Energy sector
: Oakmark added $20 million to the $4.25 billion prior quarter position in the sector. In fact, the two biggest positions are in the energy sector, namely: Cenovus Energy Inc. (NYSE:CVE)
, engaged in the development, production and marketing of bitumen, crude oil, natural gas liquids in Canada, with refining operations in the U.S.; and Apache Corp. (NYSE:APA)
, engaged in the exploration and production of crude oil, natural gas liquids and natural gas globally.
Industrial sector
: Oakmark cut $1.34 billion from its $4.12 billion prior quarter position in the sector. This included cutting $458 million from its $481 million prior quarter position in ITT Corp. (NYSE:ITT)
is a diversified conglomerate that provides wireless tactical networking, electronic defense, surveillance, pump systems and fluid handling equipment; cutting $421 million from its $477 million prior quarter position in L3 Communications (NYSE:LLL)
, a manufacturer of secure intelligence communications systems, imaging products, and arming devices for missiles; and cutting $445 million from its $480 million prior quarter position in Illinois Tool Works Inc. (NYSE:ITW)
, a manufacturer of plastic and metal fasteners and fastening tools for the construction, automotive and appliance markets.
Consumer non-cyclical sector
: Oakmark cut $590 million from its $3.22 billion prior quarter position in the sector, including cutting $624 million from its $740 million position in Nestle SAA (OTCPK:NSRGY)
, a manufacturer of beverages, milk products, ice cream, candies, and other food items worldwide.
(Click table to enlarge)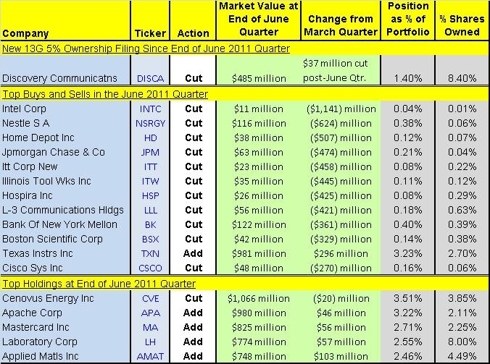 Credit: Historical fundamentals including operating metrics and stock ownership information were derived using SEC filings data, I-Metrix® by Edgar Online®, Zacks Investment Research, Thomson Reuters and Briefing.com. The information and data is believed to be accurate, but no guarantees or representations are made.
Disclosure:
I have no positions in any stocks mentioned, and no plans to initiate any positions within the next 72 hours.
Disclaimer: Material presented here is for informational purposes only. Nothing in this article should be taken as a solicitation to purchase or sell securities. Before buying or selling any stock you should do your own research and reach your own conclusion. Further, these are our 'opinions' and we may be wrong. We may have positions in securities mentioned in this article. You should take this into consideration before acting on any advice given in this article. If this makes you uncomfortable, then do not listen to our thoughts and opinions. The contents of this article do not take into consideration your individual investment objectives so consult with your own financial adviser before making an investment decision. Investing includes certain risks including loss of principal.