VirnetX is a development-stage company that is engaged in developing and commercializing software and technology solutions for securing real-time communications over the internet.
I have been watching the company for the past couple of weeks with great interest and, at times, frustration. I have wanted to short the stock several times but usually my broker did not have shares to lend (while others in my chat room made money).
Yesterday two things happened, I was able to borrow shares and VHC gave another short signal. I wasted no time and started to fade the move higher. I will be looking for the price to retrace to $36 or lower. At $36 the price would still be more than double the 200 day moving average and above the current nine day moving average.
click on image to enlarge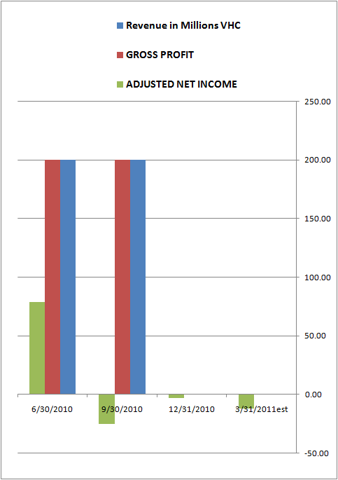 Click to enlarge
The company reported $-0.14 per share in its earnings for the quarter ending March 31, 2011. The quick ratio is 3.59 (generally the higher the better).
The current trailing twelve months (ttm) P/E ratio is 41.506 and the forward P/E ratio is N/A. The stock has a price to book ratio (ttm) of 12.26 and a price to sales ratio of 10686.23 (that is a big number regardless of the angle you look at it). In the last month the stock has moved in price 40.29%, with a one year change of 523.53%. Comparing to the S&P500 price change, VHC's performance is 37.54% vs. the S&P 500 from a month ago, and the one year difference is 412.06% vs. S&P 500 price change. The real question is, who doesn't know about what is going on yet with the company? Who is going to think that this price is so cheap that the price will move higher because the market has not figured it out what a value it is?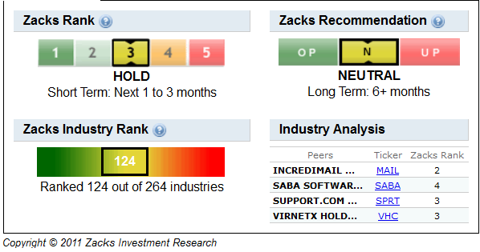 Click to enlarge
The annual growth rate of revenue is 159.2%. The last fiscal year had accounts receivable to sales percentage of 0.0395% compared to the same period a year earlier of 0.2601%.
VHC has rising revenue year-over-year of $0.07 million for 2010 vs. $0.03 million for 2009. VHC's bottom line has rising earnings year-over-year of $41.42 million for 2010 vs. $-12.52 million for 2009, and rising EBIT year-over-year of $104.69 million for 2010 vs. $-13.09 million for 2009.
Smart money is bearish with an eye popping 23% of the shares short as of the last reporting period. It would not be a huge surprise if much of the latest price movement was due to the short squeeze. I believe it will not carry the stock in the shorter term much further.
Disclosure: I am short VHC.