Netflix's (NFLX) remarkable performance for the last year and a half has been well-documented, on SA and beyond. The company's march toward the $300 mark has been met with significant skepticism. Although a few high-profile shorts publicly backed out in February, contrarian interest continues to mount.
My aim here is not to dwell on details comprehensively covered by others, but rather to offer for consideration some objections to the basic premises of those short and intermediate-term bearish.
To address the major points made in support of shorting Netflix:
Valuation metrics are stratospheric and therefore must decline.
The first part is unquestionably true. (Data and charts courtesy of YCharts)
Netflix 5-year PE Ratio vs. stock price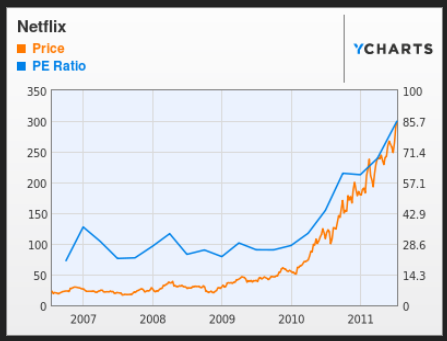 Through late 2009, Netflix traded in a broad but fairly well-defined PE channel, between 18 and 35 PE multiples. After the equity began its impressive rally in early 2010, we see the multiple more than double, then a continued surging.
Netflix 5-year Price/Book Value vs. stock price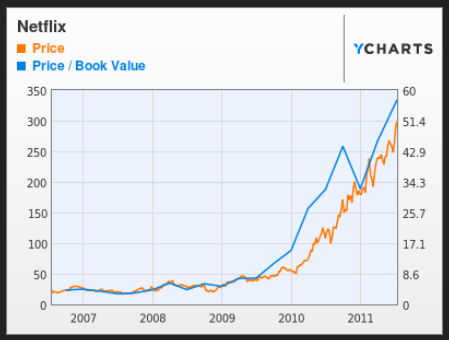 The stock shows the same deviation from historical P/BV multiples, with a stratospheric ratio of close to 60x as it nears $300.
These charts support the argument that Netflix's price appreciation has been speculative rather than based on current or trailing financial outcomes. But it does not necessarily follow that historically high valuation ratios must decline on a definitive timeline. Corrective parabolas can take years to fully develop. If anything, both charts suggest that as of right now, investors don't care that the company appears overvalued and continue to pile in because "the stock just goes up."
I'm not arguing that Netflix's ratios are rational or sustainable on a secular basis, but basic valuation theory doesn't apply to equities defined by speculation and momentum; it's a bit like using a ruler to measure weight. Unless the investment horizon is 3 to 5 years and beyond, expecting this bullish trend to reverse seems like an act of faith.
Balance sheet sleight-of-hand is designed to cover up that the company is at best FCF neutral and at worst setting itself up for insolvency through increasing COGS as far as the eye can see.
Hedgephone's recent article did a good job of dicing up the numbers, and earlier in the year, SA contributor Rocco Pendola interviewed hedge fund manager Len Brecken, who articulated a well-researched case that Netflix's financials are in bad shape and getting worse.
While accounting mavens may beg to differ on the finer points, what's not in doubt is that costs are rising to the tune of billions, and the company is wary enough to keep the specifics secret. Streaming costs less than mailing media (an estimated 5c per hour-and-half content vs. reported 78c per mailed DVD) but licensing contracts are eating up the savings and then some.
These worries are legitimate, but consider the following: Netflix picked up more than 8% in a single day on what amounts to a press release that it'll be expanding operations to 43 nations in Latin and South America. Details were sparse, the timeline fuzzy ("later this year") and the company provided no guidance on revenue or income expectations associated with this expansion.
My objection is as follows: If investors are willing to pay an instant 8% premium on the basis of a press release, never mind the challenges behind making a $7.99 monthly service appealing in nations with yearly wages a tenth or less than those in North America, then why should we expect them to react to other alarming pieces of financial information? Why apply rational guidelines to an equity so obviously driven by sentiment?
Tuesday's announcement confirmed this bifurcation between financial outlook and investor sentiment. Netflix announced a 60% price hike for its mail-DVD subscription service, a move met with howls of outrage in various online quarters. However, it was met with unbridled optimism on Wall Street, where the stock crossed the $300 mark on Wednesday before settling for about a 2% pick-up in after-hours trading.
The disconnect between broad discontent expressed by a large section of the company's customer base (here is a sample of what you were likely to hear if trying to contact Netflix on Wednesday) and investor sentiment, couldn't be starker. There are mounting signs the company didn't expect such strong backlash and risks losing some hard-earned clients, and yet the equity sees further appreciation. One wonders if there is anything at all Netflix can do that'll cause the bulls to cease the stampede.
The company is brushing up against limits of growth, with a built-in market-cap for its services and client churn eroding its existing subscription base.
While concerns about declining revenue per user shouldn't be dismissed out of hand, the company has reported declining churn and a steadily increasing number of paid subscribers. This may be the sole point on which Netflix's merit, rather than the momentum of its stock, wins. The company's 21.5M paid subscribers sounds like a daunting number to improve on, but less so on closer examination.
Wired broadband estimates for the U.S. and Canada hovered around 76M by the end of 2009. Extrapolating growth rates, one expects about 90M by mid 2011. Twenty four percent is an impressive degree of penetration, but it certainly doesn't approach saturation.
More importantly, mobile broadband (3/4G) subscriptions have exploded in the last two years and have likely already surpassed wired broadband accounts according to estimates provided by Ericsson (NASDAQ:ERIC). Netflix has been aggressively pursuing the mobile market, and when factoring in the consumer shift toward tablets, there appears to be plenty of room for near-term growth.
Finally, a cursory look at price action over the last year confirms tremendous strength: (Click to enlarge)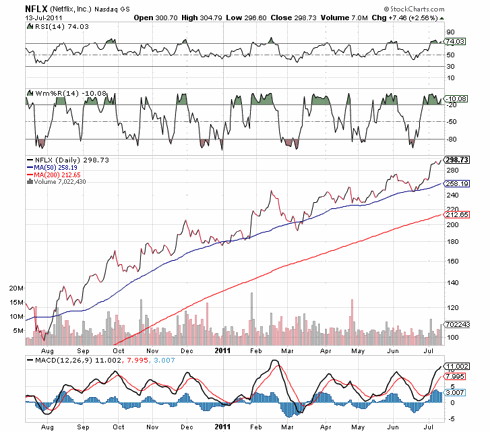 The stock has bounced upward every time it approached its 50-day SMA. The MACD line sits at an incredible 11, with a significant 3.0 positive divergence from the EMA line. Barring some kind of drastic market-wide correction, there looks to be no end in sight to the rally.
I don't mean to trivialize or deride the research and methodology of those bearish on the company--as a matter of fact, I agree with most of it, and for investors with deep pockets, a horizon of at least 3 years and iron-clad stomachs, the stock may very well turn into the short of the decade--if not of the century. But with careful consideration of momentum and overriding sentiment, as well as Netflix's significant opportunities to showcase short-term growth, retail investors would be well-advised to stand clear of this speeding locomotive.
Disclosure: I have no positions in any stocks mentioned, but may initiate a long position in NFLX over the next 72 hours.