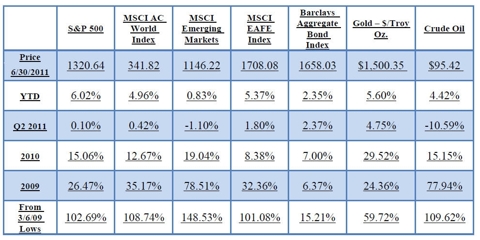 Equity markets delivered flat total returns during the quarter, registering gains of 0.10% for the S&P 500 and 0.42% for the MSCI All Country World Index. International benchmarks were also anemic with the MSCI Emerging Markets down 1.1% and the MSCI EAFE up 1.8%. While gold moved 4.75% higher, some commodities including oil pulled back materially as the economy showed signs of weakening.
Headlines related to unemployment and pending stimulus expirations have unnerved investors this quarter. As a consequence, equity markets proved volatile with fears that the recovery has been held together by government fiscal and monetary stimulus and when removed the economy will once again spiral into a deep recession. While we have considered this outcome, the weight of the evidence continues to point to a more inflationary scenario. Binary outcomes, such as this, can often be solved through analyzing the source of the greatest incentives.
When Charlie Munger spoke about the Psychology of Human Misjudgment to Harvard Law School students, he stated, "I think I have been in the top 5% of my age cohort all my life in understanding the power of incentives, and all my life I've underestimated it." We conclude that it is not economically or politically feasible to do anything but print money. A "do not fight the Fed" mantra is very instructive right now and it could even be expanded to "do not fight a Fed backed into a corner with no way out." The Fed's incentives lie squarely on preventing further job losses, leading this administration into the best chances of re-election, and resetting the bar through debt debasement of post credit bubble developed world liabilities.
We believe that the Fed's planned wealth effect is truly a wealth illusion effect. While asset prices may climb they will only rise alongside inflation. Printing money moves in a direction of solving the critical incentives that are "front of mind" with central banks. We do not see a strong incentive bias to the contrary that would lead us to believe we are going down a path of austerity measures. In this regard we have been and continue to operate with extreme care in protecting the purchasing power of our clients' wealth. Accumulated wealth is at greater risk of purchasing power loss than the principal loss of owning a high-quality, competitively entrenched, reasonably priced businesses.
Portfolio construction continues to be a balancing act. Weekly, we ask where the consensus is today and observe that most do not share our viewpoint. Winning by not losing in a world of heightened inflation is a completely different paradigm for investors with thirty years of reinforced biases to the contrary.
El Mirador – An Elevated Perspective
During a recent trip to New York City I learned that the New York Botanical Garden had opened an exhibition called "Spanish Paradise – Gardens of the Alhambra." I was intrigued having studied in the shadow of the Alhambra at the Universidad de Granada my junior year in college. With Manhattan temperatures nearing 100 degrees and a few hours to spare I headed to the Bronx to beat the heat and feed my curiosity.
The curator explained that Spanish garden architects often endowed their gardens with a mirador, the Spanish word for a place from which to experience an elevated view. The definition of the word mirador reminded me of my time in Spain. I remembered the feeling of going from the comfort zone of a Cape Cod summer to living with a Spanish family and being immediately forced to communicate in Spanish. I recalled the sardine-like experience of taking the city bus from my new suburban home to the center of Granada only to be quickly engulfed in the noise and congestion of a city pitched by the buzz of mopeds. My immersion into Spanish life delivered more of a culture shock than I anticipated. I decided after a few weeks of this routine that I needed a means of capturing back some personal space so I went to the neighborhood equivalent of a K-Mart and purchased an inexpensive mountain bike. This would become my transportation and my means of regaining some perspective.
During siesta and before afternoon class I would ride my bike to the hilltop town of Abaicin that is situated above the Alhambra. It is there that claims one of the most beautiful views in Granada and perhaps one of the most notable in the world - El Mirador de San Nicolas. Not only can you see the Alhambra in its entirety but you can also see the bustling city of Granada with the white-capped Sierra Nevada Mountains in the distance. It was from this elevated vantage point where I was able to appreciate my surroundings and experiences versus getting caught up in the emotional biases that were distorting my sense of reality.
The emotional ebb and flow of the market can give the impression that a baseline reality does not exist. While we focus much of our energy on bottom-up fundamental analysis, it is a necessity to elevate our perspective to a mirador. This is not only an essential part of our investment process, it is a means of sharing with our clients and interested parties where we are finding pockets of opportunity, what prices impute about expected return, and the tail risks we have identified that we need to mitigate or hedge. From this perspective we surmise the following:
Force Majeure: Developed countries continue to exercise "force majeure" and print money to debase the value of their debts. Unemployment continues to be a focal point of the developed world. Quantitative easing appears to be the medicine to quell further job losses. A U.S. election cycle will incent the Federal Reserve and our administration to further enact stimulus measures to keep the status quo on unemployment and GDP. Anything more anemic would be politically intolerable.
Emerging Consumer Rebalances Imbalances: Emerging countries play their hand deliberately and allow for their consumer populations to rebalance mismatches versus sudden policy changes that could drive social unrest. Last quarter we discussed the cultural biases of China to not force change but to allow change to occur as part of normal rebalancing. The emerging consumer will be the change agent. Developed world currencies depreciate against emerging currencies.
Inflation and Interest Rates – A New Norm: Inflation will be heightened globally and accumulated wealth is at risk of losing purchasing power, therefore we will limit intermediate and long-term fixed-dollar investments. We expect a prolonged period of inflation which is the side effect of the medicine the developed world is administering to remedy the disease of debt that exists due to the credit bubble. Interest rates continue to move higher to calibrate for real purchasing power erosion. Rates have already moved 100 basis points and upward pressure will continue.
Global Equity Performance Continues to Climb a Wall of Worry: We believe global equities will perform better than expected as investors seek an alternative reserve currency as paper currencies and bonds lose value. Asset based inflation will also be a "full-moon" tide lifting most boats. Nominal returns will give the impression of wealth creation but real returns net of inflation adjustments will be more modest.
High Quality Global Equities – A "Mispriced" Lunch: (Not to directly offend the Modern Portfolio Theorists who contend no free lunches exist.) High quality businesses that can raise prices and whose products have localized advantages with growing emerging market consumers will thrive. We are finding a number of businesses trading at 6-10% free cash flow yields selling goods and services into growing markets.