Europe is on the verge of a credit collapse, Japan is in a recession, and China is trying to slow in order to combat inflation. The ideal Chinese "soft landing" could prove to be elusive, and the same goes for India. The U.S. is in a "soft spot", which could worsen demonstrably on any bad world economic news. The stocks of new car and truck makers - i.e. Ford (NYSE:F), GM (NYSE:GM), etc. - have been falling recently due to the slight worsening of the economic outlook. Everything fell on Monday July 11, 2011, and yet there are still a few companies that could benefit, regardless.
If automakers sell fewer new cars, people will have to do more maintenance on their old cars. This means that auto parts makers such as Johnson Controls Inc. (NYSE:JCI) and American Axle & Manufacturing (NYSE:AXL) should do well. These companies make parts which are needed by new cars. These same parts are also needed as replacement parts when old cars are not replaced. Yes, these companies would be slightly hurt by slower new car sales, but the extra used car part sales would at least partially make up for the lost revenues.
JCI makes, among other things, lead acid batteries for standard cars, and it makes lithium-ion batteries for hybrid vehicles. The lithium-ion batteries have a long lifetime, but they are still susceptible to ruin when alternators break down. JCI also makes cockpit systems for airplanes. At the Paris Air Show, Airbus took in 730 aircraft orders ($72.2B) and Boeing (NYSE:BA) took in 142 aircraft orders ($22B). Other aircraft makers took in orders for approximately another 100 aircraft. Expectations had been for a total figure closer to 300 total aircraft for all aircraft makers. The above result means that the aircraft part of JCI's business should do well for some time into the future.
AXL makes driveline and drivetrain systems, as well as related components and chassis modules. How many of us have had to replace a driveshaft, a transfer case, or a transmission in an older car? AXL makes all of these parts and more. It may lose some business from "possibly" slower than expected auto sales, but it would likely make up some of that in extra older car parts sold. So far autos have been selling well, and on top of that AXL's biggest customers are the "Big 3" (Ford, GM, and Chrysler). These companies have been taking business from the Japanese this year, and that is a positive sign for AXL. Barring a severe downturn, these two companies (AXL and JCI) should do well this year and into the future. The auto market is expected to continue to grow for several years, and both JCI and AXL are projected to grow quickly over the next 5 years.
The table below contains some of the fundamental financial data for these two companies. The data are from TD Ameritrade and Yahoo Finance:
| | | |
| --- | --- | --- |
| Stock | JCI | AXL |
| Price | $41.14 | $10.98 |
| 1yr. Analysts' Price Target | $48.74 | $15.44 |
| PE | 17.66 | 6.00 |
| FPE | 12.58 | 4.90 |
| Avg. Analysts' Recommendation | 2.0 | 2.4 |
| This Year EPS Growth Estimate | 22.00% | 14.00% |
| Next Year EPS Growth Estimate | 34.00% | 25.10% |
| This Year Revenue Growth Estimate | 15.30% | 9.60% |
| Next Year Revenue Growth Estimate | 12.20% | 15.40% |
| 5yr EPS Growth Estimate per annum | 17.66% | 17.70% |
| EPS misses in the last 4 quarters | 1 | 0 |
| Avg. EPS beat % in the last 4 quarters | +1.80% | +29.675% |
| Stock Price Appreciation % YTD | +3.99% | -18.79% |
| Price/Book | 2.55 | -- |
| Price/Cash Flow | 11.76 | 3.12 |
| Beta | 1.86 | 2.42 |
| Short Interest as a % of Float | 0.77% | 15.67% |
| Cash per Share | $0.59 | $2.89 |
| Market Cap | $27.91B | $827.44M |
| Enterprise Value | $32.13B | $1.62B |
| % Held by Institutions | 76.73% | 80.89% |
| Total Debt/Total Capital (mrq) | 28.61% | 170.17% |
| Quick Ratio (mrq) | 0.98 | 0.87 |
| Interest Coverage (mrq) | -- | 2.8 |
| Return on Equity (ttm) | 15.68% | -- |
| EPS Growth (mrq) | 27.52% | 129.14% |
| EPS Growth (ttm) | 38.78% | 147.78% |
| Revenue Growth (mrq) | 21.97% | 23.70% |
| Revenue Growth (ttm) | 18.02% | 46.65% |
| Annual Dividend Rate | $0.64 | -- |
| Gross Profit Margin (ttm) | 15.35% | 17.86% |
| Operating Profit Margin (ttm) | 5.32% | 9.17% |
| Net Profit Margin (ttm) | 4..54% | 5.61% |
Both of these companies have great growth estimated at nearly 18% per annum over the next 5 years, but both have some trouble paying their bills. Although, AXL has more cash on hand, but AXL does have a total debt/total capital ratio of 170.17%.
Ugh! This reminds me of the major airlines.
Still, AXL has an FPE of only 4.90. This makes it an attractive stock. Barring a major economic downturn, both AXL and JCI should do well. This is due to both companies' rather weak financial state vis-à-vis paying bills, and both would get hit hard in a downturn. Still, it is important to note that AXL has beaten quarterly EPS estimates by an average of nearly 30% over the last 4 quarters with no misses.
This is good performance in anyone's book, and it makes AXL a buy barring a major downturn (which the EU credit crisis could trigger at any time). Given the current unsettled debt situation AXL might be termed a "hold". Stil,l one might consider watching it for a play across earnings. It has a high short interest, and it could well spike on likely good earnings (July 29, 2011). JCI has a more normal debt burden, and it trades at higher multiples, but it has the same growth profile without what might be prove to be overburdening debt for AXL. JCI is a "buy" (when not overbought).
Let's look at the 2 year charts of these stocks to get some technical information.
The 2 year chart of JCI:
click on images to enlarge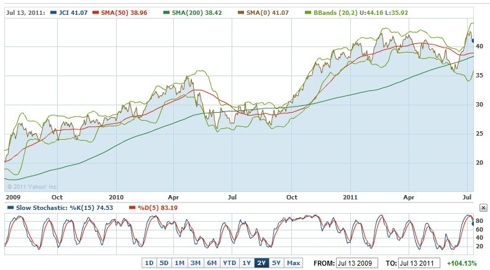 The 2 year chart of AXL:
Both of these stocks' charts show good uptrends. However, the Slow Stochastic sub chart of each shows each as overbought. This means they are both likely good long term buys, but it is probably better to put off buying them until the Slow Stochastic cycles down to oversold or nearly oversold territory. This seems to happen with regularity.
Plus, the current plethora of downgrades and negative reviews on nations' credit ratings seems likely to push the overall market down soon. JCI is probably the safer investment, as it has a much lower debt/capital ratio. JCI also operates in the airplane industry, in addition to the auto and truck industry; this makes it a slightly safer investment.
If you want to take action now you could consider selling "out of the money" puts on one or both of these stocks at a value at which you would be comfortable buying the stock(s). You can collect the premium for the option if you don't end up having the stock put to you. August put options might be the best idea.
Another alternative might be to wait a week or more; then you could likely sell "out of the money" put options on these stocks for a higher premium, or at a lower price.
Disclosure: I have no positions in any stocks mentioned, and no plans to initiate any positions within the next 72 hours.