ReneSola (NYSE:SOL) has come a long way down since I highlighted it near its two-year peak in late 2010. The stock has lost as much as 65% since then (click on images to enlarge):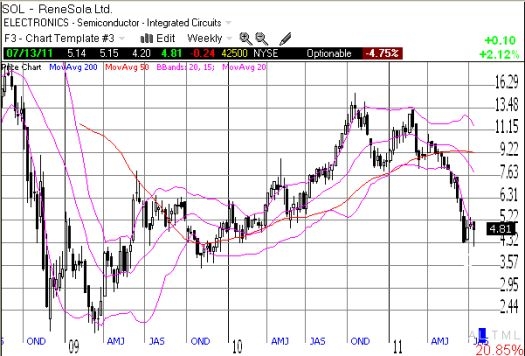 ReneSola has collapsed in the last 7 months, erasing all of 2010's impressive gains. SOL has reported one disappointment after another in 2011. The latest disappointment came on Tuesday with the following earnings warning:
For the second quarter of 2011, the Company estimates its total solar wafer and module shipments to be in the range of 290 MW to 300 MW, compared to its previously guided range of 330 MW to 350 MW; revenues to be in the range of US$235 million to US$245 million, compared to its previously guided range of US$280 million to US$300 million; and gross profit margin to be in the range 17% to 19%, compared to its previously guided range of 25% to 27%.
SOL blamed "…declines in wafer prices and a challenging solar module market" as the sources of the problem, this refrain has become quite familiar to solar investors as 2011 wears on. Unsurprisingly, SOL gapped down 10% on the heels of this news making a fresh 17-month low.
However, from there buyers took the stock all the way back up to a GAIN for the day (0.6%). Buyers tacked on 2.1% the next day, and that strong buying came in reaction to more bad news is a very positive sign. Additionally, for investors looking to re-establish positions in SOL, Tuesday's low of $4.20 provides a clear stop. The chart below shows Impressive buying interest from a bad news bottom

There is no doubt that near-term market conditions continue to deteriorate for solar stocks. Fiscal tightening amongst governments also threatens to dampen prospects for solar. However, as I have emphasized in previous posts, the time to buy into solar is when negativity is running high and the selling seems to suggest that solar will never come back.
Moreover, solar stocks play an important role in my longer-term investing strategy for "Profiting from Physical Assets in a Resource-Constrained World". ReneSola's attempt at a bottom here suggests a point of maximum pain has arrived.
Even if $4.20 is eventually breached, SOL is a "value" I cannot resist at 0.7 times book value and 0.3 times sales. When the cyclical upturn comes, SOL will be one of several solar players that could provide tremendous upside.
Be careful out there!
Disclosure: I am long SOL.