Since late March, the shares of Northern Oil & Gas have languished under a long list of short seller innuendo and outright misstatements of fact. Many of these "issues" ranging from depletion rates that were said to be too low (but which were actually in line with their peers) to comments regarding NOG punting 15% of their acreage when it turned out to be none of their acreage and only 23% of 1 net well have been addressed in our previous posts. Click here for those:
The list of short claims now includes comments on their acreage leasing practices with the implication being that NOG buys only a few high quality acres (at high cost) while taking in many more acres of what some refer to as goat pasture. If that were the case, then they would only have a few good wells to talk about, right? So I took it upon myself to do a little well study to see if NOG was in fact drilling a handful of good wells and a plethora of poor ones. In short, this is not the case. NOG's short lateral core wells (drilled by Slawson) routinely stack up well against Brigham Exploration Company's (BEXP) core area long lateral, much higher cost wells. To get as much and possibly more on this than you want to know, read on.
Since Northern is a non-operator, I looked at wells drilled by their biggest operators [Slawson, EOG Resources (NYSE:EOG), Continental Resources (NYSE:CLR), Hess (NYSE:HES), Marathon Oil (NYSE:MRO), etc.] in which NOG has a working interest. I looked at as much monthly data as is currently available from the North Dakota Industrial Commission (NDIC) and in the end viewed data on over 85 wells. The wells themselves were gleaned from NOG press releases going back a couple of years and while some may say that's not much since they are in over 400 gross wells, I'd point out that:
Most companies don't give you anywhere near that kind of transparency, only talking about a handful of their best wells (and here I have to give a nod to Brigham for showing everyone all of their long lateral wells and as well as all of the wells of Kodiak Oil & Gas (NYSE:KOG) as an exception to my comment),
Of the ones NOG does provide, you, in almost all cases, have the name of the well prior to initial production or even the spudding of the well, so it's not like they are cherry picking which wells to report based on known results,
Methodology. In short, look at all the NOG wells I can get data on and stack it up versus the aforementioned operators. Rather than looking at initial production rates, which can be skewed by a number of factors, I took a look at all the wells and then further refined the process to examine wells with a full year of production history. I then compared this to BEXP, which boasts the highest initial production rates in the basin from its Rough Rider and Ross areas. I figure if you are going to compare a company to something, why not put it up against the pure play leader? Given the strength of NOG's aggregate production profile, I expected their core results to be strong. I didn't, however, expect a tie with BEXP (especially given that NOG's wells were drilled across 1 section (short lateral) in the Windsor area (which is really south Sanish) vs. BEXP's all long lateral performance) but that's how it turned out (no cherry picking either on my part, I promise). Note that the average historic cost of a Slawson operated well for NOG is just under $5 mm and that the current cost of a long lateral BEXP well is approaching $9 mm. At current oil prices that puts NOG wells on course for average payouts from 6 to 12 month payouts.
First, take a look at the BEXP wells. The first graph shows all of the long lateral Brigham wells that have data available from NDIC. The second graph shows the average cumulative production of 20 wells (again limited by data available so far) for the first 12 months of their production lives. If you want to go reference those wells in a press release or find them on a map, they are listed with first and 12th month production in the table provided. The key number here is 109,965 BOE, which is the average cumulative first 12 months of production.



(Click to enlarge)
Second, take a look at the NOG wells operated by Slawson. A few more graphs here, as I also wanted to show the marked improvement experienced in the most recent wells. Note the cumulative production curve and the 12th month cumulative production total are almost identical to Brigham's. Again, that's from shorter, much cheaper wells. Note also that the sample size of 26 wells with 12 months of data is bigger than BEXP's and that the newer wells have shown a marked improvement versus most wells drilled three years ago. Not too shabby.

And Yet NOG Remains Highly Discounted to BEXP and the Rest of the Bakken Players List on an Acreage Basis.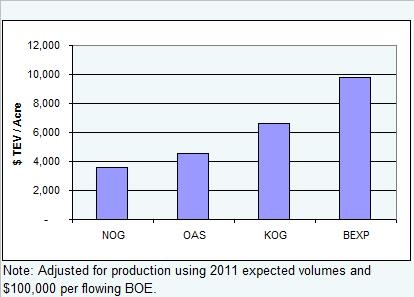 Using production adjusted $/acre numbers, you can see in the chart above that NOG remains highly discounted to its Williston Basin operated peers, despite well production metrics that prove it's at least comparable to the best of them in terms of valuable real estate. My sense is the wide gulf that separates NOG from its peers is a) partially the impact of being a non-operator but b) largely the hangover effect of the aforementioned short attacks and that as their portfolio of acreage continues to provide growth, the name will continue to close the gap on the group (a process that has already begun to the dismay of a still large short contingent).
Slawson isn't NOG's only operator and I'll have more comments on that in a future post.
Disclosure: I am long BEXP, NOG, KOG.