One REIT that seems to piquing the interest of many investors right now is Chimera Investment Corp. (NYSE:CIM). Maybe it's the 15% yield or the $3 stock price (or a combination of both), but it is certainly on investors' radar screens.
The stock continues to struggle even though many of its peers are in strong uptrends.
What makes Chimera Different?
The main difference between CIM and many of its REIT peers is primarily portfolio composition. Over 50% of CIM's portfolio is invested in non-agency MBS, whereas most REITs focus primarily on lower-risk agency paper. While both agency and non-agency MBS have significant interest rate risk, non-agency securities also have credit risk [i.e., they are not guaranteed by government sponsored entities such as Fannie Mae (OTCQB:FNMA) and Freddie Mac (OTCQB:FMCC)]. Without a government guarantee, the value of non-agency MBS depends largely on the quality of the underlying loans and creditworthiness of the borrowers. All else being equal, non-agency paper is much more risky than agency paper.
Below is a breakdown of CIM's MBS portfolio as of March 31, 2011. Not only does CIM have a large concentration of non-agency securities, most of its non-agency exposure is in subordinated classes (which carry much more risk than senior tranches).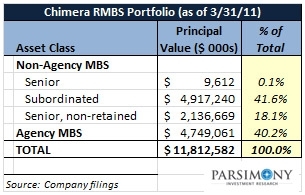 Is Management Making Good Investments?
As shown in the table below, a large portion of CIM's portfolio is underwater (i.e., fair value of the securities is below the company's cost basis). This is the main reason why CIM is trading around 1.0x book value (note: most of its peers are currently trading at a 10-15% premium to book value). Investors should monitor portfolio valuations very closely.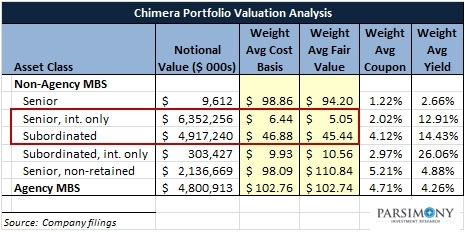 Other Red Flags ...
CIM's investment guidelines place no restrictions on the credit rating of the assets the company is able to hold in its portfolio. As shown in the table below, the portfolio is most heavily weighted in non-investment grade credits. In addition, the company has recently increased its concentration in these risky assets.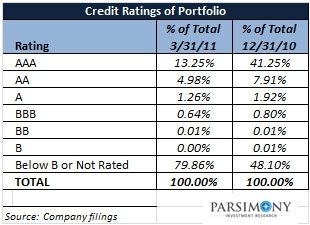 Most of CIM's investments were originated at the peak of the credit boom in 2007 (see table below). This should raise concerns with investors since structures and terms of MBS originated in 2007 are inferior to earlier vintages.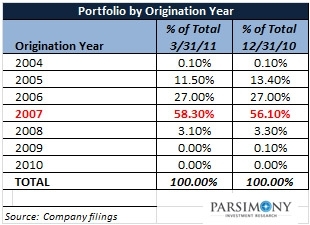 Conclusion
We think that the investors should remain cautious with CIM. There are certainly better REIT investment options with similar yields.
We continue to like the mortgage REIT space despite the fact that the U.S. economy continues to face significant headwinds (e.g., high unemployment, end of QE2 (start of QE3?), weak housing market, high debt levels, etc.). A weak economy is actually a good environment for REIT, which benefit from low interest rates and a steep yield curve.
In general, we think interests rates will remain low for the foreseeable future (next 12-24 months). As such, we believe REITs offer investors an extremely compelling risk/reward profile. However, we caution investors to watch interest rates very closely if invested in the space.
Annaly Capital (NYSE:NLY) and MFA Financial (NYSE:MFA) remain our two main REIT holdings due to their strong management teams and proven ability to manage their portfolios in any interest rate environment. However, we also have a small position in American Capital Agency Corp. (NASDAQ:AGNC).
We continue to believe that the best strategy for investing in this space is to own a portfolio of mortgage REITs to diversify your risk. That said, the following REITs are currently on our watchlist and we are following them very closely: Anworth Mortgage Asset Corp. (NYSE:ANH), Hatteras Financial (NYSE:HTS), and Invesco Mortgage Capital (NYSE:IVR).
Disclosure: I am long NLY, MFA, AGNC.