In this article we present a proprietary analysis that leads us to conclude that the negative thesis on for-profit education may have run its course. The industry appears well-positioned to outperform the broader market from this point forward.
This article consists of two parts: First, we discuss the "magic formula," a stock screening methodology, that has historically outperformed the S&P 500 Index. Second, we analyze for-profit education stocks, most of which currently rank highly based on the "magic formula."
The "magic formula" screening methodology was popularized in Joel Greenblatt's The Little Book That Beats The Market. The formula looks for companies that are (i) "cheap" on the basis of trailing operating income to enterprise value, and (ii) "good" on the basis of trailing operating income to capital employed in the business. The goal is to pay a low price for companies likely to reinvest capital at high rates of return.
In our idea-oriented research reports, we use several value-based approaches to uncover potential investment opportunities. We track the holdings of superinvestors, look for Ben Graham-style "net nets", conduct sum-of-the-parts analyses of companies with multiple distinct sources of value, and assess the deleveraging prospects of equity "stubs," to name a few approaches. One of our favorite approaches to identifying good businesses trading at cheap prices are "magic formula" screens, with certain modifications by our research team.
Click to enlarge:
Selected value oriented idea generation approaches (that we like)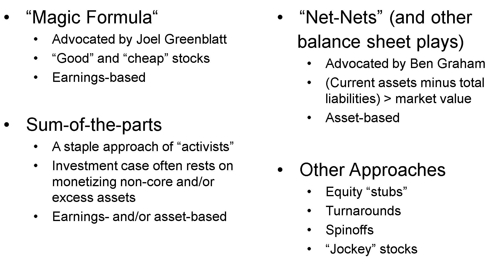 Source: The Manual of Ideas.
Why we like "Magic Formula" investing
Advocated by superinvestor Joel Greenblatt, who managed the Gotham Partners hedge fund from 1985-1994, reporting compounded annual returns of 50% (after expenses, before fees). While reliable data on Greenblatt's track record since 1995 is not available, he has likely continued his record of strong outperformance.

Simple. Greenblatt's "magic formula" gives equal weight to price (pre-tax unlevered earnings yield) and quality (return on capital employed). This simple screen stands in stark contrast to most quantitative methods.

Makes sense. Few investors would prefer a bad business to a good one, and few would purposely ignore the price of a stock. It makes intuitive sense that good companies available at good prices should outperform.

It works. In fact, we are unaware of any other easily replicable quantitative investment approach that rivals the outperformance of the "magic formula." Consider the following partial track record:
Magic Formula performance vs. S&P 500 Index, 1999-2011* (Click to enlarge)

* Data from 1999-2008 reflects the net performance of the Formula Investing Model Portfolio. 1999 data is from October 1, 1999 through December 31, 1999. Data since 2009 reflects the Formula Investing U.S. Value Direct Composite returns (net) of actual accounts. 2009 data is from May 1, 2009 through December 31, 2009. Data from January 1, 2009 through April 30, 2009 is not available. However, it appears the "magic formula" strategy outperformed during that four-month period, as the Model Portfolio was up 46% while the S&P 500 Index was up 19% from January 1, 2009 through September 30, 2009. Year-to-date 2011 performance numbers are for the period from January 1, 2011 through May 31, 2011.
Source: Formula Investing, www.formulainvesting.com
Why the "Magic Formula" will continue to work
"Institutional imperative" makes adherence to the strategy difficult. It is much safer from a career standpoint to be "wrong" when everyone else is losing money than to be "wrong" when everyone is making money. During the 1988-2004 period studied in The Little Book, the "magic formula" handily beat the S&P 500, yet the strategy experienced two non-overlapping three-year periods of underperformance.

Investors have a hard time turning off their emotional biases. A look at the list of candidates generated by the "magic formula" is likely to make an investor's stomach churn. Many companies on the list are either in out-of-favor industries or have company-specific issues, such as regulatory scrutiny, accounting irregularities, management turnover, or deteriorating operating momentum. While many investors may agree conceptually that buying high-ROIC companies when they are out of favor is a path to long-term outperformance, a smaller number is actually willing to follow such a strategy. As a quantitative method, the "magic formula" is sanguine about picking a headhunting firm during a recession or a laser eye surgery provider when the media is questioning the safety of laser eye surgery. Professional investors legitimately want to use the "magic formula" list as a starting point from which to do further research and ultimately make a subjective judgment regarding an investment. Unfortunately, the subjective judgment is frequently tainted by emotional bias.

The "magic formula" never runs out of investment candidates. Several value strategies have become de facto obsolete over time. For example, whereas Ben Graham successfully searched for so-called "net nets" more than a half-century ago, such stocks have become quite rare today. As a result, few professional investors can build their businesses around "net nets." By contrast, the "magic formula" simply ranks public companies relative to each other. There is no absolute cheapness requirement.

Investors tend to remain skeptical of winning strategies even after long periods of outperformance. Investors generally struggle with the notion that a simple quantitative strategy can systematically outperform the best efforts of large numbers of securities analysts and portfolio managers.
The following table shows selected companies that currently score highly on the "magic formula" screening methodology. For-profit education companies form one of the major subsets of companies favored by the "magic formula," due to their low market valuation and high returns on capital employed.
Top 30 Companies with $500+ million of Market Value
(based on July 1, 2011 share prices, sorted by company name)*
(Click to enlarge)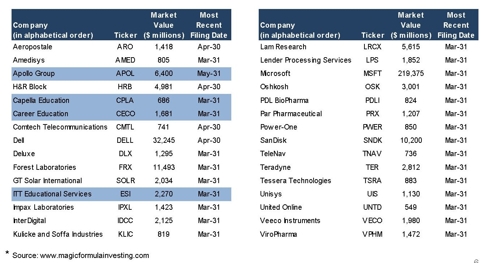 Magic Formula: Evaluating the selections
When we analyze "magic formula" results in search of compelling investments, two questions stand out in terms of their predictive importance:
Are high returns on capital sustainable, i.e., does the company have a sustainable competitive "moat"? Some issues to address in this regard include cyclicality, technological change, the customer value proposition, fads, and threats to the key revenue source or business model.

Does the business operate in a growing industry? In other words, does the company enjoy high-return reinvestment opportunities?
Evaluating the selections: For-profit education
Are high returns on capital sustainable? This seems questionable due to regulatory risks. Most for-profit education companies derive 80+% of revenue from Title IV* federal student financial aid. Clearly, a threat to the key revenue source exists in this case, so we have to tread carefully. Nonetheless, it does not appear likely that for-profit education companies will suddenly become capital-intensive businesses (no regulator is suggesting, for example, that the companies must own the land and buildings associated with their schools.)

Growing industry? For-profit education has grown in the past and seems likely to grow in the future due to long-term demand. Nonetheless, regulatory changes could impede growth ("gainful employment" rule; regulations related to recruitment, marketing and other business practices).
As a result, for-profit education stocks are easy to dismiss. But before you do, consider the following:
Evaluating other "Magic Formula" selections
Concerns abound with most "magic formula" companies:
Amedisys (NASDAQ:AMED): 80+% of revenue from Medicare – regulatory threats

Comtech (NASDAQ:CMTL): Losing ~50% of revenue as U.S. Army contracts expire

Deluxe (NYSE:DLX): Paper check provider – rise of payment cards, e-banking

Forest Labs (NYSE:FRX): Branded pharma – 2012 patent expiry, "Obamacare"

SanDisk (SNDK): Tech obsolescence, pricing pressure in data storage

Microsoft (NASDAQ:MSFT): Software model under attack from cloud computing

Dell (NASDAQ:DELL): Desktop PCs, laptops under attack from netbooks, tablets

H&R Block (NYSE:HRB): Paper filings in decline, share gains by Intuit, Internet
As a result, other "magic formula" companies are also easy to dismiss.
(Unlikely) Winners from Past Magic Formula Screens
Let us take a look at three past "magic formula" selections that turned out to be big winners:
McGraw-Hill (MHP) ($13 billion market value): The stock traded at $24 per share when we featured it in our September 2009 "Magic Formula" issue. David Einhorn's Greenlight shorted McGraw-Hill due to regulatory risks at Standard & Poor's. McGraw-Hill recently traded at $42 per share.

Metropolitan Health Networks (MDF) ($190 million market value): The stock traded at ~$2.20 per share when featured in our September 2009 report. Metropolitan's revenue has been highly dependent on Medicare Advantage funding. Metropolitan shares recently traded at $4.50 per share.

Travelzoo (NASDAQ:TZOO) ($1.3 billion market value): The stock traded at $5 per share when featured in our November 2008 "Magic Formula" issue. The online travel-related company faced declining demand due to economic weakness. Travelzoo recently traded at $70 per share.
All three companies would have been easy to dismiss.
U.S. for-profit education stocks—"value traps" or typical "Magic Formula" candidates?
The following chart shows the stock price of Corinthian Colleges (NASDAQ:COCO) since May 2009. At that time, Jim Chanos presented a bearish case on for-profit education companies at the Ira Sohn Conference. Corinthian traded as high as $20 per share following Chanos's speech, but the stock has declined to under $5 per share since then. Clearly, the short case has worked and made significant profits for those who embraced it early on. But does this mean that the short case will continue working?
Example: Corinthian Colleges (COCO): May 2009 – July 2011
(selected events and share price reaction)
(Click to enlarge)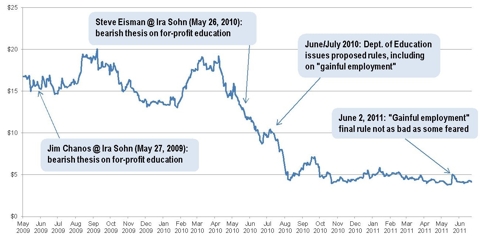 Source: The Manual of Ideas.
As the following table shows, for-profit education companies recently traded at an enterprise value to trailing EBIT multiple of less than 5x. This provides ample room for future EBIT to settle at a lower level while preserving an attractive valuation. Despite investor fears, however, it is not clear that for-profit education companies will be permanently relegated to lower earnings. In fact, this seems quite unlikely considering the long-term demand dynamics of the industry and the operating efficiency of for-profit providers versus community colleges.
U.S. for-profit education: Selected comparable company valuation1
(Click to enlarge)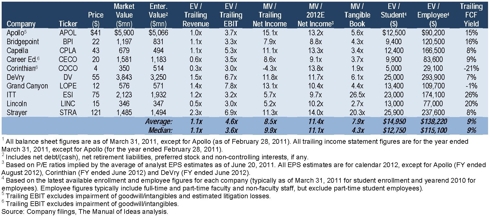 The following analysis considers key operating data of selected for-profit education providers. While new students starts are down almost across the board, the industry shows a student-per-employee ratio in the high single digits, suggesting that most companies are appropriately staffed for future growth.
U.S. for-profit education: Selected operating information
(Click to enlarge)

Remarkably, as documented in the following table, all of the for-profit education providers we analyzed have authorized share repurchase programs. While some have yet to act on those authorizations, it seems quite clear that the management teams consider their stocks undervalued.
U.S. for-profit education: Selected share information
(Click to enlarge)

U.S. for-profit education: The "bear" case
We present the following bear case on for-profit education companies, based on a presentation by Jim Chanos of Kynikos Associates at VALUEx Vail on June 16th (download PowerPoint slides). Chanos calls the industry a "classic value trap." We summarize his rationale as follows:
The stocks look cheap.

There are structural issues. The businesses have been funded by government largesse in the form of student loans, with default risks residing with taxpayers and students. For-profit providers has achieved questionable educational outcomes.

Business fundamentals are in decline. The Title IV federal student loan funding well is "drying up." New regulations are holding companies accountable with regard to "gainful employment" as well as other performance and integrity criteria. New student enrollment is on the decline. Revenue pressures, negative earnings leverage, and working capital issues are making growth of shareholder value problematic.
Before we declare the business model dead (and the stocks zeroes), consider…
The Department [of Education] believes that institutions will strengthen their educational programs to meet these higher standards, and relatively few programs will fail.
(source: Federal Register, vol. 76, no. 113, June 13, 2011).
As the following table shows, government regulators expect their rules to result in only 5% of for-profit colleges losing eligibility by 2015. This number hardly squares with the apparent hysteria of investors who fear the uncertainty of future regulatory pressures. Appaloosa's David Tepper made a fortune in 2009 simply by listening to what regulators were saying at the time. Will cooler heads make a fortune in for-profit education?
Impact of the "Gainful Employment" rule enacted on June 2, 2011
(as estimated by the U.S. Department of Education)
(Click to enlarge)

Source: U.S. Department of Education, The Manual of Ideas.
"Gainful Employment" rule: Not a red card for the for-profit industry!
New regulatory rules require that educational programs pass at least one of the following three metrics to remain eligible for federal student aid funding:
Repayment rate: At least 35% of loans (dollar-based) are being repaid (a $1 decline in the loan balance per year suffices!).

Debt-to-total earnings ratio: The annual loan payment may not exceed 12% of typical graduates' total earnings.

Debt-to-discretionary income ratio: The annual loan payment may not exceed 30% of typical graduates' discretionary income.

To lose eligibility, programs must fail measures in 3 out of 4 years.
The final rule has been "watered down" from initial proposals:
First programs become ineligible in 2015 (not 2012).

No enrollment growth restrictions.

Debt payment timelines extended up to 20 years (not 10 years).

Emphasis on giving schools the "opportunity to improve."
Lenient regulation? Sounds familiar…
We list just a few regulated industries that are still alive and kicking after having been left for dead by some investors:
Rating agencies

Sell-side equity research and banking in general

Gulf of Mexico oil drillers

Health insurers

For-profit education?
Structural issues: The other side of the coin
The following facts suggest that the private sector is needed in order for the U.S. to achieve its educational goals:
88 million U.S. adults are without a college degree (67% of population above age 25).1

33 million U.S. adults above age 25 have some college experience, but no degree.1

Current estimates show a shortfall of 13-16 million graduates to meet goals of the Obama Administration.2
1 Source: U.S. Department of Commerce, Census Bureau, Current Population Survey (CPS), March 2009.
2 Source: National Center for Higher Education Management Systems.
For-profit education: Here to stay
Unlike VHS tapes, CD stores or paper checks, for-profit education will likely survive -- and thrive for many years to come. Here are a few reasons:
Sizeable: 10+% of U.S. postsecondary students attend for-profit colleges, up from ~3% in 2000. Four million students are currently enrolled in for-profit education programs.

Needed to achieve U.S. educational goals: Current estimates show a shortfall of 13-16 million graduates to meet President Obama's stated goals by 2020.

Benefits from political expedience: Politicians are unlikely to throw millions of students out on to the street by cutting for-profit funding. The industry has an effective lobby and many (voting) students and teachers. Some 90,000+ parties submitted comments on the proposed Department of Education rules, with 75% opposing the rules.

Tough to attack: Many for-profit students are minorities or people who otherwise would not receive an education. Outcomes are difficult to assess. As public schools may not be doing better, crucifying for-profit providers may expose bigger waste in the system.

Not the first government-funded sector with questionable outcomes/practices: See healthcare, defense contracting, recent bailouts etc.
The Economy Factor
The current regulatory pressures on for-profit education should be put into context by considering the state of the U.S. economy:
Educational outcomes have been difficult to judge in the weak economy of 2009/10. Like in many other industries, bad practices were exposed during weak economic times. However, this does not mean the for-profit industry is a fraud. Job placements and student loan repayment rates have cyclical elements.

Student loan repayments are likely to improve as the economy gets better and unemployment declines over time.

Recent economic weakness may explain regulators' multi-year approach when testing programs' performance and eligibility for future funding. This gives companies time to adapt and improve.
From "bear" case to "base" case
In the following table, we show possible "base" cases for three companies: Career Education (NASDAQ:CECO), Corinthian Colleges (COCO), and Lincoln Educational (NASDAQ:LINC). Our analysis shows that even under rather conservative assumptions, equity fair values should be measurably higher than recent market values.
(Click to enlarge)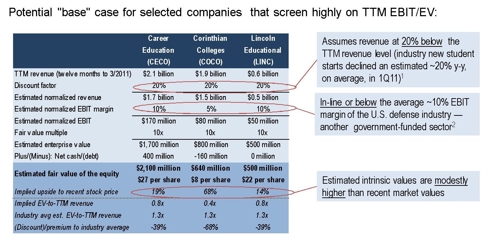 Source: The Manual of Ideas.
Potential "bull" case
We now turn to an upside case for for-profit education providers, showing how one might think about the fair value of Career Education, Corithian Colleges and Lincoln Educational under more optimistic assumptions.
(Click to enlarge)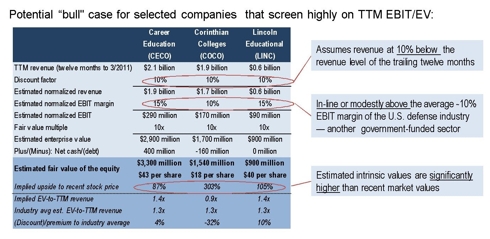 Source: The Manual of Ideas.
Some last thoughts and facts
Most for-profit education companies have strong balance sheets and are buying back shares.

Valuations are diverging, with Corinthian (COCO) trading at enterprise value to trailing EBIT of ~3x while Strayer (NASDAQ:STRA) and DeVry (NYSE:DV) trade at 8x. Could consolidation be in the industry's future?

Internet-focused for-profit providers have inherently scalable, high-margin models, which may not change drastically with increased regulation.

The industry is benefiting from intriguing non-U.S. growth opportunities, e.g. Apollo (NASDAQ:APOL)/Carlyle joint venture in the U.K.
Increasing entry barriers due to regulatory scrutiny?
We conclude that for-profit education companies are fairly typical "magic formula" investment candidates. The magic formula works because investors tend to systematically overestimate the negative impact of current events on long-term returns on capital of high-quality businesses. This appears to be the case here as well.
While Steve Eisman and Jim Chanos were absolutely right regarding the troubles facing for-profit education companies, the short thesis appears to have played out. Our valuation analysis has unearthed signs of overshooting to the downside, creating an interesting opportunity for long-term, value-oriented investors. The latter may consider either picking the likely winner(s) among for-profit education companies or embracing a basket approach of investing in multiple stocks.
Disclosure: I am long COCO.