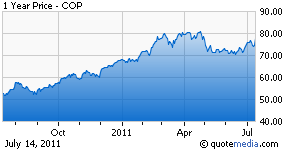 ConocoPhillips (NYSE:COP) announced today that it's going to split itself into two companies. Marathon Oil (NYSE:MRO) split itself up earlier this year. Generally, in a commodities industry, when prices go down, the industry consolidates. When prices rise, the industry separates.
COP's CEO said, "We have concluded that two independent companies focused on their respective industries will be better positioned to pursue their individually focused business strategies."
The reason I highlight this is that you can often find good bargains when top-quality stocks break themselves up. The hitch is that it's often the less glamorous company that does well.
Earlier this year, Motorola split itself in two, years after promising us it would. I joked that the company would now be two lousy companies instead of one.
At the time, I wrote that the one to watch was Motorola Solutions (NYSE:MSI), the less glamorous spin-off.
The one to steer clear of is Motorola Mobility. I firmly expect these guys to be crushed to dust. Motorola Solutions, however, might be a compelling buy. They do the "everything else" part of Motorola's business which is things like barcode scanners and two-way radios.
So far, I've been right.
Click to enlarge
Disclosure: No position.