It's a forgone conclusion for many that Apple (NASDAQ:AAPL) warrants a $600 price tag if, of course, any justice still exists in the world. If you hold the stock, however, it has been a pretty boring, if not somewhat of a choppy year, until the most recent run. While you're killing time waiting for the inevitable to happen, you could always trade around your position using options.

(Chart courtesy of FreeStockCharts.com)
Click to enlarge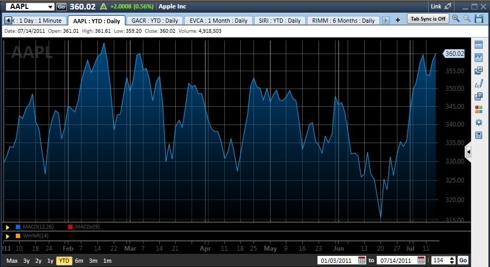 Earlier in the week, I suggested the possibility of using an options strangle to make a non-directional bet on volatility in AAPL's share price in relation to next week's earnings report. For the not-so-faint of heart, I offered the thought of opening the strangle this week in an attempt to profit from one or even both sides of the trade.

Here's where we stand the day before July options expire and three trading days before Apple announces earnings. As I inferred, AAPL will likely ignore max pain this week, even though it has creeped up, as expected, to $345, as of Thursday morning. Remember, I suggested initiating the AAPL $350 call/$360 put August options strangle.

I begin tracking from Friday's price. The above-referenced article was written over the most recent weekend based on last Friday's closing price in AAPL options. You could have opened the strangle at or around the Friday prices this past Monday morning. At day's end, I intend for this article to serve the educational purpose of showing you how a strangle can work out in high-priced stocks that trade in a relatively wide range, almost daily.
| | | |
| --- | --- | --- |
| Date, Time of Price | AAPL Aug $350 Call | AAPL Aug $360 Put |
| Fri, 7/8 Close | 18.55 | 12.95 |
| Mon, 7/11 Close | 15.15 | 16.30 |
| Tues, 7/12 Intraday | 16.15 | 10.90 |
| Wed, 7/13 Intraday 1 | 17.45 | 13.00 |
| Wed, 7/13 Intraday 2 | 17.95 | 12.40 |
| Wed, 7/13 Intraday 3 | 16.85 | 13.00 |
| Wed, 7/13 Close | 16.70 | 13.00 |
| Thurs, 7/14 Intraday Early | 18.70 | 11.50 |
Let's start with the most obvious analysis. Depending on the timing, the put could have returned about $3.35 in the span of one trading day. Options use a multiplier of 100 so that's $335. As I explained when first suggesting this strategy, you can try to profit from both ends of the trade or simply maximize the return of the winning side. With that in mind, you would not have sold the call to close at the same time as closing the put. And, if you know how AAPL trades on a daily basis, you probably would have been comfortable waiting for a bounce. The bounce came, of course. Best case scenario if you were just looking to be safe, you close the call at roughly $17.95 for a loss of $0.60 per contract and a net gain of $2.75, or $275, per strangle. That certainly would have been the most conservative way to play it.

If you held the call to Thursday, a conundrum presents itself. You could close the call side of the trade now for just about breakeven and profit on the entire strangle, thanks to the put. To play it more aggressively, you could bank on a pre-earnings run and hold the call hoping for a nice profit. To play it even more aggressively, you could sit on the call through earnings. If AAPL explodes on the report, you likely win big.

Undoubtedly, you're trying to time the market here. But I don't view it as standard market timing when you're dealing with a stock like AAPL that day in, day out and week in, week out trades in a range of at least a couple dollars and, often, much wider. If you hold the stock and pay close attention to it - for many, it borders on obsessive attention - why not profit from its movements, the movement you know so well? If nothing else, it helps ease the boredom of waiting for your weary toes to be a-touchin' and the hour when Apple's ship finally comes in.

Disclosure: I have no positions in any stocks mentioned, and no plans to initiate any positions within the next 72 hours.