Diversification in general is a two-edged sword for firms. It provides greater stability in earnings on average, but there is a cost involved in doing so. The greater the diversification, the closer earnings approach economic profits of zero, where economic profits are equal to accounting profits less the opportunity cost of capital. If a firm is experiencing short run negative economic profits, diversification offers one solution to improve returns. On the other hand, if a firm is experiencing short run positive economic profits, diversification presents a threat to ruin superior returns on capital.
Why the preamble? Gushan Environmental Energy, Ltd. (GU) has bought the two-edged sword after suffering tremendous losses following its decision to expand capacity for biodiesel production. I'm not going to get into the biodiesel production issues in this article, of which there are many on the supply side of the industry alone. GU's biodiesel revenues and output have contracted significantly, both in absolute levels and as a share of revenues recently, and that segment of its business deserves a closer examination separately. For the moment, I prefer to focus on its stated growth strategy for its recycled copper business, found on page 15 of the 2010 20-F: "Acquisitions have been, and are expected to continue to be, an element of our growth strategy for our recycled copper business." If this is a growth strategy, it's in the early stages of implementation, and it is vital that GU's investments generate above average returns.
GU's first two investment decisions both involved purchases of
Mian Yang Jin Xin Copper Company, Ltd. (Jin Xin), a company that produces recycled copper products. The first investment resulted in net ownership of 67% of Jin Xin through GU's partially owned subsidiary, Engen Investments, in exchange for 24 million shares plus about $66,000 net in cash exchanges, and capital expenditures of $3.6 million. This was achieved by first buying 100% of Jin Xin for $2.7 million through True Excel, then establishing a parent company for True Excel named Engen Investments (EI) and selling 33% of EI to Golden Hero Holding, Ltd. and Silver Harvest Holdings, Ltd. for $870,000, then agreeing to provide up to 24 million shares of GU to sell to Gold Hero for $1.764 million, contingent upon Jin Xin's cumulative profitability over the three-year period ending on December 31, 2012 reaching at least RMB190 million.
As of now, 12 million shares are in escrow pending the financial performance of Jin Xin over the three-year period, and the other 12 million are held by Gold Hero. If Jin Xin's cumulative profits over this period are non-positive, Gold Hero will pay GU up to $4.5 million (RMB30 million) and "
an amount in cash equal to the value of such (contingent) shares assuming a price of $1.00 per share." So the initial investment offers some protection from downside risk.
The second purchase was for an additional 8% of Jin Xin through EI from Gold Hero and Silver Harvest in exchange for $6.448 million, which has been financed with a combination of cash and loans totaling $3.7 million at 6.06% per annum that are due within a year and renewable on an annual basis, provided by Gold Hero and Silver Harvest. The first investment occurred over the September-November period in 2010 while the second investment occurred on January 1, 2011. The additional 8% purchase of Jin Xin through EI by GU represents 24% of Gold Hero and Silver Harvest's original holdings of EI, and leaves GU with 75% ownership of EI, i.e. 75% ownership of Jin Xin. This had originally cost Gold Hero and Silver Harvest about $211,000. Selling this for $6.448 million represents an insane 3,057% return in just two months for the owners of these two lucky entities.
Earnings figures for Jin Xin gleaned from the 2010 20-F and the Q1 2011 6-K yield the following marginal operating return on investment figures, after making adjustments for income taxes and other income figures. The initial Jin Xin investment generated income for about two months in 2010, while the additional 8% purchase generated income for the entire first quarter period of 2011.
Both are important to note for the implied annual returns. The equity capital has been adjusted to account for the dilution created by the 24 million contingent shares, fair value adjustments for Q4 related to the contingent shares, and the equity of Jin Xin present at the end of Q4. It is basically a weighted average of Q3 and adjusted Q4.

The initial purchase looks quite good. Obviously, the additional 8% purchase is disappointing given that it has immediately made GU worse off, being negative. Given the premium paid to Gold Hero and Silver Harvest, we should not expect to see the marginal operating income completely consumed by interest payments to the same two entities. However, at least a year is needed to garner enough results to judge whether the decision was good or bad. GU states in the 2010 20-F that the recycled copper business is seasonal, with the second half of the year experiencing more revenue than the first half of the year, due in part to the Chinese New Year holiday season. So this really requires an approach that accounts for the seasonality issue.
According to the 2010
20-F, "…
with respect to the year ended December 31, 2010 … Jin Xin achieved a net income of RMB30.0 million (approximately US$4.5 million) or more."
The glaring question is whether GU paid too much for the additional 8% of Jin Xin based off of recent information accounting for seasonality through annual data.
8% of $4.5 million is $360 thousand. That, less $218,000 in interest payments for that 8% purchase, implies
a trailing price to earnings ratio of about 45. This represents a paltry 2.2% annual return on investment but it does not account for expected growth. If GU expects to make at least an 8% return (I chose this return based off a p/e of 12.5) on the $6.448m investment, it will need the factors that make up last year's $360,000 in earnings along with the additional income potential of the $3.6 million in capital expenditures to produce 2.53 times 2010's result if the debt level, and gross margin for the past two quarters remain unchanged; and the SG&A levels increase by the median rate of 10% as forecasted in the 2010 20-F (p. 70). All data utilized to generate estimates in the following table have been pulled from the 2010 20-F and Q1 2011 6-K.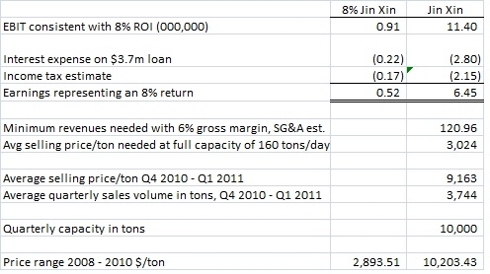 Admittedly, these numbers are rough estimates, and the gross margin figure ignores the effects of volume changes on fixed costs. The good news is that this second investment has the potential to generate meaningful returns on investment. So I give the management team of GU the benefit of the doubt and wait for results. I doubt it will run at full capacity, but it appears the price per ton of recycled copper products is substantially higher than the lower bound figure provided by the assumption of production at full capacity. Real growth in sales should improve the gross margin, and the revenue figure given appears achievable, given the fact Jin Xin is already selling a little over $30m/quarter for the past two quarters.
The preceding analysis, in my opinion, provides a foundation for judging the investments and the investment process as the earning results are made available. I think it is easy to overlook the true cost of these investments, but it is a worthwhile investment in time. Marginal analysis forces one to consider the true cost of each investment and judge it in isolation. For corporate structures like those commonly found with the Chinese companies, investment costs involve layers of business entities with their own costs that must be factored in to determine the real returns, as can be seen by the preceding analysis. The income statement alone is insufficient to account for this, with capital allocations getting buried in the balance sheet. I have some hope that both investments will aid GU's efforts to return to profitability and it appears that recycled copper is going to be its primary revenue source until the problems in its biodiesel business are solved.
Disclosure:
I am long
GU
.