ETF Spotlight on Financial Select Sector SPDR Fund (NYSEArca: XLF), part of an ongoing series.
Assets: $7.3 billion.
Objective: The ETF's tracking index represents the financial sector of the S&P 500.
Holdings: Top holdings include: JP Morgan Chase (NYSE: JPM) 8.81%, Wells Fargo & Co. (NYSE: WFC) 8.16%, Citigroup (NYSE: C) 6.43%, Bank of America (NYSE: BAC) 5.83% and Goldman Sachs (NYSE: GS) 3.80%.
What You Should Know:
XLF has an expense ratio of 0.20%.
The fund has 81 holdings.
The financials sector is 14.8% of the S&P 500, and assets within the sector have an 88% correlation with the S&P 500, according to Morningstar analysts.
The financial aid the government has provided for banks has "come at the steep price of significant shareholder dilution," say Morningstar analysts. "In many instances, despite impressive overall asset growth, on a per share basis (adjusted for secondary offerings) assets actually declined. Hence, we think some banks will struggle to simply recover to their pre-crisis earnings potential."
The Latest News:
JP Morgan shares rose 3% Thursday after kicking off the bank earnings season. Citigroup reports on Friday.
While consumer discretionary, industrials and technology sector stocks within the S&P 500 maintain gains since the March lows, the finance sector and XLF is trading around 35% below its 2007 highs.
Wall Street analysts cut the target price and earnings estimates on big banks like JP Morgan, Goldman Sachs, Morgan Stanley and Citigroup, according to Forbes. Big banks may face a 2.5% capital surcharge that could force lenders to hold higher reverses, which could lead to slower growth in credit card loans, consumer loans and commercial loans, analysts said.
Weakness in the housing market, soft demand for credit and macroeconomic concerns, like the lower U.S. growth projections, have been weighing down banking stocks.
Financial Select Sector SPDR Fund - (click chart to enlarge)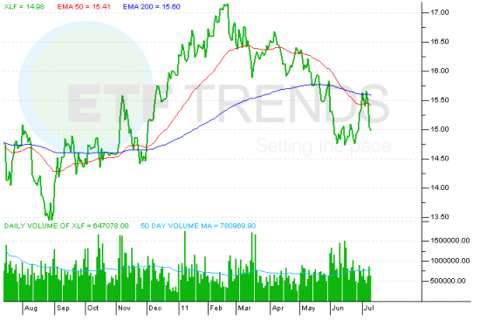 Max Chen contributed to this article.