London-based hedge fund sponsor CQS Cayman LP, with offices in New York, Hong Kong, Sydney and Geneva, manages $6.5 billion including $990 million in U.S. equity assets. The firm was established in 1999 by Australian Michael Hintze, after serving in numerous senior positions at Credit Suisse First Boston and Goldman Sachs.
CQS's portfolio is moderately diversified, including 125 positions. Approximately 35% of its holdings are in large-caps, 40% are in mid-caps, and the remaining 25% are in small-capitalization equities. Its portfolio turnover is 120%, implying an average holding period of 10 months. Its portfolio is overweight in the basic materials sector (44%), and it is under-weight energy (9%), healthcare (3%), utility (1%) and capital goods (1%) sectors, compared to the weighting of these sectors in the overall economy. The following summarizes their largest new buys and sells in the most recent SEC 13-F filing for the June 2011 quarter, and updated based on any 13-G filings since the end of the quarter:
Technology sector: Buy Taiwan Semiconductor ADR or TSMC (NYSE:TSM). CQS added $70 million to their $50 million prior quarter position in the sector. This included adding $49 million to their $15 million in Taiwan Semiconductor ADR, the world's largest dedicated IC foundry manufacturing logic and mixed-signal ICs for fabless semiconductor companies and integrated device manufacturers; and adding a new $19 million position in United Microelectronics ADR (NYSE:UMC), a Taiwanese foundry for high performance semiconductor applications for telecom, consumer electronics, PC and memory markets.
TSMC trades at a forward price-to-earnings ratio (P/E) of 11, in the bottom third of its historic P/E range, and at a discount to its regional rivals: Taiwanese foundry UMC that trades at 22 forward P/E and Chinese foundry Semiconductor Manufacturing International ADR (NYSE:SMI) that trades at 50 forward P/E. TSMC also sports a handsome dividend yield of 6.3%; competitor UMC has a 6% dividend yield and SMI has no dividends. Revenue and earnings at TSMC have trended up every year since bottoming at $3.6 billion and 10c in 2001, while the stock has traded range-bound between $6 and $12 during that period. Technically, the stock has formed a great 10-year long-term base and has been consolidating in a tight range between $11 and $14 since the beginning of the year. As the global recovery takes hold, TSMC being the world's leading foundry will benefit from increasing sales. Furthermore, there have been reports that tech juggernaut Apple, Inc. (NASDAQ:AAPL) may cut ties with Samsung (OTC:SSNLF) and is in talks with TSMC to outsource manufacturing of its A6 processors. We believe that TSMC fundamentals maybe coalescing for the stock to break out of its long-term trading range and mount an upward rally, and we would be buyers here.
Basic materials sector: Buy Silver Wheaton Corp. (NYSE:SLW). CQS added $135 million to their $230 million prior quarter position in the sector. This included added $147 million to its $111 million position in BHP Billiton Ltd ADR (NYSE:BBL), an Australian company engaged in the mining of base metals, iron ore, oil, gas, diamonds, and coals; and it added $1 million to its $13 million position in Silver Wheaton Corp., a Canadian buyer of purchase agreements for silver and gold from mining companies operating in Mexico, Sweden and Peru.
SLW is the largest metals streaming company in the world. It currently has fourteen silver purchase agreements and two precious metals agreements where, in exchange for an upfront payment, it has the right to purchase all or a portion of the silver production, at a low fixed cost, from high-quality mines located in politically stable regions. Its portfolio of silver streaming agreements includes Goldcorp Inc.'s (NYSE:GG) Penasquito mine in Mexico and Barrick Gold Corp.'s (NYSE:ABX) Pascua-Lima project straddling the border of Chile and Argentina, and 14 other locations on three different continents. This unique business model diversifies its risk-base and creates significant shareholder value by providing considerable leverage to increases in the silver price while reducing the downside risks faced by traditional mining companies. Simply put, SLW buys silver at low fixed costs around $4 and sells it at market prices, which currently are at $36. Furthermore, silver prices are in an upward trend and are widely believed to be going up to at least $50 per oz based on rising demand from India and China.
SLW went public in 2004 as a penny stock and has been a winner since, rising more than 50-fold, including a 15-fold increase from the $2.50s lows during the 2008/09 global financial crisis. It currently trades at forward 17 P/E, in the top one-third of its historic P/E range. Earnings are projected to increase sharply from 38c in 2009 and 84c in 2010 to projected $2.13 in 2011. However, this may just be the start of a long-term trend, as SLW projects that it will increase silver production from 27 to 28 million oz in 2011 to 43 million oz by 2015. Assuming even current silver prices, this means that annual revenues will exceed $1.5 billion in 2015, and they may even jump north of $2 billion if the strength in silver pricing is sustainable. Since much of the revenue flows to the bottom-line, it is projected that SLW could generate $3 to $4 by 2015. Of the 10 analysts covering the stock, nine rate it at a buy/strong buy and one rates it hold; and there are no underperform/sell ratings. Their mean price target is $54, with a high of $62, well above current $38 trading price.
Finance sector: CQS cut $25 million from its $130 million prior quarter position in the sector. This included adding $10 million to its $81 million position in Citigroup Inc. (NYSE:C), a global financial services company, providing consumers, corporations, governments, and institutions with a range of financial products and services; and dropping its $13 million position in Annaly Capital Management Inc. (NYSE:NLY), a REIT that owns, manages, and finances mortgage pass-through certificates and collateralized mortgage obligations.
Energy sector: CQS added $15 million to its $55 million prior quarter position in the sector. This included adding $12 million to its $2 million position in Petroleo Brasileiro SA ADR (NYSE:PBR) is a Brazilian company engaged in the exploration, production, supply, and distribution of oil and gas in Brazil and abroad; cutting $21 million from its $46 million position in CNOOC Ltd. Adr (NYSE:CEO), a Chinese company engaged in the exploration and production of oil and natural gas primarily in offshore China; and adding a new $17 million position in PetroChina Co. (NYSE:PTR), a Chinese company engaged in the exploration, production, refining, storage, transportation and marketing of oil and gas.
Services sector: CQS cut $95 million from its $150 million prior quarter position in the sector. This included dropping its $39 million position in Ventas Inc. (NYSE:VTR), a REIT that finances, owns and leases senior housing and healthcare-related properties in 43 states; dropping its $23 million position in Six Flags Entertainement (NYSE:SIX), an operator of 19 theme parks primarily under the Six Flags brand located throughout North America; and adding $1 million to its $13 million position in News Corporation Clb (NASDAQ:NWS), an international holding company engaged in newspaper, magazine and book publishing, and TV broadcasting and films.
Utilities sector: CQS added $10 million to its $10 million prior quarter position in the sector, including adding a new $11 million position in PPL Corporation (NYSE:PPL), a holding company engaged in electricity generation, marketing and distribution in Northeastern and Northwestern U.S.
Table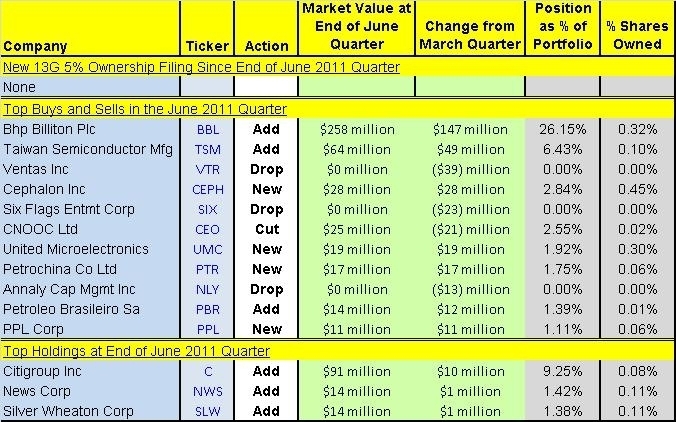 Credit: Historical fundamentals including operating metrics and stock ownership information were derived using SEC filings data, I-Metrix® by Edgar Online®, Zacks Investment Research, Thomson Reuters and Briefing.com. The information and data is believed to be accurate, but no guarantees or representations are made.
Disclosure: I have no positions in any stocks mentioned, and no plans to initiate any positions within the next 72 hours.
Disclaimer: Material presented here is for informational purposes only. Nothing in this article should be taken as a solicitation to purchase or sell securities. Before buying or selling any stock you should do your own research and reach your own conclusion. Further, these are our 'opinions' and we may be wrong. We may have positions in securities mentioned in this article. You should take this into consideration before acting on any advice given in this article. If this makes you uncomfortable, then do not listen to our thoughts and opinions. The contents of this article do not take into consideration your individual investment objectives so consult with your own financial adviser before making an investment decision. Investing includes certain risks including loss of principal.