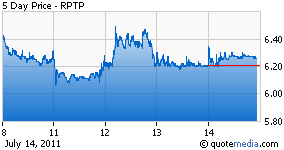 Results for Raptor Pharma's (NASDAQ:RPTP) pivotal Phase 3 clinical trial of DR Cysteamine for the potential treatment of nephropathic cystinosis are expected by the end of July. This event is expected to create a lot of volatility in the stock as a number of analysts have been getting excited for the results that could lead to an NDA submission by the end of the year and be on the market in 2012. The stock has nearly doubled over the past 2 months as we approach the event.
For some background, on June 6, the company announced that on June 3 the last clinical trial patient visits were completed and final data analysis will commence this week on the Phase 3 clinical trial of its delayed-release oral formulation of DR Cysteamine in patients with cystinosis. The company said that 41 patients have completed the nine-week study protocol and the Company expects to report the data from this trial by the end of July 2011. The extension phase of the clinical trial, in which all patients completing the Phase 3 study may elect to continue on DR Cysteamine therapy, is ongoing.
The pivotal Phase 3 clinical trial is designed as an outpatient study of the safety, tolerability, pharmacokinetics ("PK") and pharmacodynamics ("PD") of every 12-hour DR Cysteamine compared to every 6-hour immediate-release cysteamine bitartrate in cystinosis patients. DR Cysteamine is designed for reduced dose frequency and improved tolerability, compared to immediate-release cysteamine, which is the current standard of care in cystinosis. The multi-center, randomized, crossover design of this comparative study is a result of discussions with the FDA by which FDA provided significant guidance on trial protocol design, clinical endpoints, and statistical analyses.
Financial Position
At the end of Q3, May 31, 2011, the company had $13.3 million in cash, approximately $35.0 million in current liabilities. The company's forecasted average monthly cash expenditures for the next 12 months are approximately $2.0 million. The company believes its cash as of June 30, 2011 of approximately $15.7 million will be sufficient to meet its obligations into January 2012. The firm plans to raise equity funds by the end of third calendar quarter of 2011 and continue to review strategic partnerships and collaborations as a potential means to fund its preclinical and clinical programs beyond January 2012.
DR Cysteamine
DR Cysteamine is Raptor's proprietary enteric-coated, microbead oral formulation of cysteamine bitartrate designed to potentially reduce dosing frequency and reduce gastrointestinal side effects associated with immediate-release cysteamine bitartrate, which is approved for sale by the FDA and European Medicines Agency to treat nephropathic cystinosis.
Raptor Pharma
Raptor's clinical programs include DR Cysteamine for the potential treatment of nephropathic cystinosis, non-alcoholic steatohepatitis ("NASH"), and Huntington's Disease. Raptor also has ConviviaTM for the potential treatment of aldehyde dehydrogenase ("ALDH2") deficiency, a clinical stage product candidate for which it has out-licensed to a Taiwanese firm and continues to seek additional Asian out-licenses or to form a development partnership franchise in Asia where ALDH2 deficiency is prevalent. The company is also developing tezampanel in a planned Phase 1 study for the potential treatment of thrombotic disorder. Raptor's preclinical programs target cancer, neurodegenerative disorders and infectious diseases. The HepTide program is designed to utilize engineered RAP-based peptides conjugated to drugs to target delivery to the liver to potentially treat primary liver cancer and other liver diseases
Disclosure: I have no positions in any stocks mentioned, and no plans to initiate any positions within the next 72 hours.