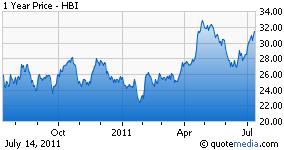 Hanesbrands Inc. (HBI) is scheduled to report its second quarter 2011 financial results on Monday, July 18.
Currently, Zacks Consensus Estimates call for 86 cents per share on sales of around $1,218 million.
First Quarter: A Synopsis
Hanesbrands, which faces stiff competition from Limited Brands Inc. (LTD) and Maidenform Brands Inc. (MFB), reported first quarter earnings of 49 cents per share, which was 32% higher than 37 cents in the previous year.
Earnings surpassed the Zacks Consensus Estimate of 33 cents by 48.5%. Profits were primarily impacted by acquisitions, organic growth and operational efficiency.
Total revenue for the quarter climbed 11.7% to $1,306.41 million from $927.84 million in the year-ago period. The growth in net sales was driven by strong performance of the acquired "Gear for Sports" business, organic outerwear segment growth and International growth.
Management Guided
Following strong results in the quarter, the company raised its full-year 2011 diluted EPS guidance to a range of $2.70 to $2.90, 10 cents higher than the previous guidance of $2.60 to $2.80.
Hanesbrands expects net sales to remain in the range of $4.9 billion to $5 billion, with the low end of the range having increased from $4.85 billion.
Second Quarter Zacks Consensus
Analysts covered by Zacks expect Hanesbrands to post second-quarter 2011 earnings of 86 cents a share. The current Zacks Consensus is 28.35% higher than the year ago period and ranges within a low of 85 cents to a high of 88 cents.
The current estimate remained the same over last 60 days as no analyst revised estimates.
Our Recommendation
Hanesbrands is a leading player in the innerwear, casual wear and active wear markets in the U.S. Moreover, the company commands a portfolio of well-recognized flagship brands, including Hanes, Champion, Playtex and Bali, which provides a competitive advantage to the company and reinforces its well established position in the industry.
Hanesbrands is undertaking prudent steps to optimize inventory levels in accordance with sales trends, thereby improving margins and cash flow from operations.
However, Hanesbrands' debt-ridden balance sheet and unfavorable foreign translations may weigh upon both the top and bottom lines.
Hanesbrands currently holds a short-term Zacks #4 Rank (Sell). On a long-term basis, we maintain a 'Neutral' rating.