I believe that KKR Financial (KFN) is in a unique position at the moment in lieu of recent comments by Fed Chairman Ben Bernanke. KFN's financial holdings consist mostly of corporate loans and high yielding collateralized loan obligations. The Fed has openly committed to low interest rates for an extended period of time, along with whispers of some form of QE3. This will continue to benefit the majority of KFN's bond holdings.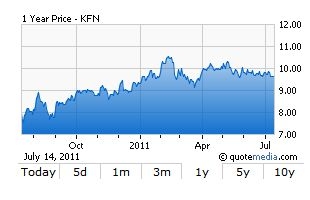 Last quarter, KFN's weighted average estimated fair value of its corporate loan portfolio, increased 2.3% to 96.5% of par value on March 31, 2011. As interest rates stay low, and based on the assumption LIBOR remains low as well, the bond portfolio's fair value will remain intact.The recent fray of news about Europe and the U.S. debt ceiling has caused the markets to dip into turmoil.
Additionally, do not forget about the breakdown of the S&P 500, which is trading around 1312 as I write this article. Instead of taking part in this roller-coaster market, why not sit back and take a low risk trade? It is possible to generate some income from the 6.5% dividend yield KFN is able to offer. Does that sound good?
Since the beginning of 2011 KFN has not closed below the $9 mark. Currently it trades around $9.65, and if you put a hypothetical floor on the stock at $9, it is currently trading at a 7% premium to the floor. If the stock drops to $9.50, I will gobble it up since the hypothetical premium will only be 5.5%. If the stock drops below $9, I would exit this position as this stock has not traded below these levels since 2010. Additionally, by holding this position even if it drops and stays at $9, you will net an easy 1.5% in dividends over the course of a year.

I would like to note that if the tone of the Fed changes, and interest rates are expected to rise, I would close this position.
Disclosure: I have no positions in any stocks mentioned, and no plans to initiate any positions within the next 72 hours.