This is one article I feel "compelled" to write due to the topic's urgency.
The Mortgage Real Estate Investment Trust equities dipped today. For the purposes of this article, I will focus upon the two largest agency mREIT stocks: Annaly Capital Management, Inc. (NYSE:NLY) and American Capital Agency Corp. (NASDAQ:AGNC).
Investors are beginning to look at the agency MBS market, and at its co-mingled relationship to the lack of approval, regarding the unresolved proposed debt level increase from the U.S. Congress and President of the United States.
A debt level approval is necessary to ensure the U.S. retains its AAA credit rating, an inability to increase the U.S. debt levels could have severe consequences. It's truly amazing to watch, and embarrassing to witness, as a U.S. citizen. I'm not sure if the blame is on the Democrats, the Republicans, or both. However, a blame exists as sure as humans breathe air.
The potential death blow to mREIT equities was expressed in Moody's July 13th credit research statement (click here to view):
click on images to enlarge

Click to enlarge
To be explicit, NLY and AGNC own Government Sponsored Equity (GSE) mortgage backed securities (MBS). If these GSE securities are downgraded in credit worthiness, there is a distinct repercussion of negative domino's to fall. AGNC and NLY own GSE investments that could lose significant value if its credit worthiness is downgraded.
AGNC and NLY Leverage Usage with Agency Backed mREITs
While the leverage level is nowhere near its record high, the use of leverage by GSEs is considerable for a mostly stable borrower, suggesting more investors are buying protection against a potential default.

Click to enlarge
Moody's attributed the rating action, which it warned about on June 2, to the following:
The rising possibility that the statutory debt limit will not be raised on a timely basis, leading to a default on U.S.Treasury obligations.
The last action an agency mREIT investor desires, is a change to the credit worthiness of their mREIT holdings that are levered at a 6.3x to 7.6x multiple. The question is whether Moody's warning about the credit worthiness of U.S. debt will actually lead to a change. Although it sounds radical, protecting one's nest egg is only prudent.
I shall continue to monitor the debt ceiling covenants and exit if necessary prior to the August drop-dead deadline.
Warren Buffett's View on DC's Need to Act
When Warren Buffett states that Congess needs to act with maturity, and that Congress is playing "Russian Roulette", one should stand up and take notice. At the end of the day, one would hope that the U.S. government works in unison towards the common goal of the success of the United States of America. That's the brass tacks as I see it. I can't invest with confidence in agency mREITs because of the bitterness, hostility, and anger that appears present amongst the current political system.
U.S. Debt Level Concerns
The U.S. Treasury officially released the "Debt Limit: Myth vs. Fact" document to address the primary concerns (see page 1 below):

Click to enlarge
Federal Reserve Explicit Solutions
Chairman Ben S. Bernanke, in his July 13th Semiannual Monetary Policy Report to the Congress, presented various solutions to the current economic status quo:

Click to enlarge
Clearly, Chairman Bernanke is willing to consider further economic support, including lowering the Federal Reserve rate or additional quantitative easing support. It's a difficult balancing act to recognize what Federal input is required to decrease deflationary pressures and induce an economic rebound.
Attorney General Decision of 1967
The 31. U.S.C. 3101 (b) applies to the ruling of the role of GSEs and its hierarchy within the U.S. debt obligations. Many changes and facts have occurred since this decision, including Lehman's bankruptcy and Bear Stearns bankruptcy. What role will the repo-parties possess if the debt ceiling is not increased and improved in a timely manner? Time will tell.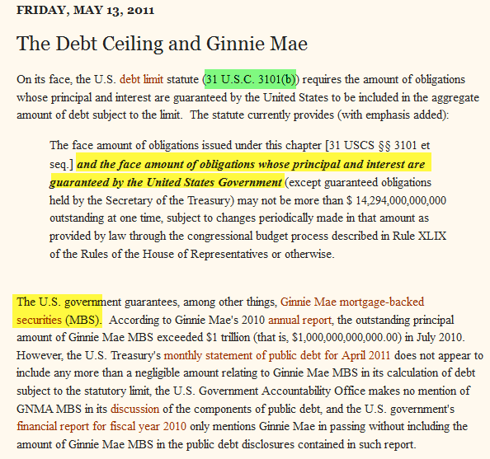 Click to enlarge
Disclosure: I am long AGNC.