Collective Brands (NYSE:PSS) has been sold down to a level where it has become an attractive, long-term investment play. The most recent quarter (MRQ) was full of reasons to be bearish but investors ran away with that bearishness and pushed the stock down to where it doesn't belong. There are plenty of reasons to believe in PSS long-term, but also a couple of short-term speed bumps to be aware of:
Wholesale business growth pushes PSS towards a higher margin and less capital intensive business. Non-Payless segment showed impressive growth across all brands as well as increased same store sales.

PSS has l

ots of room for international expansion through South American and Asian markets - with the latter being almost nonexistent. Management is paying attention to cost minimization as it moves manufacturer sourcing away from an increasingly expensive China.

Using four valuation metrics (PEG, FPE, PS and PB), my 12 month price target is $21, a 46% premium to where PSS currently trades.
Wholesale and International Business Expansion
Over the MRQ, PSS's wholesale business segment saw double-digit growth. This is an important segment for PSS due to the higher margins associated with wholesale businesses. This segment is also less capital intensive than its Payless store segment, contributing to a higher ROC. More on the specifics of this segment later.
The international segment also grew over the last quarter and yet there is still a lot of potential here. Expansion outside of North America can contribute immensely to international sales. In particular, further penetration into the increasingly lucrative Asian markets could greatly improve the international segment's contribution. There is little exposure to the Asian markets, with a presence in only Indonesia and the Philippines. On the Q1 conference call, management laid out a plan for 1000 international stores. At the current pace, we could assume this will happen within 5 years.
PLG Segment
The PLG segment comprises of the non-Payless brands owned and controlled by Collective Brands. This included Saucony, Sperry Top-Siders, Stride Rite, Keds and Airwalk; these companies comprise the wholesale segment. The MRQ saw growth over all brands as well as higher same store sales. Accompanying the higher same store sales was an increase in self space within existing locations, implying vendors' increased confidence in the brands.
Growth in this segment also bodes well for PSS's margins as the higher price point within the brands allows for a higher margin. While recently the PLG segment wasn't big enough to combat the lower margins from the Payless stores, in the future PSS could see some margin expansion due to PLG growth. In an attempt to further strengthen the PLG segment, management has been pushing to reimage Sperry as a year round brand, potentially increasing sales in the high margin business.
Sourcing Diversification
In the past PSS has sourced most of its manufacturing to China. Recently, with China's costs increasing, management has started a sourcing diversification effort in an attempt to minimize costs. The company effectively accomplished this last quarter as China's portion of total sourcing fell to 75% from 90%.
Weather Exposure
The MRQ revealed PSS's exposure to inclement weather, as a significant portion of the quarter's underperformance was attributed to unfavorable weather during the spring shopping season. Even if this did ease investors' worries a little bit, it also brought the company's weather exposure to the forefront, showing it's a bigger investment risk than previously thought. The weather will now have to be included in any investment thesis - although over the long term this becomes more of a nonissue. Investors will be watching the weather during the back-to-school season and, more importantly, around the winter holidays.
Final Thoughts
Some final thoughts before I get into my valuation and price target discussion. The vast majority of last quarter's underperformance was due to a later Easter, which pushed these sales into Q2, causing Q1 to lag seasonally. This Easter was an anomaly and hasn't happened in 70 years. The sales that are usually in the first quarter are simply going to be attributed to the second quarter and won't affect the 2011 results.
Many investors were concerned about the increase in inventory from quarter to quarter, however management said that this consisted mainly of an increase in higher priced merchandise (read higher margins) and preparation for wholesale expansion (read higher margins and ROC). In the end the increase in inventory came from positive indicators and contributes to my bullish long-term view of the company.
I feel that the economic climate is already baked into the share price. Investors sold off 21% following the Q2 announcement, rightly afraid of the pressured lower class, a big segment of PSS's customers. The quick reaction has already baked any negative economic indicators into the stock and has set it up for a pleasant surprise for its quarterly announcement in August.
Whenever stocks are driven down below fair valuation, talks of takeover bids begin. Having looked at the potential buyers, I do not think that PSS will get a takeover bid. The one company that could effectively create synergies is VF Corp (NYSE:VFC), but seeing as the company just purchased Timberland (NYSE:TBL), another purchase so soon is highly unlikely. All the other potential candidates are either too small or have competing brands.
The recent departure of PSS's CEO shouldn't worry investors as the board includes two former specialty retail CEOs and are changing the corporate structure to alleviate pressure off the CEO's office and spread responsibility. The board should use this opportunity to find an executive that can turn the domestic Payless brand around and back toward the level of profitability it once had.
Valuations and Price Target
Using four commonly utilized valuation metrics (PEG, forward P/E, PS and PB), PSS is consistently valued below its 5 year average for each metric. In some cases its valuation is just off its 5 year low, which came during the recession, a much worse climate for retailers than the current climate. While job creation might be moving at a slower pace than we would like, it is moving. Valuing a retailer at recession lows is baseless, especially for a business that is growing its high margin segments.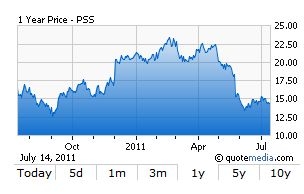 Using the 5 year averages to determine a price target, PEG implies a target of $21.68, FPE implies a PT of $16.68, PS implies a PT of $21.87 and PB implies a PT of $23.73. I feel that using the 5 year averages as a price target is warranted because the company isn't as strong now as it has been with the current weakness in its domestic Payless stores. I did say that this problem should be temporary, which is why my price target is for a 12 month period. I found my PT by averaging all the valuation-derived targets to get a final target of $21 a share. This implies a 46.9% premium at the time of this writing. Remember that this price target is for 12 months, so even if the very short-term could see some setbacks, unless they threaten my investment thesis, my PT should remain safe.
Disclosure: I have no positions in any stocks mentioned, but may initiate a long position in PSS, VFC over the next 72 hours.