This write-up is the second installment of an article titled "How to Create an Aggressive Income Portfolio". It is highly recommended that one start with the first article prior to this write-up, as it goes over commonly used income investment vehicles such as mREITs, business development companies, trusts, energy, and gold. The article provides detailed examples of some great companies within each section, and how they might be used in conjunction with corporate and municipal bonds which are rated below investment grade in order to create a diversified portfolio.
That being said, this article's purpose is to continue drilling down deeper into different investments one could use to create a high level of diversified income. To keep the length of the article manageable for the reader, it will detail specific sectors and give examples of some great companies and funds that represent them. Needless to say, before investing one will want to complete greater in-depth research to verify the holding will fit into one's income holdings.
Pipelines
In the first article, one section was devoted to the energy complex and some could argue that the pipelines fall into that category. These are broken out into their own group here because of the fact that the pipeline companies do not usually own the products they are transporting. These companies are simply intermediaries that move the product from a producer/shipper to the centralized marketplace or transportation hub.
That being the case, these companies will be less exposed to the price volatility of the underlying commodity. It is this network that delivers such products as crude oil, natural gas, and petroleum products. The producers who actually own the product, pay pipeline companies to transport their product from oil fields to refineries, manufacturers, and distribution centers. These companies will reserve a specific amount of space per month on a pipeline to transport their products. Often contracts are put in place well in advance so regardless of the current energy prices the pipeline companies will usually get their cash.
Energy Transfer Partners, L.P. (NYSE:ETP)
Energy Transfer Partners is a publicly traded partnership which operates a diversified portfolio of energy assets. ETP has pipeline operations in Arizona, Arkansas, Colorado, Louisiana, Mississippi, New Mexico, Utah and West Virginia and owns the largest intrastate pipeline system in Texas. ETP currently has natural gas operations that include more than 17,500 miles of gathering and transportation pipelines, treating and processing assets, and three storage facilities located in Texas. ETP also holds a 70% interest in a joint venture that owns and operates natural gas liquids storage, fractionation and transportation assets in Texas, Louisiana and Mississippi. ETP is also one of the three largest retail marketers of propane in the United States.
For the first quarter ETP did not meet estimates for their earnings or distributable cash flow. Needless to say this did not sit well with the investing community as the company received an analyst downgrade as the stock's price fell from the $54 range down into the mid $40's. In response, management stated that they expect the distribution rate to be raised no later than the third quarter of this year. This is based upon several large projects which will be spinning off cash later in 2011 and into the later years.
This being the case, ETP would be a fairly good bye for the income investor. The larger future projects coming on-line to fund the company's distribution will include the $2 billion 70/30 JV with Regency Energy Partners (RGNC) for the acquisition of Louis Dryfus and the construction of a NGL fractionation facility. Also there is a joint venture with Enterprise Products Partners (NYSE:EPD) to create a pipeline from Cushing, Oklahoma to the Gulf Coast. There are also several other smaller, independent projects that will begin shortly. As it stands the current distribution is around $3.58 a year for a yield of roughly 7.30%.
click on images to enlarge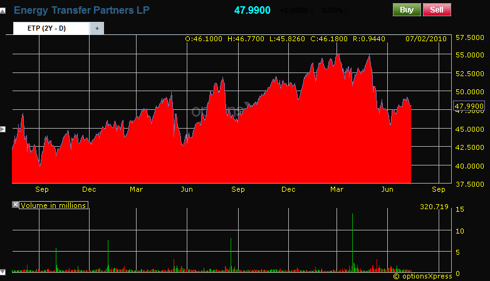 TC Pipelines, LP (TCLP)
TC Pipelines together with its subsidiaries transports natural gas in the United States and eastern Canada. The partnership has interests in 5,560 miles of natural gas pipelines and a combined total deliverable capacity of 8.9 billion cubic feet per day (bcf/d). TC PipeLines, LP was formed by TransCanada PipeLines Limited to acquire, own and actively participate in the management of United States based natural gas pipelines and related assets. So it is safe to assume that TCLP has the backing of TransCanada which is always a plus in any difficult operating environment.
For the first quarter, TCLP reported $11.5 million or a 31% increase in 2011 partnership cash flows to $48.3 million compared to $36.8 million for the same period in 2010. Net income for first quarter of 2011 was $42.3 million compared to $33.7 million for the same period in 2010. As a result, the partnership announced first quarter 2011 cash distribution of $0.75 per common unit. This distribution is equivalent to the fourth quarter 2010 distribution which shows that the partnership is maintaining, if not actually growing, their yields. This cash distribution is the 48th consecutive quarterly distribution paid by the Partnership.
With strong demand for its pipeline's transportation services, TCLP should be able to continue to increase their distribution amount like they have done each year since 1999. Since a picture is really worth a thousand words, take a look at the chart below to get an idea of how the company's business strategies are performing based upon the distribution history.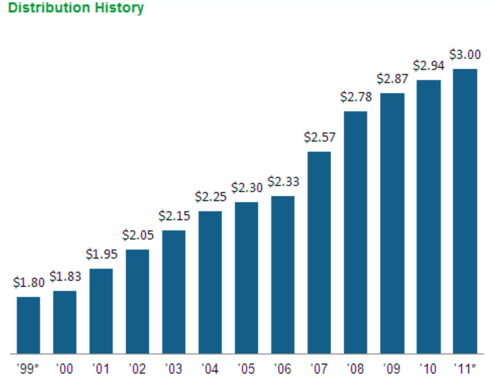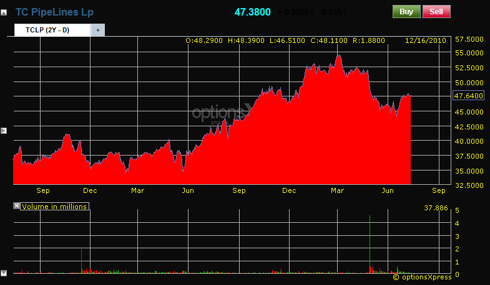 Shipping
Shipping companies, whether transporting dry bulk, crude carriers, or liquefied natural gas, have had a history of paying high dividends and distributions to shareholders. At least that was until the economic downturn when these same companies racked up huge debt loads on purchasing new boats which increase an already over abundance of excess capacity. As a result, dividends were cut and dilution became a common theme in the industry. Even though the industry did get hit hard, there are still some companies that are worth a look at for income investors.
Navios Maritime Partners L.P. (NYSE:NMM)
Navios Maritime owns and operates dry cargo vessels on an international basis. The company is known for hauling such drybulk items as iron ore, coal, grains, and fertilizers. Their fleet consists of 10 Panamax vessels, 5 Capesize vessels, and 1 Ultra-Handymax vessel. Obviously the name of the game is to try and get as much as one can for the charters of the boats. NMM's tries to charter out under long-term time frames.
Currently the average remaining term of their charter is approximately 4.3years to a strong group business partners which provide a stable base of revenue and distributable cash flow. Navios Partners has currently contracted out 100.0% for 2011, 95.2% for 2012 and 75.1% for 2013, generating revenues of approximately $176.8 million, $170.7 million and $133.9 million, respectively. The average contractual daily charter-out rate for the fleet is $30,270, $30,601 and $32,560 for 2011, 2012 and 2013, respectively. The average daily charter-in rate for the active long-term charter-in vessels for 2011 is $13,513.
That being the case, it takes lots of worry out of the minds of investors. In relation to this, the Board of Directors of Navios Partners declared a cash distribution for the first quarter of 2011 of $0.43 per unit. Annualize that figure out and one gets a $1.72 distribution for a yield of 9.50% at today current price per share of $18.
In other recent news, Navios Partners completed a public offering of 4,000,000 common units at $19.68 per unit and raised gross proceeds of approximately $78.7 million to fund its fleet expansion in April of 2011. The net proceeds of this offering were approximately $86.1 million. This is actually an interesting sign as Navios is going for fleet expansion while other companies are not keeping the pace.
For the first quarter of 2011 NMM reported the following:
45.6% increase in quarterly Revenues to $42.8 million
56.8% increase in quarterly Operating Surplus to $26.5 million
52.1% increase in quarterly EBITDA to $32.4 million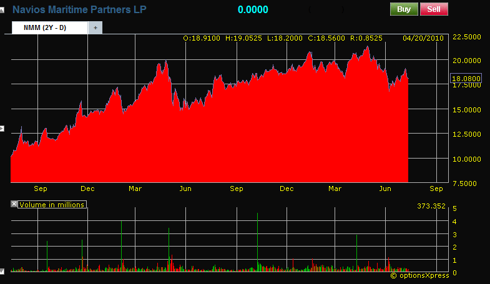 SFL Ship Finance International Limited (NYSE:SFL)
SFL through its subsidiaries engages in the ownership and operation of vessels and offshore related assets in a large variety of countries. As of the first quarter of 2011, SFL owned 29 oil tankers, 8 oil/bulk/ore carriers, 3 dry bulk carriers, 9 container vessels, 2 jack-up drilling rigs, 3 ultra-deepwater drilling units, 6 offshore supply vessels, and 2 chemical tankers.
Needless to say the company offers its services to various sectors of shipping and offshore industries. Some examples of the types of services are, oil transportation, drybulk shipments, chemical transportation, container transportation, drilling rigs, and offshore supply vessels.
For the 1st quarter the company declared an increased quarterly cash dividend of $0.39 per share. This calculates to an annual dividend of $1.56 or a yield of 8.9% as of today's share price of $17.65. Ship Finance has now paid a quarterly dividend for 29 quarters, and this increase is their fifth consecutive.
As the industry still struggles, SFL continues is strategy of maintaining a young and modern fleet by selling off older vessels. As a result, SFL will often find itself booking gains of the sale of older assets. The Company reported total U.S. GAAP operating revenues on a consolidated basis of $72.0 million, or $0.91 per share, in the first quarter of 2011. Reported net operating income pursuant to U.S. GAAP for the quarter was $38.1 million, or $0.48 per share, and reported net income was $32.1 million, or $0.41 per share.
Of special interest to investors are SFL's five drilling units which are on long-term fixed-rate bareboat contracts to Seadrill Limited and Apexindo. These drilling units generated approximately $96 million of combined charter revenues in the first quarter. Due to the fixed-rate (long term) charter structure, Ship Finance is not directly impacted by short-term fluctuations in the drilling market.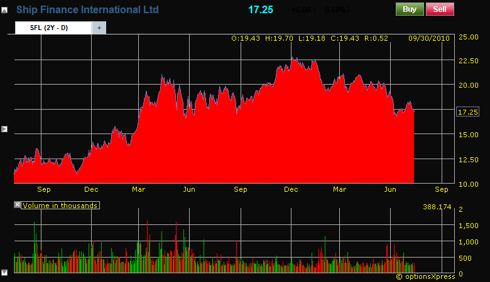 Fertilizers
When one thinks of high yield, aggressive income investing, one of the last places they tend to think about is the agriculture sectors and fertilizers. But that is exactly where one will find some partnerships with awesome yields. With an ever increasing world population, food demand will keep increasing no matter what the economies of the US or Europe does. The basic premise here is if you want food then you will need the fertilizer to grow it.
Terra Nitrogen Company, L.P. (NYSE:TNH)
TNH is a Master Limited Partnership that produces and distributes nitrogen fertilizer products to agricultural and industrial customers in the Central and Southern Plains, and the Corn Belt regions of the United States. The company's principal products include urea ammonium nitrate solutions ((NYSE:UAN)), a liquid fertilizer; and anhydrous ammonia, a form of nitrogen fertilizer and the feedstock for the production of other nitrogen fertilizers. Terra Nitrogen Company has the capacity to produce annually 1.9 million tons of urea ammonium nitrate solutions and 1.1 million tons of ammonia, the basic ingredient for most nitrogen fertilizer and many industrial products. Needless to say, TNH is a major player in the world of fertilizer. In 2010, CF Industries Holdings, Inc. (NYSE:CF) acquired Terra Industries and today holds a 70% ownership stake.
Terra Nitrogen for the first quarter of 2011 reported net earnings of $120.9 million on net sales of $196.0 million. This compares to net earnings of $33.9 million on net sales of $118.8 million for the first quarter of 2010. This large increase was due to higher ammonia and urea ammonium nitrate selling prices and volumes. The increase in demand and prices were due to the higher expected crop planting that should occur in North America plus an improved global supply/demand balance for nitrogen products.
From the 2010 to the 2011 first quarter, Terra Nitrogen stated the following to explain such an increase in profits:
UAN and ammonia selling prices increased by 39 and 34 percent, respectively.
UAN and ammonia sales volumes increased by 24 and 108 percent, respectively.
Realized natural gas unit costs decreased by 19 percent.
As agricultural demands continue to grow, TNH should continue to be a holding of a great income portfolio. Their parent company CF Industries could possible take the whole operation private at some point but with yield this good it is hard to pass up. This is shown as the company declared a cash distribution for the quarter ended March 31, 2011, of $4.84 per common limited partnership unit. This calculates to a yearly distribution of $19.36 a unit or a 13.6% yield. Of course the cash distributions depends on the earnings which can be affected by a variety of things like fertilizer selling prices, natural gas costs, and seasonal demand.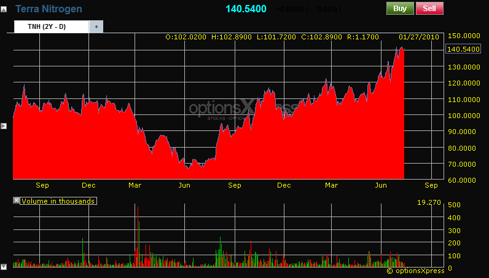 CVR Partners (UAN)
This is one of the newer partnerships that recently completed its initial public offering on April 13, 2011 and sold 22.1 million common units for $16 per unit. The partnership was spun off of CVR Energy Inc. and is to operate the fertilizer side of the business. CVR Energy's final holdings are a 70% interest of the partnership while the other 30% was sold to the public. What makes UAN different from others is that they are the only fertilizer producer in North America that uses a special petroleum coke process to make its product. The parent company runs a refinery in Kansas which processes crude oil and the byproduct happens to the petroleum coke. When compared to natural gas prices, which can be a major expense to fertilizer makers, petroleum coke prices tend to be much less expensive and much more stable in price. This being the case, it will make CVR Partners one of the lowest cost producers in the nitrogen fertilizer business.
The first quarter results which were prior to the public offering reported net sales figures of $57 million which generated a net income of $16.7 million. Compared to the same quarter of the last fiscal year, the partnership reported first quarter of 2010 net sales of $38 million while the net income was $6 million. Another plus for UAN is that the partnership as of March 31, 2011 had cash on hand of $71 million and no debt.
Being new though the real question most income investors have is regarding the distribution. Current estimates by the company suggest an initial payout of $1.92 per share for the upcoming year. Currently, the shares trade at $23.61 a share, making it an 8.1% yield. This distribution will be distributed on a quarterly basis. Investors should note though, that management did state the business performance will be more seasonal and volatile which will make the distributions vary from quarter to quarter. The first of the distributions to the shareholders will be made by August 15, 2011.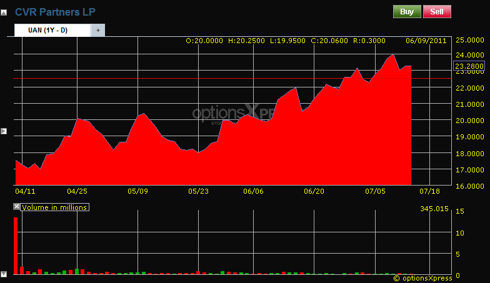 Municipal Funds
When it comes to income investing and municipal bonds, many investors will invest directly into individual bonds which are rated as below investment grade. Others might choose to spread the risk and buy a closed-end fund (CEF) to diversify across a larger section of bonds within the fund's portfolio. When one is going to use these CEFs they need to be aware of such aspects as if the fund is selling at a premium or discount to net asset value, management fees, and the fund's use of leverage.
Some will argue that a municipal CEF is not really an aggressive income holding. To this I say remember the original definition of the conservative portfolio that we used in the original article. It stated that a conservative portfolio might include such items as certificates of deposit (CDs), fixed annuities and government/corporate bonds with high ratings. These investments currently have a very low yield in comparison to what has been mentioned in the last two articles.
Now consider the fact that these municipal bond CEF funds' have the ability to generate yields of 5%. This 5% return is taxfree, so if we calculate a taxable equivalent yield to match its yield to all the other mentioned investment which are not tax free, then you get yield closer to 7.72%. Taxable equivalent yield represents the yield you would need to earn on a taxable investment in order to equal the federal tax-free yield on a municipal investment. The yields shown are based on the current market yield and a federal tax rate of 35%. When calculated, that kind of yield should put us back into the realm of aggressive income.
Nuveen Municipal Value Fund (NYSE:NUV)
When it comes to investments with tax free implications, one of my favorite holdings is NUV. Nuveen Municipal Value Fund is a closed-ended fixed income mutual fund run by Nuveen Asset Management. It invests in the fixed income markets of the United States. The fund also invests some portion of its portfolio in derivative instruments. It invests in undervalued municipal securities and other related investments where the income is exempt from regular federal income taxes. NUV tries to invest in bonds that are rated Baa or BBB or better. It employs fundamental analysis with bottom-up stock picking approach to create its portfolio. NUV was formed on April 8, 1987.
The fund currently sells at a 2% discount to net asset value and has a total managed asset value of $1,877,687,150 which represents 345 holdings. The breakout of the holdings is as follows:

Tax Obligation/Limited 19.23%
Health Care 18.59%
US Guaranteed 15.08%
Transportation 12.28%
Tax Obligation/General 8.52%
Consumer Staples 6.82%
Utilities 6.57%
Water and Sewer 4.37%
Education and Civic Organ 2.37%
Materials 1.34%
The management fees and other expenses currently run at a manageable 0.61%. The fund also does not use any leverage in their operations which will make the CEF more stable as opposed to funds that are highly leveraged. The distributions are made to shareholders on a monthly basis and currently that equals to a $0.039 distribution per share. This make a yield 5.02% but the taxable equivalent yield is 7.72%. The income breakdown is as follows:
Ordinary Income: 95.70%
Long Term Capital Gain:4.30%
Short Term Capital Gain:0.00%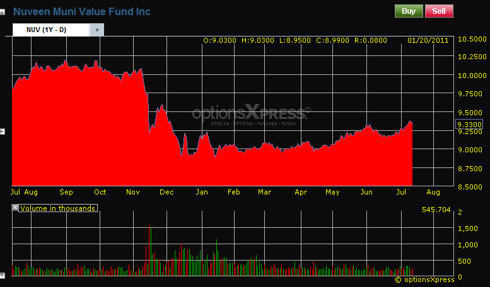 For those brave souls looking to juice their yields even further, Nuveen Asset Management also runs a similar CEF called Nuveen Performance Plus Municipal Fund (NPP). This fund actually shares similar characteristics in holdings and makeup as NUV, but NPP has an effective leverage rate of over 36%. With such a high level of leverage, the fund will be much more volatile in price as opposed to NUV with no leverage.
The positive result is that the fund pays a distribution rate of 6.69% which makes a taxable equivalent yield of over 10%. Needless to say, management fee and expense are higher and are currently running at 1.12%. Although I would not recommend NPP as a holding, it should be presented to show investors that these municipal CEFs do exist and have the ability to generate yields like those of mREITs and business development companies which were presented in the first article.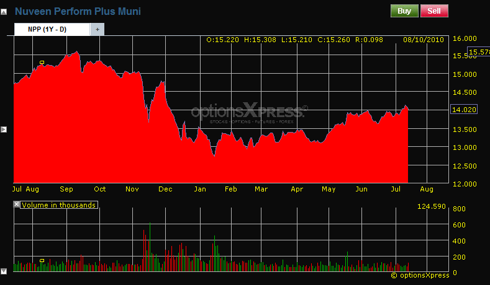 In conclusion, this is our second of three articles on creating an aggressive income portfolio. So far we have gone over a wide variety of investment vehicles that give the owner some great yields and diversification across many spectrums. The final article will present preferred equities, more CEFs, REITs, and large, high yielding foreign companies that trade on the pink sheets.