For the most part, my market interest is focused on investor sentiment as reflected in charts, and finding patterns and clues therein. But I think there are some interesting notes to be made about the fundamentals that underlie market behavior.
The supply and demand of assets are dependent upon available capital, and when capital starts running low, where will the buying power come from to push asset prices higher? With that in mind, it's worth nothing that mutual fund cash levels are near historic lows (I've seen this chart a few different places, but here's where I got it):
click to enlarge images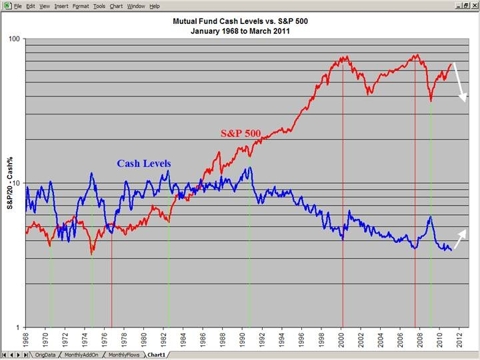 Click to enlarge
It's possible that the ongoing move from mutual funds to ETFs has made that stat less relevant, but it's probably still worth noting. Also notable is the return of excessive margin debt, as noted in this recent Zero Hedge post. The thing with excessive margin debt, is that once margin calls start coming, a normal correction can quickly degenerate into a chaotic sell-off, as witnessed in 2008.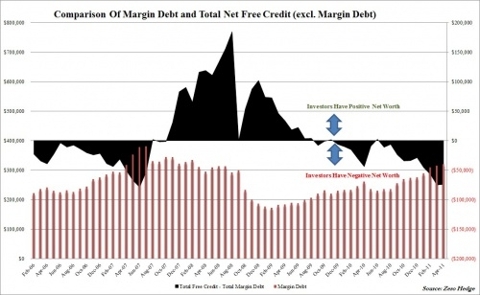 Click to enlarge
So if fund cash levels are low and margin levels are high... where will buying power come from to push the markets higher? Especially with no fresh bank deposits being created by the Fed.
Moving beyond the supply/demand of the casino itself, there continue to be reasons for concern within the real economy itself. The ECRI Growth Index has been declining for more than 10 weeks. Doug Short does a great job of regularly detailing the ECRI Growth Index, which has a decent history of forecasting recessions (except the summer of 2010, where the Growth Index hit the lowest recession-less levels in its history.
At the time, ECRI Director Lakshman Achuthan stated numerous times that he thought the U.S. economy would avoid a double-dip, despite the low Growth Index numbers.) This year, Lakshman says, "It's a growth rate slowdown and that's what the market really cares about." He advises that the growth is not in place for a sustained rally: "I'd be surprised if the market really took off on a sustained basis against what the growth rate of the economy is," he says. "It's not transitory." You can listen to his full commentary here.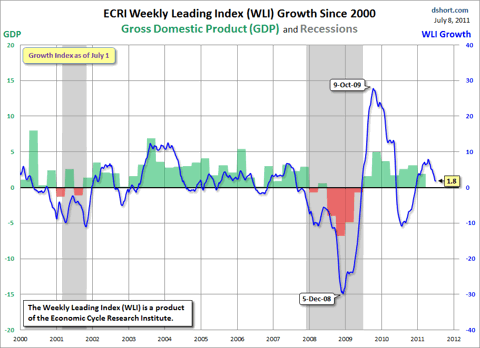 Click to enlarge
What will keep the Ponzi propped?
QE3 would do the trick as even hushed whispers of QE3 get the animal spirits raging. Also, loan growth that gets money out of bank excess deposits and multiplied into the economy would do the job. But if neither those things occur, its hard for me to see a sustained rally from these levels.
In the looking at the charts, the S&P (NYSEARCA:SPY) may have the makings of a head & shoulders, and the Russell 2000 (NYSEARCA:IWM) has a double top in place dating back to 2007. Both chart patterns lend additional credence to idea that caution is warranted.

Click to enlarge
We are only about 3% from the most recent the top in the S&P, so it's not too late to put some shorts or hedges in place here. There is little downside risk if positions are exited on a break to new highs. The most convenient (i.e. long) securities to serve the purpose are SH (1x short S&P) and RWM (1x short the Russell 2000). More aggressive investors could use leveraged short instruments like TZA or SPXU.