Apple (AAPL) is taking legal actions. Again. Last week, Apple filed an ITC (International Trade Commission) request to block the import of various Samsung (GM:SSNLF) devices. This included blocking the import of the Galaxy S and Galaxy Tab devices. Images used by media suggest Samsung is copying Apple, but these images are greatly exaggerated. For instance, in the photo comparing the Samsung SGS device to the iPhone, the SGS app drawer open screen is shown. This is not the Galaxy home screen: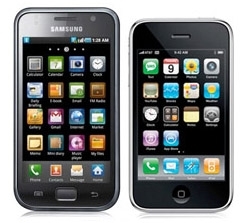 Apple has a high profit margin, which stood at 41.4% in its most recent quarter, higher than any of its rivals. If Apple succeeds in this filing -- it likely won't, and a settlement could be likely -- the company will be able to protect its margin and keep growing its cash balance. According to finviz.com, it is currently $31.61 per share.
With positive reviews and consumer enthusiasm for Samsung's devices, this suggests competitive pressures mounting for Apple. Samsung's SGS 2 smart phone and Galaxy Tab 10.1 are likely to achieve strong sales. The timing of Apple's official complaint is questionable.
Recall the Apple vs. Amazon (AMZN) "App Store" Case
Apple tried to protect its app store brand by suing Amazon.com. When Apple sued Amazon for using the "App Store" trademark name, Apple needed to prove that consumers would confuse the Apple trade name with the Amazon one. Apple failed to provide evidence, so the court rejected its request to ban Amazon from resuming its business.
Similar to the Apple vs. Amazon case, Apple will need to prove in the Apple vs. Samsung case that consumers will confuse an iPhone to a Samsung device.
HTC Tells Apple to Try Competing Instead of Suing
On July 12, Apple accused HTC of infringing on Apple patents for its Flyer tablet computer:
HTC is disappointed at Apple's constant attempts at litigations instead of competing fairly in the market.
As Bloomberg reported:
"HTC is dismayed that Apple has resorted to competition in the courts rather than the marketplace," said Grace Lei, HTC's general counsel. "HTC continues to vehemently deny all of Apple's past and present claims against it and will continue to protect and defend its own intellectual property as it has already done this year."
14 More Patent Filings
Engadget reported that Apple filed for 14 patent applications on July 14, covering everything from "cable structure for preventing tangling" to an "adaptive audio feedback system and method."
In Apple's defense, the company is on the bottom of the list for companies gaining patents in 2010:
1. International Business Machines (IBM): 5896
2. Samsung Electronics (Korea): 4551
3. Microsoft (MSFT): 3094
46. Apple: 563
Apple is no longer interested in licensing its IP with other companies. Apple is aggressively pursuing competitors it believes are infringing on its patents. Taken from a historical point of view for Apple, this strategy makes sense. Apple had a deal with Microsoft over graphical user interface properties that limited Apple's competitiveness in the desktop space.
Will the courts side with Apple in these suits? The outcome will ultimately impact consumer choice and availability for mobile device alternatives.