Taubman Centers Inc. (NYSE:TCO), a real estate investment trust (REIT), is scheduled to report its fiscal 2011 second quarter earnings on July 19. The current Zacks Consensus Estimate for the second quarter is 61 cents per share, which is almost flat compared with the year-ago quarter.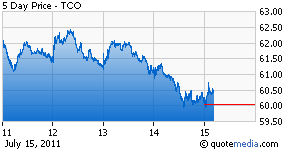 First Quarter Recap
Taubman Centers reported first quarter 2011 FFO (fund from operations) of 63 cents per share, which beat the Zacks Consensus Estimate by 5 cents. 'Fund From Operations' is a widely used metric to gauge the performance of REITs and is obtained after adding depreciation and amortization and other non-cash expenses to net income.
Total revenue during the reported quarter were $155.5 million compared with $151.5 million in the year-ago quarter. Occupancy of the entire portfolio decreased marginally to 87.9% at quarter-end from 88.2% in the year-earlier period.
Average rents in the overall portfolio were $45.20 per square foot, compared with $43.68 in the year-ago quarter. Mall tenant sales per square foot increased 14.3% year-over-year during the quarter. On a trailing 12-month basis, mall tenant sales were $581 per square foot.
Agreement of Analysts
In the last 7 days, earnings estimates for the second quarter was increased by 1 out of the 13 analysts covering the stock, while one also revised it downward. For fiscal 2011, 1 out of the 13 analysts covering the stock has raised the earnings estimate in the last 7 days, while one has decreased the same. This demonstrates that the analysts are mostly neutral about the future outlook of the company.
Magnitude of Estimate Revisions
Earnings estimates have remained stagnant for the last 7 days for the second quarter and full fiscal 2011 at 61 cents and $2.74 per share, respectively, meaning that analysts were overtly cautious about the performance of the company. However, Taubman Centers has recently increased its earlier FFO guidance for full-year 2011 in the range of $2.88 to $2.98 per share from $2.86 to $2.98.
Neutral on Taubman Centers
We currently have a Neutral recommendation on Taubman Centers, which presently has a Zacks #3 Rank, translating into a short-term Hold rating. We also have a 'Neutral' recommendation and a Zacks #3 Rank for Equity One Inc. (NYSE:EQY), a peer of Taubman.
Taubman Centers has a strong portfolio of the best-in-class retail malls that generate the highest average sales per square foot in the country. On a trailing 12-month basis, mall tenant sales were $581 per square foot during first quarter 2011.
A large number of these shopping centers are strategically located in the most affluent regions of the country; thereby, enabling retailers to target high-end upscale customers and maximize their profitability. These include major metropolitan areas such as Los Angeles, San Francisco, Denver, Detroit, Phoenix, Miami, Dallas, Tampa, Orlando and Washington DC.
However, Taubman Centers' properties consist primarily of community shopping centers making it dependent upon general economic conditions of the market for retail space. Excess retail space in a number of markets and the increase in consumer purchases through catalogs and the Internet could hurt demand for Taubman Centers' properties going forward. Consequently, we remain skeptical about the long-term earnings potential of the company.