The past few days have been a roller coaster for both currencies and precious metals. The week started with precious metals getting a bid due to fresh European debt concerns over Italy, the world's third-largest debt load. The past few days have seen the US dollar being dumped anew amid concerns that politicians would not get a debt deal passed by the Aug. 2 deadline.
Through all the volatility, precious metals have enjoyed great support. Since we recommended purchasing both silver and gold futures on July 1, silver is up 16%, from 33.5 to 38.72, and gold is up 7%, from 1485 to 1584. While we still like both metals as long-term holdings, we write today to advise caution regarding the more volatile of the two metals, silver.
Technical Analysis: Silver Reaching Critical Resistance at $39-40
The incredible price of more than $5 per ounce in the last two weeks has been extraordinary, and we have enjoyed quite a gain. However, the volatility in silver has us concerned in the short-term, and we believe taking profits at these levels may be a prudent course of action.
This chart shows the price of silver futures with volume.
[Click to enlarge]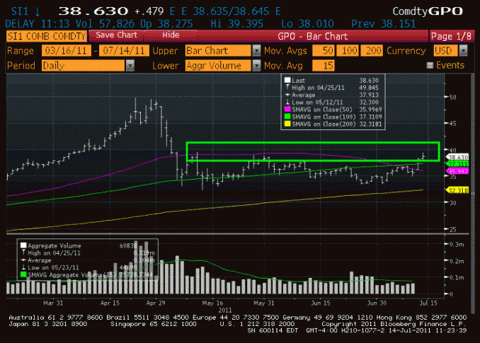 As denoted by the green box, since the collapse, silver has challenged the 39 level on four separate occasions. The first and most aggressive test of the level came as silver was immediately retracing its decline. However, silver failed the 39 level and traded at 32 within 24 hours. Silver again failed the 39 level around the end of May, only to see prices decline to the 32s. Today we see yet another test of the 39 level, set up by the incredible price rise of the last two weeks.

While the chart shows increased volume surrounding the recent price increase, a good sign, we are becoming wary at these prices. Not only is 16% a very large move in just two weeks, we believe that a failure of silver to break the 40 level with conviction would send prices back to 35 fairly quickly. As technical resistance holds it in check, silver may need more time put in place the base necessary for its next sustained upward move.

However, we would view a move beyond the 40 level as highly encouraging for silver, and truth be told, we hope this is the case. We continue to view current prices as attractive for a long-term entry point, but we wanted to share our short-term reservations.

Fundamentals: Silver May Underperform Gold in a Disorderly Market

Many of the recent reasons given for a precious metals run-up are that a disorderly default in any one of Europe's overindebted countries would precipitate a rush to monetary alternatives, and a US default would do the same, only in multiples higher of magnitude. While we fully agree that the debt situations in both the US and Europe make holding precious metals a must, we are again wary of silver's status in such a scenario.

If in fact the US were to default, silver could plummet due to its industrial association. Because of the catastrophic effects a US default could have on the industrial economy, we would absolutely want to hold gold over silver in a disorderly default scenario. In fact, we could enter a phase in which silver actually goes down but gold goes up. This is due to gold's more accepted status as a monetary alternative, as well as a store of wealth for large investors.

With all the economic headwinds out there, silver faces many more hurdles than does gold. Of course, with the increased volatility, there are better opportunities in the options market for silver. But at these price levels, especially considering the profits we should take heed to protect, we view lightening up on silver as a prudent trade.

Trade Recommendation

The outlook for silver remains uncertain, but we think halving or cutting entirely silver exposure at these levels is a good idea. We would advocate remaining in long gold positions. To be clear, this recommendation is made mostly from a defensive, cautionary standpoint, as we wish to protect profits and minimize risk of loss. More aggressive traders could remain in silver. However, we think a good strategy is to reduce exposure at these levels; then if silver proves itself and breaks through the 40 barrier with conviction, to repurchase silver at those levels. If in case silver does in fact fall, we would be a buyer again at the 35 level.

Another strategy would be to hedge using options. A light hedge would be simply selling calls on long silver positions. A true hedge would be to sell calls, and then use that money to finance the purchase of put options. An example of this trade would be to sell the SLV Aug. 41 call and buy the Aug. 35 put. This trade would be done for a net debit of 0.10 and would insure that the lowest price an investor would have to sell SLV for would be 35 on or before August 19. Similar trades can be executed via silver futures or Silver Wheaton (NYSE:SLW); one simply has to locate an out-of-the-money call option selling for the same as an out-of-the-money put option. Selling the call option and buying the put option simultaneously places what is known as a "collar" around the position, limiting both the upside and downside. This is an effective strategy to use when volatility is high and the outlook is uncertain, but an investor wishes to retain the underlying position.

Disclosure: I am long SLW.

Disclaimer: All information included herein is the opinion of the firm and should not be considered investment advice. Past performance is not necessarily indicative of future results.