Click to enlarge chart
Market Opinion: The Dow Jones was under selling pressure on Thursday due to Ben Bernanke sending the message that the Fed is not quite ready to initiate QE3. Despite the market decline, there were reasons for investors not to become bearish. Retail sales increased month-over-month and the euro was positive for most of the day and could remain higher. Technically, we look at 124 to be the initial support level on the Diamonds (DIA). If that fails, then secondary support will be where both the 20 and 50 day SMA are converging at 123.
Buy Pick: Estee Lauder (EL)
With retail sales unexpectedly showing a rise of 0.1% vs. -0.2% in June, Estee Lauder looks like it will continue moving through its strong upward channel founded back in March. To add fuel to its uptrend, EL saw unusually high volume on July 13th giving indication that the stock could breakout sometime soon. EL has dramatically outperformed EPS estimates by +20% for the past three quarters. Fundamentally, if we add the past three quarters EPS reports along with what EL is supposed to report on August 15th (0.24) and times by it by the stock's current P/E of 30.97 we we come up with a $114.27 price target (8.82% higher than where the stock closed yesterday). Additionally, Barclays raised its EL price target to $115 from $100 on July 1st. We expect to see EL report another great quarter in August and like holding the company to sell into earnings.
Click to enlarge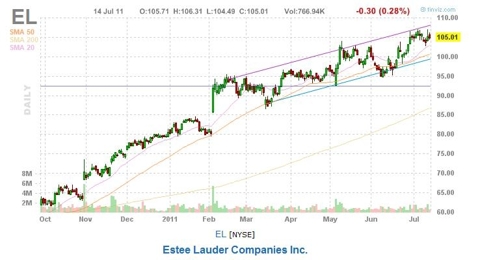 Buy Pick: Toll Brothers (TOL)
After Goldman Sachs upgraded Toll Brothers from neutral to buy and raised its price target from $20 to $25 we must take a look at the stock. Although new homes sales have been mundane to watch for a while, we should see a seasonal improvement in the months of June and July. Goldman's upgrade comes on hope of increased sales in the high-end housing market. Technically, TOL has been in a modest uptrend since November and we should see this continue. Historically, TOL has reacted well to earnings, even when it misses EPS estimates by a wide margin. Last quarter, Toll Brothers missed the consensus of -0.041 by showing-0.079 on EPS, yet burst up on large volume. Regardless of upcoming earnings on August 22, TOL could move up to 21.50 on the GS upgrade in the coming days.
Click to enlarge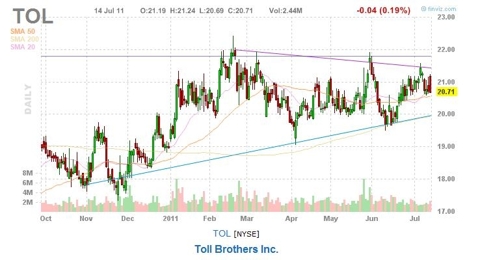 Buy Pick: Yum Brands (YUM)
After Yum Brands reported a beat in EPS estimates (0.66 vs 0.61), the CEO raised the company's full year growth forecast by 12% due to continued strength in global sales. International sales have been outperforming the U.S. as YUM reported same store sales up 18% in China rather than -4% in the U.S. If you're bullish China, YUM is a good way to play the country's growth. Technically, YUM is beginning to show a good entry level, as the shares were up over 3% in after-hours Wednesday evening, yet now the stock pulled back yesterday with the market downtrend. Although we would like to buy YUM at an even better entry closer to trend line support between $54 and $55 a share, we must keep in mind that the stock is in a strong upward channel and could breakout on any day the S&P 500 or iShare China (FXI) move higher. Yum also received a price target upgrade today of $63 from $62 at UBS. Watch YUM closely and buy it if it pulls back into the trend line range or at $57 which is the breakout level.
Click to enlarge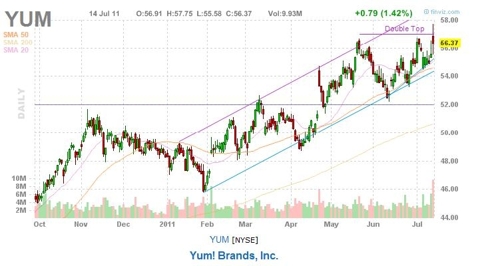 Option Trade: JP Morgan Chase (JPM)
JP Morgan has been in a downtrend since the beginning of April. However after beating Q2 EPS estimates of 1.27 vs 1.21, the company has surprised the street. We are now seeing strength in JPM as it bucked the market trend yesterday. I think JPM has seen a temporary bottom based on the strong earnings, and technically the stock should hold $40/share into next month. On a daily chart, both RSI (at 47) and MACD continue to point upward. With a neutral to bullish sentiment, we may sell the Aug 39/38 vertical put spread for 0.26.
Max Return: 35.13%
Breakeven Point: $38.65
Probability that Options will Expire Worthless: 72.76%

Click to enlarge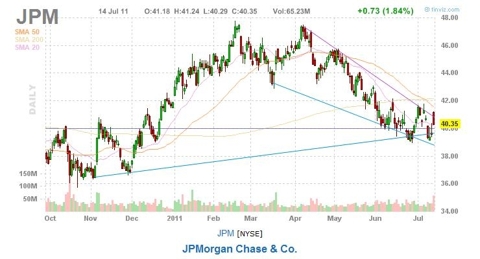 Note: I do not own any investments in EL, TOL, YUM or JPM. Analyst recommendations come from www.TheFlyOnTheWall.com. Option probability data comes from www.optionistics.com.
Disclosure: I have no positions in any stocks mentioned, but may initiate a long position in JPM, YUM, EL, TOL over the next 72 hours.