Near the start of the year, I wrote several articles in which I declared that Corinthian Colleges Inc. (COCO) was the most important stock to own in 2011. We just crossed the halfway mark and the next earnings release is expected on August 23 before the open. It's safe to say that I still believe in COCO and for the retirement accounts that I manage, it has proven to be a huge boost to this year's returns so far. I didn't simply buy and hold all year, but have been writing put options to enter; when exercised, I held while often writing calls. Add some market timing, then rinse and repeat all year long. Of course, many don't have the luxury of being an active trader who's able to quickly move when the timing is right, but with the use of limit good-until-canceled orders, even a casual investor could largely produce the results I have.
There are several reasons that COCO is such an attractive stock to buy. One of the main motivations is that when bought near $4 a share, there is relatively limited downside. The news with this stock (and the industry as a whole) has been so pointedly negative for so long that there is little to no premium priced into this stock. Basically you are buying the assets that happen to be part of an operational company. That in itself is not going to make the stock move higher; if that's all that could be written about COCO, then it would be time to move on. The real kicker is the take-out potential. I believe the market will gain some of its sex appeal due to consolidation and/or regulatory fear relaxation.
I watched and almost added COCO at about $4.25 today but did not see it get to my entry. Ideally I would like to sell the August puts to lower my risk and to collect the time premium. I will look again soon and with the option roll-overs that are going on, the volume should be favorable as well. While the industry is not out of the woods yet, I see little downside combined with 20-30% upside within the current quarter.
[Click to enlarge]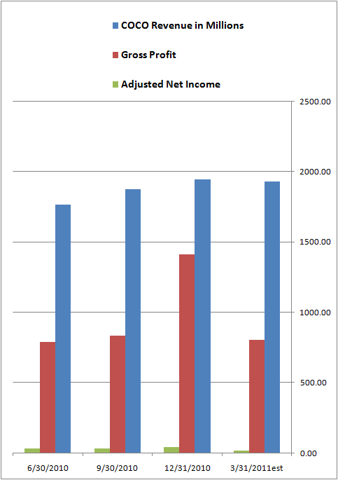 Click to enlarge
COCO is a $373.14 million market cap company.The company reported $0.19 per share in earnings for the quarter ending March 31. The Quick Ratio is 1.47. The next reporting quarter's estimated mean earnings are $0.12 per share. Analyst estimates range between $0.11 and $0.13 per share. The forward P/E ratio is 12.71. The stock has a price to book ratio (ttm) of 1.26 and a price to sales ratio of 0.5.
COCO has rising revenue year-over-year of $1.76 million for 2010 vs. $1.31 million for 2009. COCO's bottom line has falling earnings year-over-year of $145.97 million for 2010 vs. $68.76 million for 2009, and rising EBIT year-over-year of $240.75 million for 2010 vs. $119.27 million for 2009.
| Fiscal Quarter Ending Month-YR | Estimate | Actual | Difference | Difference % |
| --- | --- | --- | --- | --- |
| Mar-11 | 0.21 | 0.21 | 0 | 0.0% |
| Dec-10 | 0.22 | 0.23 | 0.01 | 4.59% |
| Sep-10 | 0.39 | 0.38 | 0.01 | 3.18% |
| Jun-10 | 0.39 | 0.38 | 0.01 | 1.66% |
| Mar-10 | 0.46 | 0.45 | 0.01 | 2.49% |
COCO has not given much for large upside surprises, so I will not expect one in August, but I plan on adding COCO on any price dips into my retirement account.
Disclosure: I have no positions in any stocks mentioned, but may initiate a long position in COCO over the next 72 hours.