By RJ Towner
If you've been paying attention to the business news lately, you might think consumer spending is coming to a halt and the economy is falling off a cliff. But while the low-end consumer is getting pinched, the economy has yet to materially impact the high end of the retail market, particularly Saks (NYSE:SKS). Same store sales advanced 10.2% in its first quarter, and in May, the metric increased an incredible 20.2%. Saks then followed this up with a strong showing in June, with same store sales rising 11.8% during that month.
(Click charts to enlarge)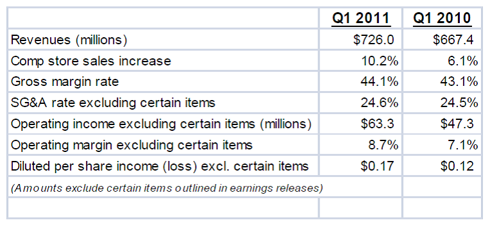 Click to enlarge
Image Source: Saks 2011 Annual Shareholder Meeting Presentation, page 9
Based on our DCF process, we think Saks' shares are worth about $13 each (it's trading at roughly $11 per share today). We make available our DCF model template here, so you, too, can value Saks based on your own forecasts. Although we don't see the shares as undervalued enough at this point to take a stab, we could consider adding them to our Best Ideas List should an adquate margin of safety present itself in the near future.
Saks caters to the "other" economy
Unlike a few of the other retailers we've recently launched coverage on such as Big 5 (NASDAQ:BGFV) and Collective Brands (NYSE:PSS), Saks caters to the ultra-high end customer. If you're unfamiliar with the store, it carries brands like Cartier, Louis Vuitton MC, Gucci, and Marc Jacobs. These are among the highest priced and most exclusive brands in the world.
Even though most of the US might be experiencing economic softness, those who can afford to shop at Saks are not. Unlike customers who might not spend as much with $3.50-$4 gasoline, Saks customers might not even look at the price when they fill up their tank, as most are wealthy or urban dwelling. Given this years' thus far impressive sales numbers (up 9.1% year-to-date), we think luxury (and particularly Saks) will remain largely immune from the anemic recovery.
Unfortunately the high prices at Saks don't translate as well to the bottom line
Saks hasn't been able to achieve the same favorable cost structure as Nordstrom (NYSE:JWN) due largely to a combination of high talent compensation, inventory write-downs, and a fairly sizeable debt load. In 2010, for example, Saks' interest expense was well over half its operating income, though we expect improvement in coverage this year. High capital expenditures and a slight overexpansion forced Saks to take on a lot of debt in 2008 and 2009. Management has been prudent in extinguishing debt early when possible, but nonetheless it represents a burden for shareholders.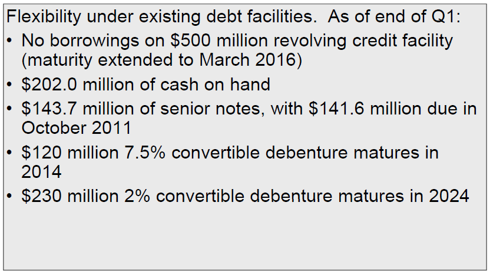 Click to enlarge
Image Source: Saks 2011 Annual Shareholder Meeting Presentation, page 10
Without a larger margin of safety, we wouldn't be long-term buyers
Unless Saks sells off significantly, we think the risk/reward for investors is rather unfavorable. The high debt load, growing competition from e-commerce, and tight credit markets provide substantial challenges. Though the company plans on some global expansion, it remains almost entirely leveraged to the US economy, and is missing out on the explosive Chinese growth that other luxury companies like Tiffany (NYSE:TIF) and Coach (NYSE:COH) have capitalized on. Further, high interest payments continue to hamper the firm's ability to create cash for shareholders, and a large convertible debt agreement could result in fairly large share dilution.
When valued on an EBITDA multiple, however, rather than price-to-earnings, Saks becomes a bit more attractive, relatively speaking. Shares currently trade at around 9x EBITDA, whereas Nordstrom currently trades around 11x EBITDA. Both companies have been very successful at increasing sales the last few quarters.
A trade for August?
Though we remain on the sidelines for now, we do like that Saks has room to raise prices to maintain margins (price elasticity of demand is almost irrelevant with their customers), and that the high-end of the US economy seems to be doing better than ever. The market, in our view, isn't quite incorporating the impressive same store sales figures Saks has consistently posted so far in 2011. And with the trend likely continuing through July, the company should post solid results and offer favorable guidance in the quarters ahead. Assuming the US avoids a debt-ceiling related crisis in the weeks ahead, we think Saks could converge closer to our $13 fair value estimate, providing investors with 10-15% upside in just a few weeks.
Disclosure: I have no positions in any stocks mentioned, and no plans to initiate any positions within the next 72 hours.