As we mentioned in passing on Wednesday, Ireland has also been hit with a debt downgrade into junk territory this week. This was widely expected after Moody's downgraded Portugal's debt, as one of the main reasons cited for the Portugal downgrade is certainly applicable to Ireland's situation as well – namely, the non-existent 'visibility' as to when it can expect to return to financing itself in the markets. One thing is perfectly clear: the originally envisaged time tables for the return to market-based financing of all three EFSF wards have been revealed as wishful thinking.
Given that Ireland's government receives EFSF financing, it does not really matter all that much to its financing situation in the short term whether its existing bonds plunge further in value. In fact, the quarterly review of Ireland's progress by the IMF/EC/ECB 'troika' has just ended with a positive assessment – Ireland continues to meet the bailout conditions and can therefore expect further emergency loan disbursements to happen as scheduled. The IMF noted on this occasion that 'Ireland's debt is manageable, but that the country needs a Europe-wide resolution to the debt crisis if its borrowing costs are to fall.' Well, duh.
As Reuters reports:

Ireland's debt burden is manageable but it needs European leaders to quickly agree on a solution to the bloc's debt crisis if its sky-high borrowing costs are to fall, a senior IMF official said on Thursday.

Ireland received a thumbs up from the IMF, European Commission and European Central Bank on Thursday after a quarterly review of Dublin's programme to implement its 85 billion euro bailout agreed last year. But Irish bond yields, which hit a record high on Wednesday, remained elevated due to the deepening euro zone crisis and Moody's downgrade of Ireland's credit rating to junk status this week.

Ajai Chopra, the IMF's mission chief to Ireland, heaped criticism on European leaders, saying they needed to provide "consistent, cohesive and co-operative" policies and said the rating agencies may be overestimating the risks associated with the euro zone debt crisis.

"What is critical now is for Europe to dispel the uncertainty that has been created by … what is perceived by markets and many as an insufficient response," he told a news conference in Dublin.

"What we need and is what is lacking so far is a European solution to a European problem."

The IMF's spokesman wisely neglected to mention what such a 'European solution' might consist of.
In the meantime, Moody's also moved to further downgrade the debt of Ireland's banks, which is guaranteed by the Irish government. It was a reminder that in spite of the decision to bail out these banks and their bondholders, said bondholders have no reason to feel secure in their position. As we have frequently noted, bailing out the banks has been a costly mistake for Ireland. Many people in Ireland are well aware of this and opposition to the decision continues to fester. The connection between the government's finances and the financial situation of the banks, which initially was only presumed to exist by the Fianna Fail government, has in the meantime been cemented by the conditions attached to the government's bailout by the EFSF. The ECB insisted that the 'no bank bondholder left behind' program be made permanent, as it feared for the solvency of banks across the euro area should bondholders be forced to take a large haircut on their exposure to Ireland's banks (recoveries would likely have been minimal). European banks have indirectly financed the Irish property bubble by extending finance to Ireland's banks and all across Europe, the exposure to debt of Irish provenance remains vast.
Regarding the latest downgrade the Irish Times reports:

Rating agency Moody's has downgraded the Government-guaranteed debt ratings of five Irish financial institutions to junk status, indicating that Allied Irish Banks, Bank of Ireland, Anglo Irish, Irish Life Permanent (ILP), and EBS Building Society now all carried a "negative outlook."

It follows Moody's downgrade of Irish Government debt to junk status on Tuesday evening.

The agency said today it had downgraded to Ba1 with a negative outlook from Baa3 the government-guaranteed debt of the five lenders.

According to Moody's, the rationale for the move was to bring the debt in line with the downgrade of the Irish Government bond rating.

The other ratings of the five banks – including the bank deposit ratings, the senior unsecured debt ratings and the stand-alone bank financial strength ratings – are unaffected by this rating action, Moody's said.

"As a result of the high level of uncertainty around whether the Irish Government would extend further support to the banking sector if required – beyond the €35 billion already committed to as part of the EU-IMF support package – Moody's no longer incorporates systemic support into the senior unsecured debt ratings, and these are placed at the same level as the stand-alone ratings of the banks," it said.
(emphasis added)
As one commentator to a previous article noted, the 'skids have been greeced.' Put slightly differently, Ireland's existing debt paper has been 'greecified,' as the market action is highly reminiscent of the slide in Greece's government debt. The inversion between Ireland's 10 year and 2 year note yields has become ever steeper recently, rising by about 600 basis points over the past two weeks alone.
The eurocrats – who otherwise spend a lot of time with ineffectual squabbling – have certainly been unanimous in denouncing the actions of rating agencies. It can not be denied that there is a feedback effect at work and that negative rating action hastens the downward spiral of the debt concerned. However, shooting the messenger really makes no sense – the fact that the governments of Ireland, Portugal and Greece would be in default now if not for the bailout is completely independent of whether Moody's, S&P and Fitch rate their debt as 'junk' or not. In fact, the recent downgrades of Portuguese and Irish debt are if anything a somewhat belated recognition of this reality. As it were, the sooner market participants face up to said reality, the better. It would make more sense to criticize the rating agencies for having waited this long.
(Click charts to enlarge)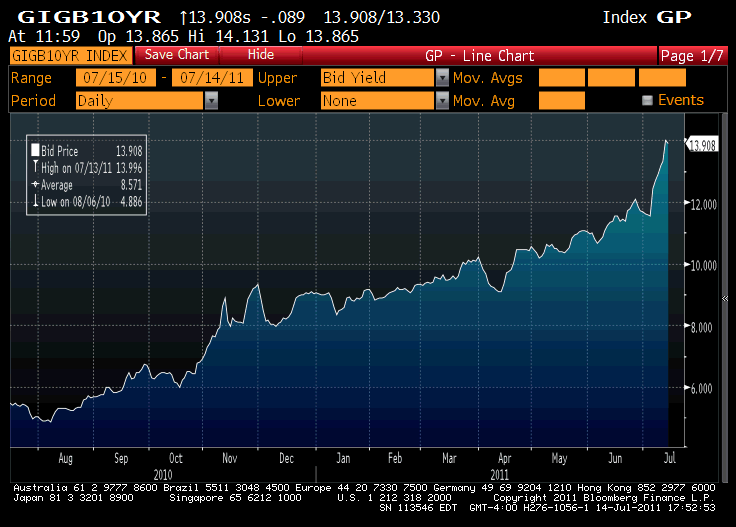 Ireland's 10 year government bond yield.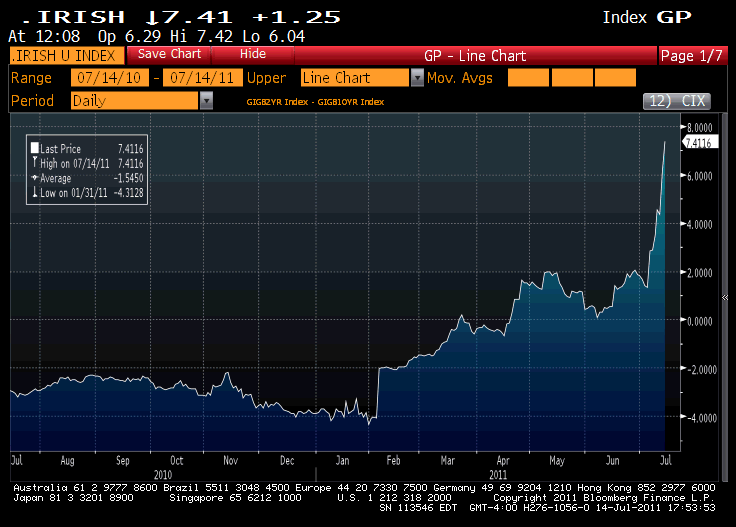 The spread between Ireland's 2 and 10 year notes has shot up further into inversion territory and now resides at a huge 741 basis points. In Friday's trading at the time of writing, the 2 year note yield has risen by another 134 basis points to 19.01%, so the crash in Irish bonds is still in full swing.
The biggest problem a downgrade of the debt of a big issuer into junk territory creates is that all the debt holders who are by their statutes not allowed to hold below investment grade debt are forced to sell. The resulting losses in the portfolios of all holders of said debt then prompt more selling in other securities, as leveraged market participants are forced to bring their leverage back in line. This is one – but obviously not the only one – reason for the contagion effect.
Crisis Left Unattended
The eurocracy meanwhile let it be known that no firm decision has been made with regards to holding a previously mooted emergency meeting to deal with the still metastasizing crisis. Germany merely noted in a terse statement that it continues to refuse to consider so-called 'eurobonds' as a solution to the crisis. These would be bonds issued and guaranteed by the euro-area as a whole, a further big step in the direction of a transfer union – and Germany rightly recognizes that it would end up as the main guarantor of such bonds.
"Germany restated its opposition to a common euro zone bond as a solution to the euro zone debt crisis on Friday, adding that it saw no case for an immediate meeting of euro zone leaders.

"We are against euro bonds," government spokesman Steffen Seibert said, reiterating concerns that a common euro zone bond would provide no meaningful market incentive for states to pursue prudent national budget policies.

A spokesman for the finance ministry added that he expected markets to react positively to Italy's newly passed austerity measures.
(emphasis added)
This expectation has so far proved to be in error. At the time of writing, Italy's 10 year bond yield is up another 6 basis points to 5.69%. Alas, the 10-2 year note spread has widened slightly, and a yield inversion has so far been averted.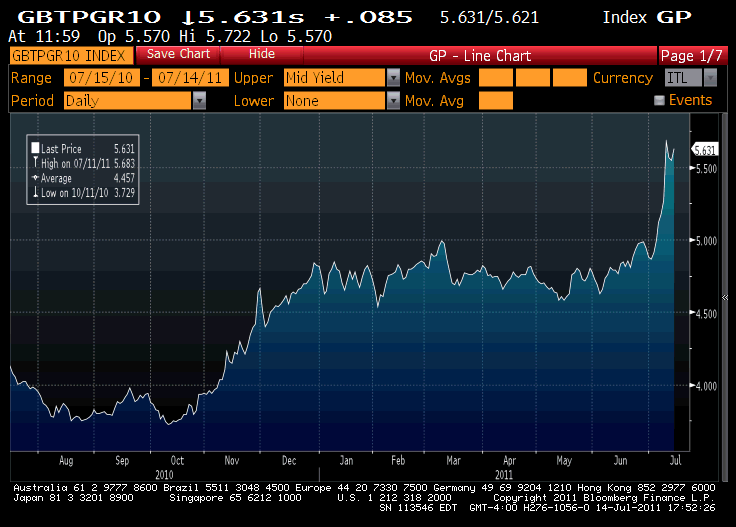 Italy's 10 year bond yield – nothing suggests that the technical breakout will be reversed anytime soon.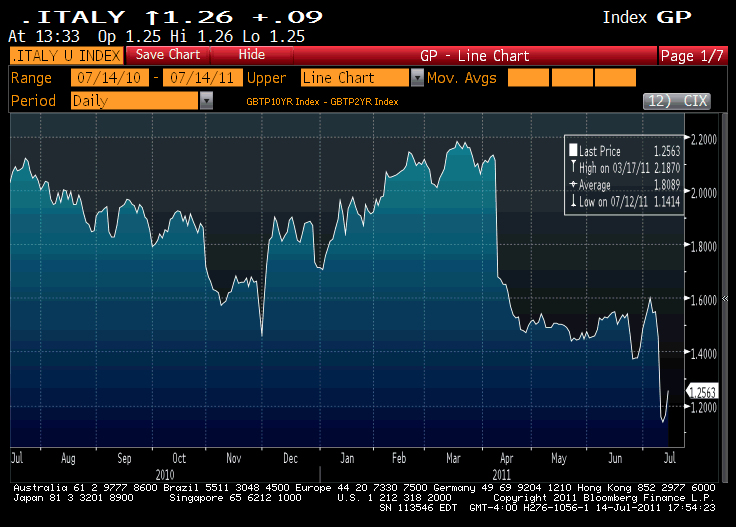 The spread between Italy's 10 year and 2 year note remains positive and has widened a little bit again.
Apparently unaware of the irony, Den Danske Bank has published an analysis of Italy's situation entitled 'Italy Is Not Greece.' It is of course true that there are many differences between the two countries, but this is still quite funny as shortly before Ireland and Portugal went under, a plethora of articles and reports were circulating with titles such as 'Ireland is not Greece,' 'Portugal is not Greece' or 'Portugal is not Ireland.'
We would suggest that by giving this report the title 'Italy is not Greece' one risks inviting imminent disaster for Italy. The report does however offer numerous interesting data comparisons between Italy and other countries afflicted by the debt crisis. A summary of the salient points and a number of relevant charts can be seen here.
France also let it be known today that no date has yet been set for another emergency meeting of the eurogroup. Both bond and stock markets in the euro area meanwhile continue to decline, as the differences of opinion among euro area governments are seemingly making it impossible to quickly arrive at decisions that are palatable to the markets. The brief respite on Tuesday after the possibility of a Greek debt restructuring was once again mooted lasted for just one trading day.
It seems possible that the EBA stress test results that will be published tomorrow will change sentiment for a little while again – depending on their outcome – but they won't change the underlying fundamental picture. In addition, everybody knows that these stress tests largely represent a public relations exercise.
Speaking of euro area banks, below is an interesting data point we gleaned from a recent Bloomberg article on the predicament of Spain's mortgage debtors and their lenders. Mortgages in Spain used to be full recourse – 'used to be' because this has now been changed slightly by new legislation. These days mortgage holders are only liable for 40% of the appraisal value of a foreclosed home. Still, the remaining liability means that people who are 'underwater' on their mortgages can not just 'walk away' as they usually do in the US. This fact helps to mask somewhat how dire the situation for their lenders actually is. One comment that stood out to us was the following:

"Similar to Ireland, whose credit rating was cut to non- investment grade this week by Moody's Investors Service, Spain's economic crisis was driven by a credit-fuelled property bubble that burst. The housing boom that ended in 2008 left Spanish banks with 313 billion euros-pdf ($441 billion) in loans related to real estate activity as of June, according to the Bank of Spain.

The number of foreclosed homes advertised by Idealista.com, Spain's largest real-estate website, has risen 10-fold to 30,000 in three years. The properties are valued at about 4.6 billion euros and owned by 40 banks.

"If the banks had to assume all the losses resulting from the bad mortgages they granted during the property boom, the whole financial system would collapse," Jesus Encinar, Idealista.com's chief executive officer, said in an interview.

Spanish lenders including Banco Santander SA (NYSE:SAN) and CaixaBank SA will get the results of a second round of European stress tests tomorrow. The bank bailout fund, known as the FROB, has so far committed about 10 billion euros to recapitalize struggling Spanish savings banks, according to the fund's website.

Every day, about 170 homes are foreclosed across the country, Adicae estimates. In Madrid alone, 20 properties are seized by banks and other mortgage providers, according to PAH, a non-profit organization based in Barcelona with more than 5,000 members."
(emphasis added)
The € 10 billion so far committed by FROB doesn't sound like a whole lot to us – this is a number that seems set to grow considerably. As we have previously noted, Spain's banks have numerous ways of engaging in 'extend & pretend' measures that allow them to postpone the recognition of losses. Obviously the CEO of Idealista agrees with this assessment.
The Charts
Below is our usual collection of charts of euro area CDS and bond yields (prices in basis points, color coded). As can be seen, the small retreat in yields and CDS spreads on Tuesday didn't last beyond a single trading day. This is what likely cut the Bernanke-inspired bounce in the US stock market short as well – aside from the fact that Bernanke stressed yesterday that additional easing measures would depend on even more bad news emerging on the US economic front. While it seems likely that such bad news will in fact continue to emerge, this is not necessarily good for stocks.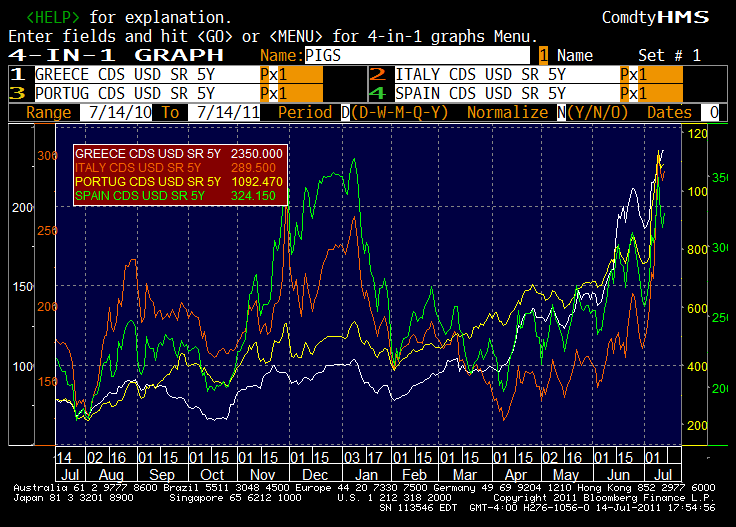 5 year CDS spreads on Portugal, Italy, Greece and Spain – bouncing once again.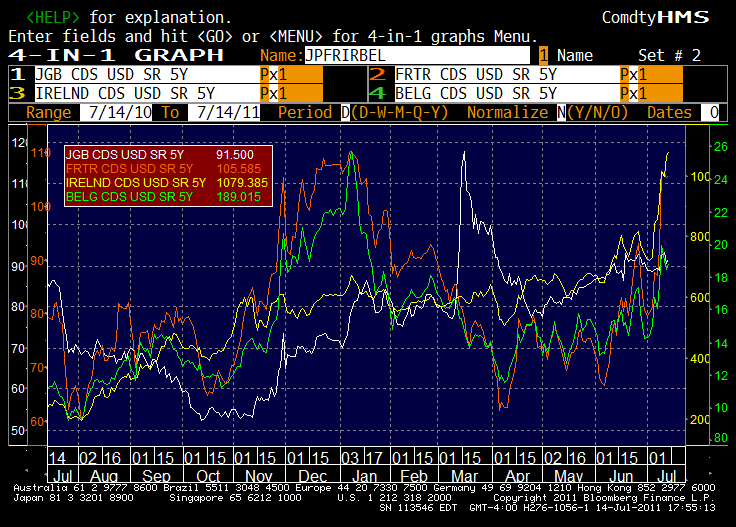 5 year CDS on Ireland, France, Belgium and Japan – a new all time high for Ireland at 1079 basis points.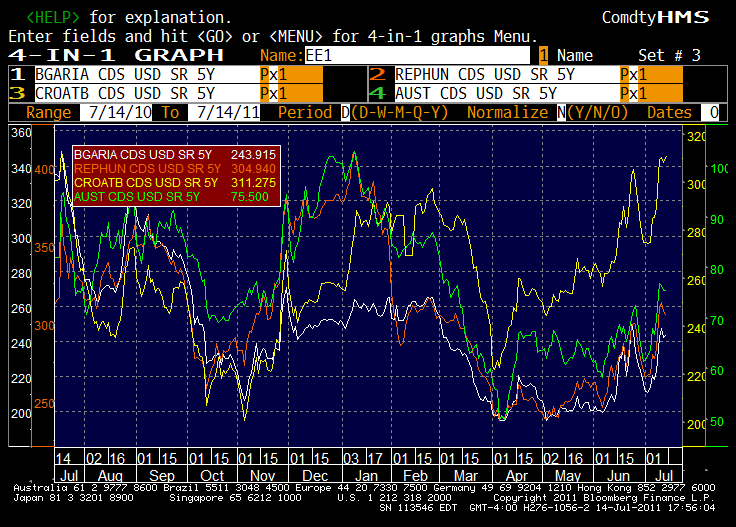 5 year CDS on Bulgaria, Croatia, Hungary and Austria.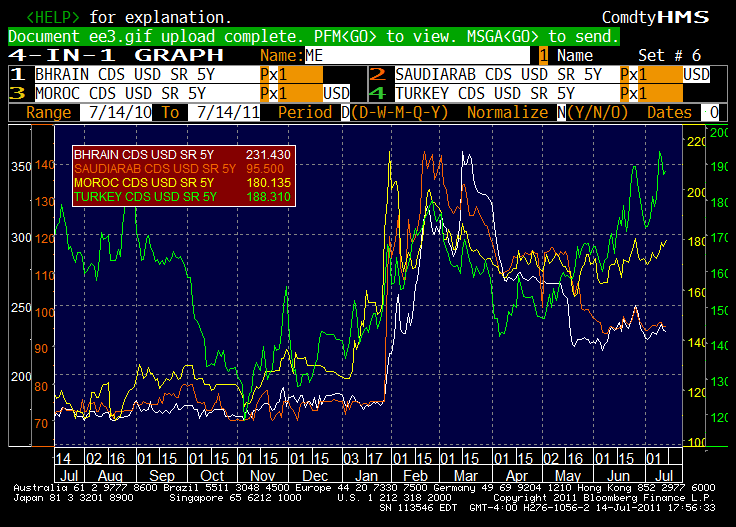 5 year CDS on Saudi Arabia, Bahrain, Morocco and Turkey.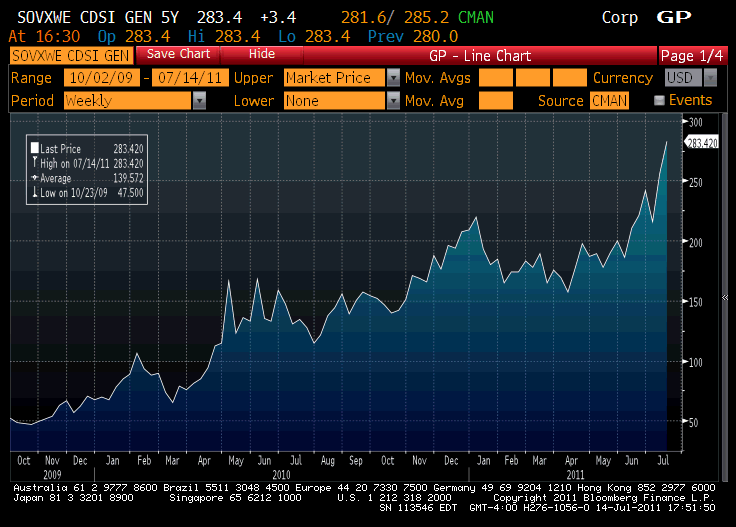 The Markit SovX Index of CDS on 19 Western European sovereigns has just hit another fresh all time high.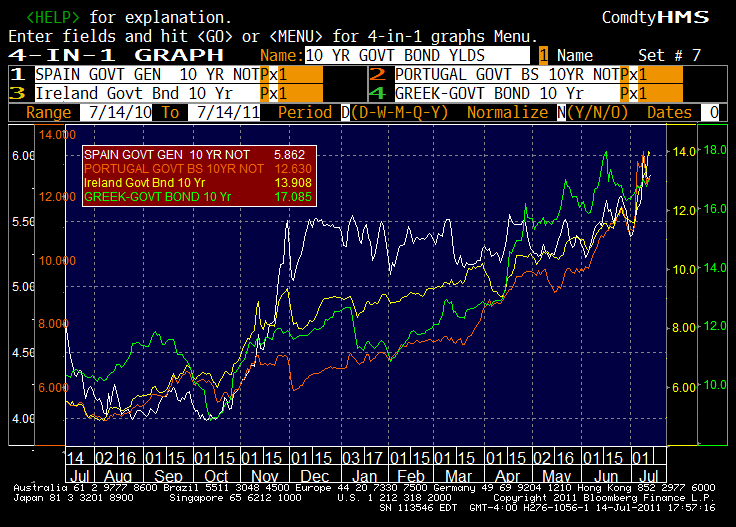 10 year government bond yields of Spain, Portugal, Ireland and Greece.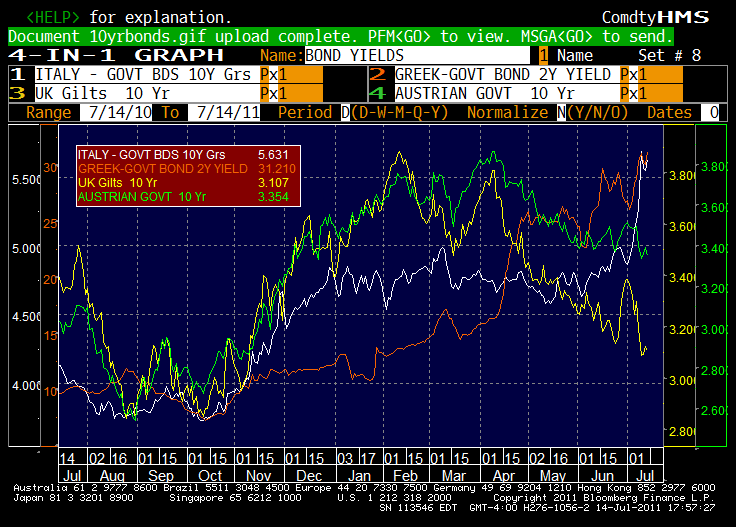 10 year government bond yields of Italy, Austria, UK (gilts) and the 2 year Greek note yield.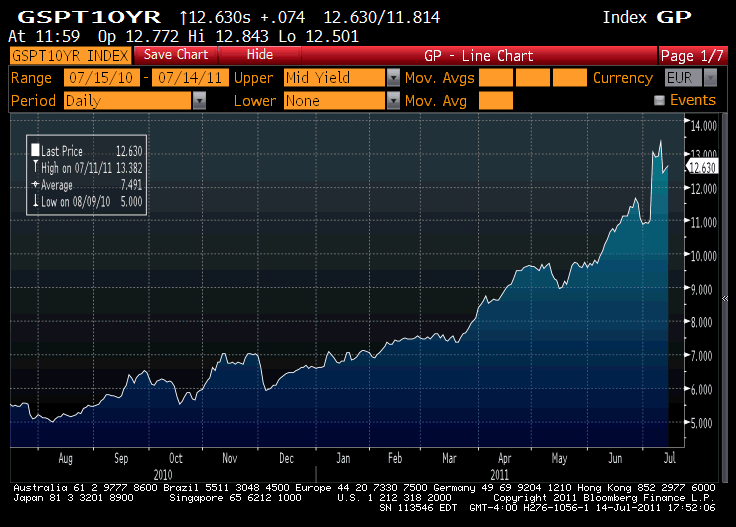 Portugal's 10 year government bond yield is bouncing again after Tuesday's pullback.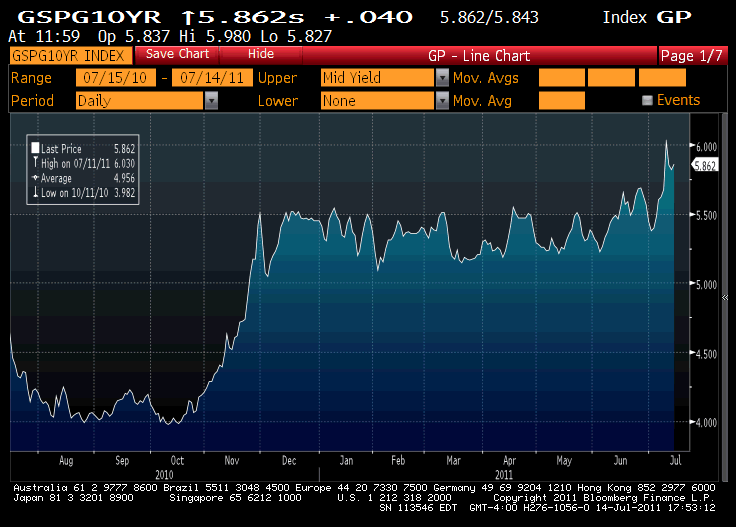 The 10 year government bond yield of Spain – the breakout remains intact.