This week was basically the pre-season to earnings season, as just 32 U.S. companies reported quarterly numbers. Next week the "regular season" will begin, as more than 300 companies are expected to report. Below is a table highlighting 36 companies reporting next week that investors will be watching very closely. In the table, we provide each stock's year-to-date change, its Q2 EPS estimate, its earnings "beat rate," and its average absolute one-day change following prior reports going back to 2001. The earnings "beat rate" is the percentage of time the company has beaten earnings estimates using data from our Interactive Earnings Report Database.
The key companies set to report next week that have the highest "beat rates" are Goldman Sachs (NYSE:GS), Apple (NASDAQ:AAPL), Intuitive Surgical (NASDAQ:ISRG), United Tech (NYSE:UTX) and ITT Educational (NYSE:ESI). These companies have all beaten earnings estimates more than 90% of the time over the last10 years. In terms of earnings report volatility, ISRG tops the list with an average one-day change of +/-13.92% on its report days. SanDisk (SNDK), Baidu (NASDAQ:BIDU), Skyworks (NASDAQ:SWKS) and Chipotle (NYSE:CMG) are four other companies that typically see big moves in response to their earnings reports.
On Monday, IBM's (NYSE:IBM) report will be the most watched after the close of trading. Goldman, Bank of America (NYSE:BAC) and Wells Fargo (NYSE:WFC) are three big banks set to report Tuesday before the open. Apple, Chipotle, ISRG and Yahoo (NASDAQ:YHOO) will be closely watched after the close on Tuesday. Intel (NASDAQ:INTC) will get the most attention on Wednesday after the close. Morgan Stanley (NYSE:MS), AT&T (NYSE:T), Baidu (BIDU) and Microsoft (NASDAQ:MSFT) are on deck for next Thursday, and Ford (NYSE:F), Caterpillar (NYSE:CAT), General Electric (NYSE:GE) and McDonald's (NYSE:MCD) will round out the week on Friday.
Get ready for a busy week.
Click to enlarge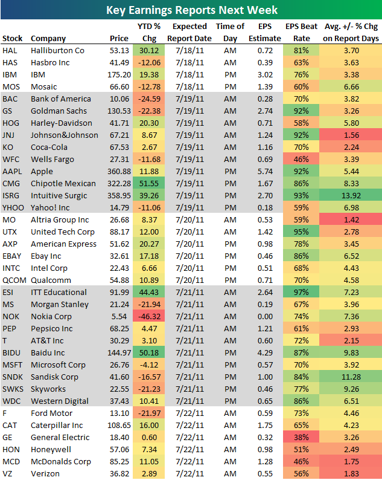 Click to enlarge