In addition to my own scans and watch lists, I use two main sources to follow options-related news: Daily Seeking Alpha columns by Frederic Ruffy and Andrew Wilkinson. While I get great use out of these sources and have even made money thanks to them, you have to be careful not to chase the stocks or options they mention. Occasionally, you can find examples to capitalize on. Below I detail options brought to my attention by these sources and how investors might consider playing them - or the underlying security - if at all, during the trading week.

This week's recap and analysis includes contributions from two other sources of options information: Frequent Seeking Alpha contributor optionMONSTER and Briefing.com's InPlay service. Both provide alerts on notable options activity throughout the day.

My attention spans most of Friday's trading day, including early in the session, so some information may change. As with all of my articles, use my suggestions and analysis as the impetus for future research.

Because of an abundance of activity this week, I split my coverage into two articles. To view part two, click here.

Google (NASDAQ:GOOG): I hope to help demystify options by writing about them on Seeking Alpha. While options sometimes facilitate relatively conservative or less risky plays than buying a stock outright, an element of Vegas does exist. This keeps many retail investors away. It's tough to resist the allure of buying a lotto ticket on a deep out-of-the-money contract.

The psychology that underlies this urge resembles Vegas and the lottery. You know the odds tend toward slim, but people do win big and you cannot win big unless you buy a ticket. Here's how GOOG deep OTM (at the time) options with July and August expirations looked at Thursday's close ahead of the company's earnings report, courtesy of Schwab's StreetSmart Edge:

Click to enlarge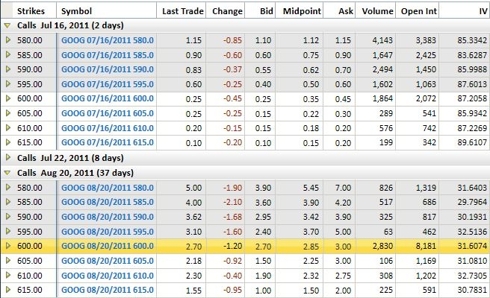 Click to enlarge

Of course, Google obliterated earnings estimates and finished the after hours session up nearly 13%. Had you bought one of those calls, Friday morning's quotes, with GOOG approaching $600, would have undoubtedly put a smile on your face:

Click to enlarge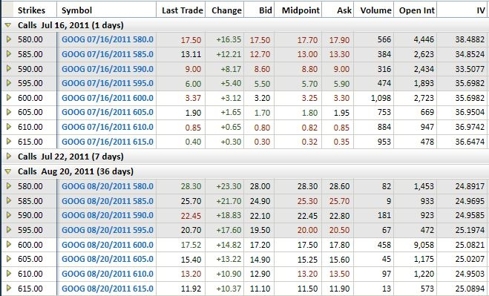 Click to enlarge

Apple (NASDAQ:AAPL): optionMONSTER offered sound technical analysis on AAPL Friday at its website. In summary, optionMONSTER thinks AAPL could head to $440, over time on better-than-expected earnings news. On the flip side, anything underwhelming could send the shares closer to $310. And, of course, there's a chance that investors will not move in lock-step with what everybody seems to expect.

Had you initiated a strangle on AAPL early this week, you could have already profited from the put side. If everything goes according to the bullish script, the AAPL August $350 calls, which closed at $15.15 on Monday and traded as high as $22.10 on Friday, could pay off big post-earnings, in a fashion similar to what you see above with GOOG.

For the record, I purchased AAPL August call options midday Friday. I think the immediate pop post-earnings will be big. From there, I'm not so confident.

Gastar Exploration (NYSEMKT:GST): If you're going to speculate on a low-priced stock, you might as well do it with options, particularly when the volume kicks up. Briefing.com noted "unusual options activity" in GST after news that BHP Billiton (NYSE:BHP) swooped in and bought out Petrohawk Energy (NYSE:HK). GST traded as high as $4.05 on Friday with its September $5 calls drawing attention from options traders. Volume, as of 2 p.m., Eastern Time, Friday, was 2,071 against open interest of 1,094.

Of course, this is all about speculation that GST could be an acquisition target. In these situations, you have two ways to go - with the flow or against it. Both cases represent risky speculation. And it's best to use options either way.
Consider the bull case. At around $4.00 per share, 1,000 shares of GST sets you back about $4,000. Buying the equivalent number of call options, say 10 of the September $5 calls, runs you roughly $250.

On the bear side, you might want to consider selling a sucker some of that volatility. The GST September $5 calls have seen implied volatility spike to 81% from 68% the previous day. If you sell calls, be careful. It's not for the faint of heart. If GST does run past $5, you'll most likely get assigned, meaning you'll have to buy the stock at market price and sell it to the other guy at $5 a share.

Frederic Ruffy notes similar action in Southwestern Energy (NYSE:SWN), except on even heftier volume, given that SWN options activity is typically more robust than that of little GST. That said, for a short-term options play, I look at SWN the same way I do GST. Given that SWN is a profitable company, I would consider January 2013 LEAPS options on a pullback from Friday's all-time highs, if you are a believer.

To head to part two of this week's options article, click here.

Disclosure: I am long AAPL.